Press Conference:
3 High-Tech Companies Move To Eastman Business Park

Rochester, NY
Wednesday, April 4, 2012
{As Prepared for Delivery}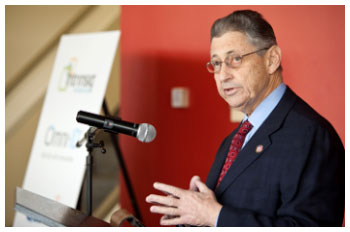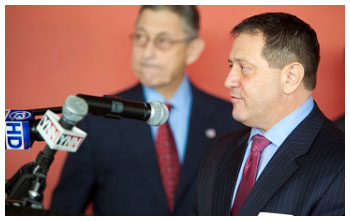 Thank you, Joe [Assemblyman Morelle], for your generous introduction.
Jose Coronas. Mark Petersen. Brad Kruchten. Ladies and Gentlemen.
May I say that Rochester and its surrounding communities could not have a better, more vocal, more influential advocate for business development and job creation in our state government than you have in Assemblyman Joe Morelle.
Joe came to the Assembly from the private sector. He was president and CEO of a local computer software development company. He appreciates the importance of small business. He knows what it takes to grow a high-tech economy.
Joe is Rochester through and through, and you should consider him, Assemblyman David Gantt, Assemblyman Harry Bronson, and the entire Rochester Assembly Delegation as partners as we work together to re-build and re-energize the economy of this great city and region.
That said, let me commend Jose Coronas and Trillium International for their wise decision to locate the Intrinsiq Materials, Omni ID and Quintel companies at the Eastman Business Park.
I'm sure that there were plenty of other markets around the world that would love to have these high-potential, high-tech companies move in, but the truth is they belong here in Rochester, because this is a city with a history of "game-changing" innovation.
I'm sure I speak for the Governor and for leaders at every level of government when I tell you that we are committed to making our great upstate cities the hubs for R&D, for innovation and commercialization, for business development and job creation.
For a long time, Joe and I and our Assembly colleagues have been advocating for - and advancing - measures intended to promote regional economic development, to forge public/private, university/industry partnerships, to leverage public funds to generate private investment, and to build upon our comparative advantages, our strengths.
I may come from the Lower East Side of Manhattan, but I know that here in Rochester, you have it all:
Solid leadership at every level, especially the Greater Rochester Enterprise; A highly educated and highly skilled workforce;
Outstanding institutions of higher learning, research and development in the University of Rochester and the Rochester Institute of Technology;
Access to markets, a wealth of natural resources, an unparalleled quality of life;
And, of course, Trillium International providing the all-important venture capital needed to transform promising technologies into profitable companies.
All that remains is the belief and the commitment.
That is why I came here today, to assure you that the State of New York is committed to building a 21st century innovation economy here in Rochester, an economy that is flush with employment and opportunity.
I have no doubt that these terrific, young companies will find the environment fertile here and will grow into the kind of strong, cutting-edge, job-producing companies we need throughout Upstate New York.
So, again, congratulations on the announcement and let me wish the new corporate residents of the Eastman Business Park great success in the years to come.
Thank you.