FOR IMMEDIATE RELEASE:
May 8, 2012

Silver Statement on Presidential Visit to UAlbany's College of Nanoscale Science and Engineering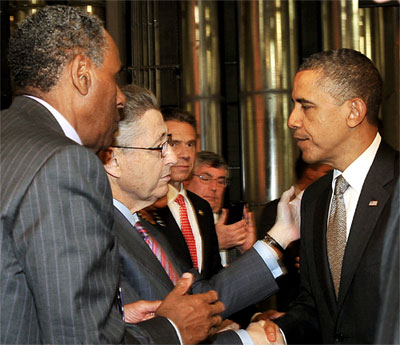 Assembly Speaker Sheldon Silver (on left, between SUNY Board of Trustees Chair Carl McCall and Governor Andrew Cuomo) met with President Obama today at SUNY Albany's College of Nanoscale Science and Engineering (CNSE). Silver commended the president for calling on Congress to support programs that invest in Americans as a way to improve the national economy and create jobs that provide economic security.
What began 15 years ago with a proposal by Dr. Alain Kaloyeros and a $5 million commitment from the Assembly, the first commitment of state funds, has transformed the University at Albany into a global leader in nanotechnology education, job training, research, development and commercialization. It established here, in upstate New York, the largest, most state-of-the-art, high-tech complex in the academic world; a complex that is attracting the biggest players in the semiconductor industry, the best and brightest talent, spinning off new ventures, and creating and retaining more than 3,000 jobs.
That President Obama chose the College of Nanoscale Science and Engineering (CNSE) as the venue for his remarks on economic development attests to the enormous success of our vision and our efforts. The innovative partnership at CNSE, which includes IBM, Intel, Tokyo Electron, Global Foundries and a host of other leading high-tech corporations, is a prime example of American ingenuity and American leadership.
Working with Governor Cuomo, we will continue to employ this highly successful university/industry partnership model to nurture high-tech economic development and job creation in Buffalo and Rochester, Syracuse and Utica, here in the Capital Region, and in every region of our Empire State.
I join with my colleagues in the Assembly to call upon the United States Congress to invest in America's future and help us create more jobs for working families.