Public Authority Oversight The bill would provide for increased public and governmental oversight into the operation of certain public authorities. This bill would mandate specific budget reports, restrict transfer functions and guarantee civil service status of employees. (A.10258-B; Passed Assembly/S.7259-A;Rules)
NYC School Governance Reform The law authorizes the mayor of New York City to have sole power to appoint the city school chancellor, who will head a 13-member board of education. The law allows the mayor to appoint seven members to the board. Under the bill, five additional members will be appointed by the borough presidents and must be parents with children in the city school system.
While the plan eliminates the cityís 32 community school boards, the parent representation on the board provides a process for gaining the input of parents and communities to ensure their involvement and participation in the development of a new governance system at the community level.
Because resources play such a vital role in education, a key provision of the law requires that the city may not reduce its contribution to the education budget from one year to the next, except if the city budget revenues decline. (A.11627/S.7456-B; Chapter 91)
Health-Care Organization Accountability This bill would hold health-care organizations accountable for any delay, failure or refusal to approve, provide, arrange or timely pay for certain health care services. The bill would ensure that health-care organizations are held accountable in the same way as health-care professionals have been held responsible for the consequences of their decisions. (A.8318; Passed Assembly/S.4013; Judiciary)
State Procurement Practices This bill requires the Department of Labor to establish a registry of apparel manufacturers and contractors that were adversely impacted by the September 11 World Trade Centers attacks. Under the bill, registry companies would be the preferred source to purchase apparel for all public entities, including agencies, departments, authorities, SUNY and CUNY. (A.11831-A/S.7791-A; Chapter 350)
Preserving Records In The Digital Age This bill will add a period of probable usefulness for the preservation of records in a digital format. (A.9844/S.6281; Chapter 368)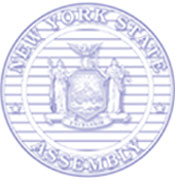 Identity Theft This bill creates the crime of identity theft and establishes penalties for those who obtain another individualís personal information and use their identity to commit fraud or other unlawful acts. Under the bill, individuals who commit a new crime of identity theft would be eligible for up to seven years in prison for the most serious form of the crime. The measure also makes victims of identity theft who incur costs or losses due to adverse information being transmitted to a credit reporting agency eligible for restitution for financial losses. In addition, victims will be able to pursue damages in a civil action. (A.4939-E/S.7697-A; Chapter 619)