Assemblyman
Rory Lancman
Committee Chair

Contact Information: Allison Weingarten
Legislative Director
718-820-0241
New York State Assembly
Subcommittee on
Workplace Safety
Occupational Health Awareness Week- A Huge Success!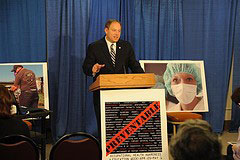 Assemblyman Lancman Speaking at Occupational Health Awareness Week Press Conference
April 25 through May 1 is Occupational Health Awareness Week. To commemorate the week, the Occupational Health Clinic Network traveled to Albany to thank legislators for their support of the Clinics and to spread awareness regarding workers' health and safety.
To start out the day, the Clinic Network held a press conference in which Assemblyman Lancman spoke and awards were given to Assemblyman Richard Gottfried, Chair of the Health Committee and Senator George Onorato, Chair of the Labor Committee. Assemblywoman Susan John, Chair of the Labor Committee, was also acknowledged as a great supporter of the Health Clinics and of worker health and safety in general.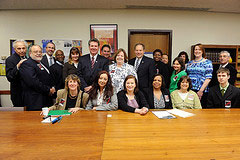 Assemblyman Lancman with Assemblywoman Catherine Nolan, Chair of the Education Committee, Assemblyman Michael DenDekker and Representatives from the Occupational Health Clinic Network During Occupational Health Awareness Week
Later in the day, Reverend David P. Moore of Rensselaer, former chair of the Labor-Religion Coalition, gave the opening prayer to commence the Assembly session. Following the Reverend's prayer, Assemblywoman Grace Meng, a member of the Subcommittee on Workplace Safety, introduced representatives from the Occupational Health Clinic Network who were present. She recognized the Clinic Network for its dedication to preventing work related illness and for caring for injured workers. Assemblyman Michael Benedetto, also a Subcommittee member, then introduced the resolution sponsored by Assemblyman Lancman declaring April 25 through May 1 "Occupational Health Awareness Week, which passed unanimously.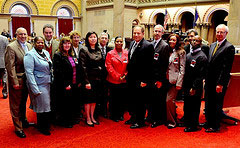 Labor Throws its Support to the
State Workforce Injury Reduction Act
This month the NYS AFL-CIO, the Public Employee Federation, the Civil Service Employee Association, the NYS Law Enforcement Officers Union, and the New York Committee on Occupational Safety and Health submitted support memos on behalf of A.9724 (Lancman)/S.7500 (Addabbo), the State Workforce Injury Reduction Act.
Each year the New York State Department of Civil Service writes a report detailing workers' compensation rates for each state agency. This Act would require state agencies to examine their agency's workers' compensation rates as described in the report and to work with employee representatives to develop plans to reduce injuries and illnesses in their agency.

Assemblyman Lancman Presents Cesar Chavez Award at
"Workers' Memorial Day: Day of Remembrance and Empowerment"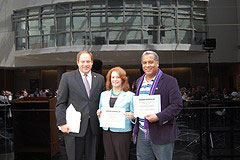 Assemblyman Lancman with Cesar Chavez Award Recipients Sonia Ivany and Reverend Luis Barrios
The Safety and Health Immigrant Workers' Council of the New York Committee on Occupational Safety and Health organized an educational event to teach workplaces safety to immigrant workers and to commemorate immigrant workers who died on the job either by injury or occupational illness.
During the lunch segment of the conference, Assemblyman Lancman presented the Cesar Chavez Award to three outstanding activists: Reverend Luis Barrios, Sonia Ivany and Nadia Marin-Molina.
Reverend Luis Barrios is a religious activist and a professor at John Jay College of Criminal Justice, City University of New York. For over ten years, Reverend Barrios has been a weekly columnist for the newspaper El Diario La Prensa. He focuses his research on street organizing, juvenile criminal justice and immigrants' rights.
Sonia Ivany is a labor activist and is the Regional Coordinator for the Workforce Development Institute of the NYS AFL-CIO, and President of the New York City Chapter of the Labor Council for Latin American Advancement-LCLAA. At the AFL-CIO, Ms. Ivany works on immigration, civil rights, health care and family policy.
Nadia Marin-Molina is a community activist and it the Executive Director of the Workplace Project, a non-profit membership center for Latino immigrant workers on Long Island. She is also Chair of the Long Island Immigrant Alliance. Her work has helped protect immigrant workers from local and national immigrant hate groups.

Labor Technical College holds Forty-First Annual Graduating Apprentice Contest
The New York City Labor Technical College held an annual competition in which top graduating students competed in the areas of Carpentry, Interior Systems, Cabinet Making, Millwright and Floor Covering. It was a very exciting day in which the general public, trade associations, high school students and staff were invited in order to showcase the skills of apprentices and for the New York City Community to gain information on building trades.
Allison Weingarten, Legislative Director for the Subcommittee on Workplace Safety, presented a proclamation on behalf of the New York State Assembly to the Labor Technical College for producing excellent building tradesmen and tradeswomen and for the college's commitment to training students in health and safety.

Parole Officer Killed in Brooklyn
According to the New York Times, parolee Robert Morales sat in the waiting room of his parole office in Brooklyn while hiding a gun, awaiting his name to be called to meet with his parole officer, Samuel Salters. As soon as Mr. Morales' name was called, he approached the desk of Officer Salters, withdrew his gun and shot the officer in the shoulder. Miraculously, Officer Salters survived the shooting and no one else was hurt.
This shooting, in addition to another incident in March 2009 in which a parolee threatened to stab a parole officer with a concealed knife in his backback in Sunnyside, Queens, raises the question of how workplace safety for Parole Officers is maintained. Are occupational safety laws being followed in parole offices? Should safety laws be strengthened? The Public Employee Federation, which represents 900 parole officers in New York State including Officer Salters, is calling for metal detectors in all parole offices. Parole officer safety is an issue the Subcommittee on Workplace Safety is looking into.