Assemblyman
Rory Lancman
Committee Chair

Contact Information: Allison Weingarten
Legislative Director
718-820-0241
New York State Assembly
Subcommittee on
Workplace Safety
Keep Up With Us on Twitter!
Keep up with Assemblyman Lancman and the Subcommittee on Workplace Safety by following Assemblyman Lancman's Twitter page! Sign up for frequent updates on events and activities going on across the state.
---
Assemblyman Lancman Welcomes
Keith Wright as New Labor Committee Chair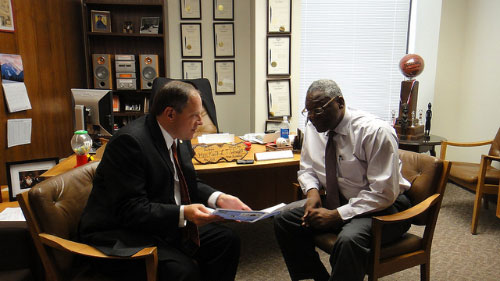 Assemblyman Lancman with Assemblyman Keith Wright, Chair of the Assembly Labor Committee
Assemblyman Lancman met with the new Chair of the Assembly Labor Committee, Assemblyman Keith Wright, to discuss the Subcommittee's workplace safety initiatives. The Subcommittee looks forward to working with Chairman Wright to pass relevant legislation and to promote workplace safety awareness.
---
Assemblyman Lancman Hosts "Workplace Safety" Workshop at the
Black and Puerto Rican Legislators Conference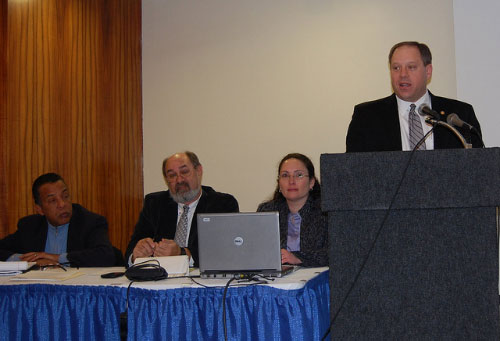 Assemblyman Lancman presenting at the Black and Puerto Rican Legislators Caucus Workshop on Workplace Safety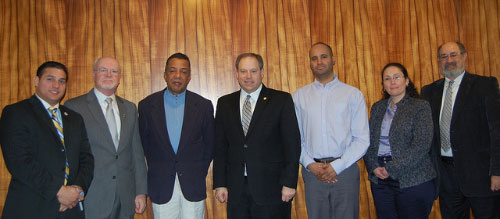 Assemblyman Lancman with the Caucus Workshop Panelists.
Assemblyman Lancman hosted a workshop on workplace safety as part of the New York State Association of Black and Puerto Rican Legislators annual legislative conference. The workshop included panelists from the federal Occupational Safety and Health Administration, 1199 SEIU, the Public Employees Federation, Laborers Local 79 and the Restaurant Opportunities Center of New York, who addressed workplace safety issues facing Black and Latino workers in New York.
---
Subcommittee on Workplace Safety and the
New York State Department of Labor Team Up to Support Workers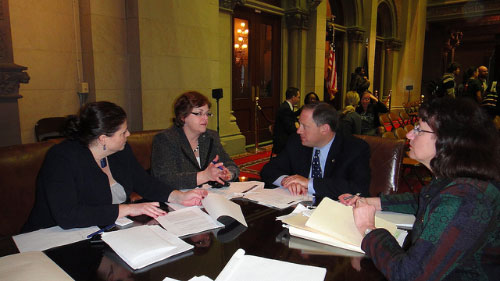 Assemblyman Lancman meets with Department of Labor Commissioner Colleen Gardner
In a meeting with Department of Labor Commissioner Colleen Gardner, Assemblyman Lancman discussed the success of the New York State Construction Industry Fair Play Act, signed into law in October 2010. The new law supports workers in the construction industry who were being misclassified as "independent contractors." Misclassified employees frequently forgo full wage, organizing and health and safety benefits, and also cost the state millions of dollars in lost tax revenue. The enactment of this bill will lead to as many as fifty thousand workers regaining justice in the workplace.
Also discussed in the meeting was the Unemployment Insurance Reform Act (A.1973). This legislation would revise the criteria that determines Unemployment Insurance allocation, allowing unemployed individuals seeking part-time employment to receive meaningful benefits from the program. The Department of Labor institutes a similar program called the "Shared Work Program," which allows employers to avoid lay-offs by reducing employee hours. Enrolled employees are then eligible for benefits from the state to make up for lost pay. The Unemployment Insurance Reform Act and DoL's Shared Work Program are both essential to safeguard workers' benefits in today's economy.
---
Assemblyman Lancman Fights for Immigrant Workers' Rights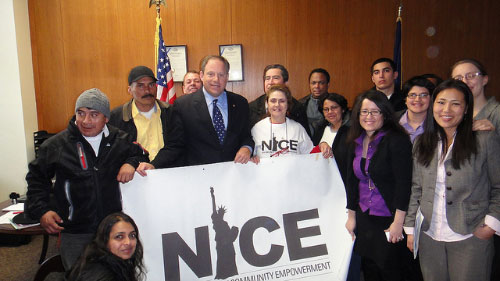 Assemblyman Lancman with representatives from the New York Immigration Coalition in Albany
Assemblyman Lancman met with the New York Immigration Coalition (NYIC) to discuss issues impacting new immigrants, including concerns about workplace safety. NYIC represents new immigrants in New York City, promoting their engagement in social, political and community issues.
Often, new immigrants do not speak up against unsafe working conditions for fear of losing their jobs (or if undocumented, being deported). Moreover, workplace health and safety information is not always readily available to non-English speakers, even though the Occupational Safety and Health Act requires it. The Subcommittee understands the concerns of NYIC's members and is committed to work with them to improve health and safety conditions for immigrant workers.
---
Assemblyman Lancman Gives a Voice to Management/Confidential Employees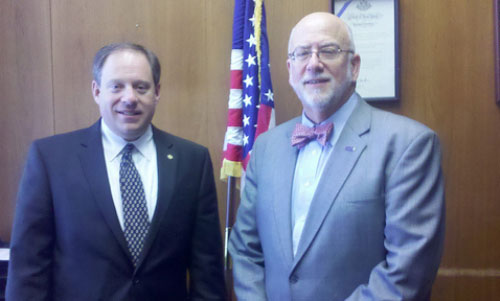 Assemblyman Lancman with Joseph Sano, Executive Director, OCME
Assemblyman Lancman met recently with Joseph Sano, Executive Director of the Organization of New York State Management/Confidential Employees (OMCE). In the absence of a union for Management/Confidential employees, OMCE advocates on behalf of its members to achieve fair and equitable salaries, benefits and compensation in their fields. OMCE is a resource for Management/Confidential employees to be able to actively engage in securing their rights in the workplace, and can be supportive when a member wishes to report a grievance.
---
Workplace Safety is Featured on International Women's Day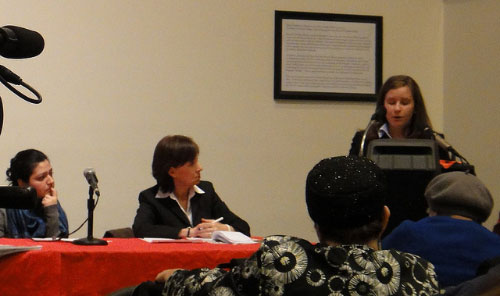 Allison Weingarten, Legislative Director of the Subcommittee on Workplace Safety, speaking at the International Women's Day celebration at Hunter College
The Subcommittee on Workplace Safety celebrated International Women's Day with the Women and Gender Studies program at Hunter College. The Subcommittee was invited to participate in a panel discussion, along with historians, labor leaders and community activists, on the legacy of the Triangle Shirtwaist Factory Fire and the current activities of labor organizations.
This March marks the centennial of the tragic fire that was a turning point for New York's labor movement and a prominent event in New York women's history. The fire took the lives of 146 workers, the majority of whom were young, female and recent immigrants to this country. The Subcommittee is involved with many events commemorating the anniversary throughout the state this month, highlighting the importance of a continued effort in ensuring safe working environments for all.