Assemblyman
Rory Lancman
Committee Chair

Contact Information: Allison Weingarten
Legislative Director
718-820-0241
New York State Assembly
Subcommittee on
Workplace Safety
Subcommittee Legislative Update:
"Juvenile Justice Worker Protection Act" Heads to Governor's Desk for Signature
The Juvenile Justice Worker Protection Act (A.2129/S.4940), sponsored by Assemblyman Lancman and Senator Catharine Young has been passed in both legislative houses and will be sent to Governor Cuomo's desk for signing. This legislation would require not-for-profit juvenile justice facilities to create the same workplace violence prevention programs that are currently required in public sector juvenile justice facilities. The Subcommittee's press release can be found here.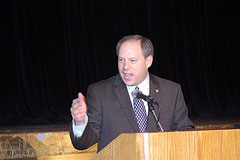 Assemblyman Lancman joins members of the New York State Nurses Association (NYSNA) in calling for legislative reforms that protect and promote the well-being of nurses.
"Safe Patient Handling Act" Passes Assembly
Assemblyman Lancman's Safe Patient Handling Act (
A.1370
/S.2470) was recently passed by a 124-20 vote in the Assembly. The bill would institute Safe Patient Handling programming and technology in New York State healthcare facilities in order to protect healthcare workers and patients from harmful patient moving activities. The bill will hopefully be taken up by the Senate when the legislative session resumes.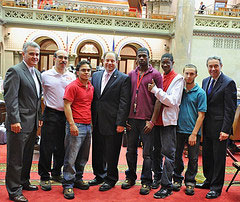 Assemblyman Lancman and Assembly Majority Leader Ron Canestrari with the Youth Construction Initiative Program of Troy in the Assembly Chamber
The Subcommittee on Workplace Safety Initiates "Young Workers' Safety Month" in June
The New York State Assembly and Senate have named June "Young Workers' Safety Month." June is pivotal in young peoples' transition from school into summer employment, and it is an opportune time to spread awareness about young workers' safety and rights on the job. In honor of Young Workers' Safety Month, Assemblyman Lancman introduced a delegation from the Youth Construction Initiative Program (YCIP) in the Assembly chamber. The YCIP program is designed to encourage young people who are not college-bound to seek rewarding careers in construction. With construction being one of the most hazardous industries in the state, safety and health training are strongly emphasized in the YCIP program.
Also spreading the message of Young Workers' Safety Month are four ballparks throughout the state that are hosting "Teen Workers' Safety Night" in order to raise awareness among young workers about safety and health. The participating ballparks are Falcon Park in Auburn (June 27); Dwyer Stadium in Batavia (June 27); Russell E. Diethrick, Jr. Park in Jamestown (June 29) and Joseph Bruno Stadium in Troy (June 25).
The Subcommittee and Shubert Organization Take a Lead Role in Theater Safety
At the Subcommittee's recommendation, the Shubert Organization - the largest theater group in New York, with twenty theaters - has agreed to take the necessary steps in mandating emergency preparedness training for its employees. Following a Roundtable discussion, the Subcommittee found that theater employees were not properly trained in emergency preparedness and response, a major concern for workers in a highly populated area of New York City that has been targeted for attacks in the past. After working closely with theater owners, union representatives, FDNY, OEM and OSHA, the Subcommittee issued several recommendations to ensure that theater workers would be better prepared to handle an emergency situation.
OSHA has likewise responded to the Subcommittee's recommendations. OSHA has already advised sixty-three theaters to prepare employees for emergency situations in accordance with OSHA standards, and henceforth OSHA will include a check of a theater's emergency action plan in any future OSHA inspection, regardless of the initial reason for the inspection.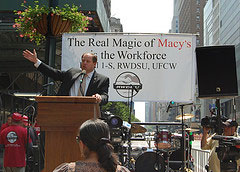 Assemblyman Lancman rallies with workers from Local 1-S, RWDSU/UFCW in front of Macy's in Manhattan
The Subcommittee Advocates for Fair Contracts
Assemblyman Lancman joined hundreds of Local 1-S, Retail, Wholesale and Department Store Union/United Food and Commercial Workers (RWDSU/UFCW) members rallying outside of Macy's in Herald Square to demand a fair contract. The Subcommittee on Workplace Safety stands in support of these workers' call for a fair contract, as the employers who cut corners on employee contracts are more likely to cut corners on workplace safety.
Local 1-S, RWDSU/UFCW's calls were heard, and the union succeeded in reaching a tentative agreement with Macy's executives.