Legislative Women's Caucus
New York State
Shirley C. Tranholm, Executive Director
Elaine Patrice Perkins, Assistant to Executive Director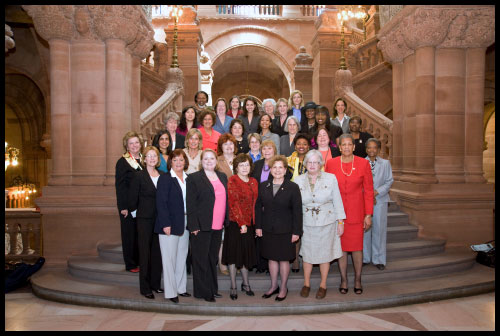 The Legislative Women's Caucus is a bi-partisan, bi-cameral organization of women elected to the New York State Legislature. Founded in 1983, the Caucus works closely with women's organizations, state agencies, the Governor, and others to advocate for programs and services that benefit women, children and families.
Through the Caucus, women legislators work to:
* improve the participation of women in all areas of government,
* support issues that affect and benefit women in New York State, and
* provide a network of support for women in the State Legislature.
Today, 47 women serve in the Assembly and the Senate, representing urban, suburban and rural districts across New York State.
Room 639-A, Legislative Office Building • Albany, NY 12248
Telephone: (518) 455-4347 • Fax: (518) 455-4537
E-Mail: LWC@assembly.state.ny.us