Ortiz Seeks To Eradicate Drunk Driving
Assemblyman Pushes For Passage of His Ignition Interlock Bill
June 6, 2006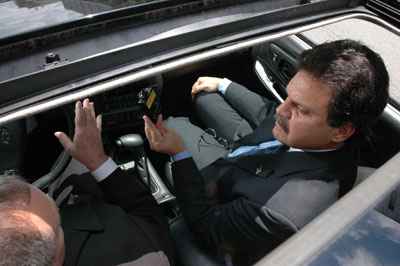 Today, Assemblyman Felix Ortiz held a press conference promoting his legislation to have Ignition Interlock Devices installed in all vehicles. Ignition Interlock devices, once installed in a vehicle, would prevent the vehicle from starting if alcohol was detected on the driver's breath. A driver would be required to blow into the device before the vehicle could be started. This would effectively render it impossible for a driver with a vehicle which has been registered or sold in New York, to drive under the influence of alcohol.

"The ignition interlock device will decide whether or not an individual is capable of driving. The fact is that alcohol affects a person's judgment, and someone who has been drinking is in no state of mind to be judging their own sobriety," said Ortiz.

There were 16,694 alcohol-related fatalities in 2004 in the United States – 39 percent of the total traffic fatalities for the year. Someone with Blood Alcohol Concentration (B.A.C) of .08 or higher is four times more likely to cause an accident while someone with a level of .16 or higher is twenty five times more likely. These statistics clearly show the effects of alcohol on an individual and their ability to operate a motor vehicle.

"More and more people are dying on the roads as a result of drunk driving. We need to get serious about this issue and come up with tough effective solutions such as my legislation. The installation of ignition interlock devices will ensure that drunk driving does not occur," stated Ortiz.