Ortiz Champions Domestic Violence Legislation
Legislation highlights victim's safety
June 18, 2008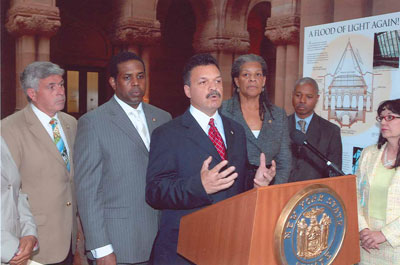 New York –Assemblyman Felix Ortiz (Brooklyn-51 AD) was joined yesterday with members of the senate and community organizations to unveil the Senate Minority Task Force on Domestic Violence. Ortiz was joined by Senator Aubertine, Senator Parker, Senator Hassell-Thompson, as well as, Bronx District Attorney Robert Johnson.

Rates of domestic violence are staggering. According to a five-year study by the New York State Department of Criminal Justice Services, there were 450,000 reports of domestic violence to police departments throughout New York between 2001 and 2005. Last year, New York City Police responded to 229,354 incidents of domestic violence which averages to approximately 600 per day. Even more shocking, last year domestic violence investigators made 76,602 home visits which represent a 98 percent increase from 2002.

The press conference emphasized the serious impact of domestic violence on communities and highlighted legislative measures that would benefit victims of abuse. Ortiz discussed two pieces of legislation A.2294 and A.5424 both of which seek to protect domestic violence victims. The first bill, A.2294, would require people such as law enforcement officers and physicians to report incidents of domestic violence. The second bill, A.5424, would require that people who are issued an order of protection wear a GPS monitoring device.

Assemblyman Ortiz believes that these two pieces of legislation will provide important assistance and support for vulnerable populations within New York State. "These bills protect victims of domestic violence and will hopefully reduce the number of cases of abuse," said Ortiz. "Victims suffer emotionally, physically and economically from domestic violence and we must do everything we can as leaders to give as much support to these individuals as possible."