Assemblywoman Galef, Senator Carlucci Introduce Boating Safety Package
Bills establish new rules for an increasingly hazardous recreation
July 17, 2012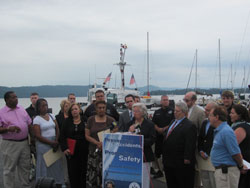 Ossining, NY
- In light of a recent uptick in boating accidents and deaths associated with them on Long Island and Westchester, New York State Assemblywoman Sandy Galef and Senator David Carlucci today announced a package of bills promoting greater safety for boaters and the boating public in New York.
One bill (A.3550/S.6633) requires all mechanically propelled vessel operators, through a multiyear phase-in beginning in 2014 with 18 year olds, to obtain a boating safety certificate by completing an eight hour safety course. This legislation would help eliminate the dangers of boating often attributed to inexperience by requiring boat operators to take a course and become aware of all safety and legal aspects of operating a boat.
"Boating accidents have dominated the local news in the last couple of weeks, and have increased in the past few years," said Assemblywoman Galef. "That directly corresponds to the increase in boat traffic within New York's waterways. Some operators do not understand the possible damage that can be brought on by slight inaccuracies in operation when navigating in high traffic or tricky waterways. This ignorance of the rules of operation cannot be tolerated in the face of dangerous and all too often fatal accidents."
New York's boating safety standards are behind other states. Both Connecticut and New Jersey, neighboring states sharing New York's waterways, require boat operators to have safety certificates, and 30 other states also have greater safety requirements for boaters.
Related legislation (A.6452/S.7199) introduced by Galef and Carlucci passed the Assembly in April. Aside from the mandatory safety course and certification, this bill would provide boat or yacht owners a discount from their insurance carriers once they complete a boating safety course approved by the Commissioner of Parks. This bill is intended to encourage boat operators to thoroughly understand navigation laws with the benefit of getting a reduction on insurance premiums, just as automobile drivers do.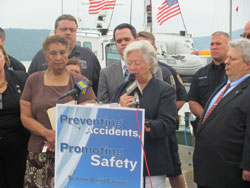 "These proposals are about keeping our waterways safe and making sure that we can do so in an affordable way," said Senator Carlucci. "When someone wants to shave points off of their automobile insurance premium, they take a defensive driving course. The same concept should apply to boating when we are talking about putting experienced drivers in the water."
U.S. Coast Guard Auxiliary quote: "The 2011 Recreational Boating Safety (RBS) statistics from the U.S. Coast Guard show that 93% of boating fatalities involve operators that have not taken an approved boating safety course," said Bob Daraio, Village of Ossining Trustee and U.S. Coast Guard Auxiliary. "As a U.S. Coast Guard Auxiliary, U.S. Power Squadron, and N.Y. State certified boating safety instructor, I say with certainly that this legislation will save lives."
Lack of boating safety requirements in New York has led to higher fatality rates in recent years most commonly due to carelessness and operators' ignorance, with many of these accidents involving the use of alcohol. Seeing that the high dangers of alcohol on the road have translated onto New York waterways, operators should consider water navigation safety as seriously as traffic laws on the road.
"Driving an automobile doesn't mean that you can skipper a boat, which requires mastering unique skills and safety techniques," said Assemblyman Thomas Abinanti who co-sponsors the two bills. "Adults should at least have to meet the same standards that we now require of kids."
"These two bills will work together to make boating a safer activity for everybody," said Assemblyman Charles Lavine (D-Glen Cove). "Just this month, right in the heart of the North Shore of Long Island, the capsizing of an overcrowded boat claimed the lives of 3 children. Long Islanders know all too well the dangers and terrible heartbreak that can result from improper safety practices at sea. These important bills will go a long way towards making proper boat safety both a common and incentivized practice." Assemblyman Lavine represents Oyster Bay.
A recent prank involved a boat operator who drove off while Ossining resident, Bryan Johnson, 26, was swimming nearby, leaving him stranded and helpless. The incident received widespread coverage over the apparent drowning that allegedly ensued.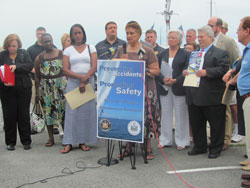 Sheila Lilley, mother of Bryan Johnson, said, "It's appalling to know that New York State has no mandatory safety boating education requirements for operators of a watercraft; especially those which are operated by a motor and most certainly those having 3 or more passengers. To think you do not even need to have a boating license; that's insane. Operators should have to go through some kind of safety class with some requirements to respond to a life emergency."
Bryan Johnson's grandmother, Thomasina Laidley Brown, who was very close with Bryan, said, "I want to thank Assemblywoman Galef and Senator Carlucci for seeing the need to introduce this Boating Safety Package, to tighten boating safety. Needless to say, I am angry and appalled at the flaws which currently exist, with regard to the operating of boats on the waters. My grandson will not have died in vain if such changes in boating legislation can be enacted without further delay."
According to data from the Office of Parks, Recreation, and Historic Preservation from 2010, twenty seven people were killed in boating accidents and a further 128 injured. That was an increase from twenty one people killed and seventy-eight injured in 2009, and the highest number of people killed in boating accidents since 2003, when thirty-four people died.
There were 243 boating accidents in 2010, with Long Island being the site of the largest number of accidents. The five counties of New York City had thirteen accidents and three accidents happened in Rockland County, all of them on the Hudson River.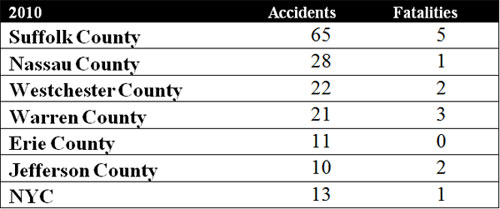 There were over 475 thousand recreational vessels registered in New York in 2010, the latest year for which currently published data exists. This makes New York one of the top ten states nationally for the number of recreational vessels registered, according to data from the Coast Guard.
The National Association of State Boating Law Administrators and the United States Coast Guard have issued recommendations of their own that all states implement mandatory safety boating education.
The New York State approved boating safety course is currently required for all personal water craft (jet skis) operators. Approved boat safety courses are provided free of charge and for charge through a variety of venues including New York State Office of Parks, Recreation, and Historic Preservation, United States Coast Guard Auxiliary, U.S. Power Squadron, various municipalities, and local boat clubs.
Under current New York State law, boating safety certificates may be obtained by completing a New York State Boating Course. Persons are required to hold safety certificates if, they operate a personal watercraft and are at least 14 years of age. (Until 2009 operators age 10-13 could still operate with restrictions), and if they wish to operate a motorboat (other than a personal watercraft) and are at least 10 years old and less than 18 years old.
Persons who are less than 10 years old may operate a vessel - not a personal watercraft (PWC) - only if someone over 18 is on board with them. Anyone may operate a personal watercraft if someone at least 18 years old with a boating safety certificate or exemption is supervising them.

To see the Boating Safety Press Conference, please click here.