After reviewing the pros and cons of the proposal by Broadwater Energy to build a liquefied natural gas plant in Long Island Sound, Assemblyman Lavine believes that the proposed project will not only do harm to the Long Island Sound, but is not needed to meet the natural gas needs of our area.
Broadwater, a partnership of Shell and the Trans Canada Corporation, filed an application with the Federal Energy Regulatory Commission (FERC) to build the plant, on a floating island about the size of the Queen Mary, about 9 miles from Wading River in New York and 11 miles from New Haven.
"I have studied the issue and have come to the conclusion that the building of Broadwater is certainly not good for our environment, but more importantly, it is not needed." Assemblyman Lavine explained.
Although Broadwater is designed to bring 1 billion cubic feet per day of natural gas to our area once completed, there is already in place a number of pipelines, that are either completed or under construction, that will deliver 1.5 billion cubic feet per day by 2009, well before Broadwater is completed. This is more than enough to meet the natural gas needs of our area for the foreseeable future. Additionally, even with an expected growth of 10 per cent in natural gas usage in the near term, the new pipelines, refitting of gas fired power plants and investment in efficient combined heat and power operations should be enough to meet this growth.
In fact, according to an analysis by Synapse Energy Economics, Inc., our area may not face any shortages at all.
Additionally, LIPA is completing two 660 megawatt electric cables that will connect Long Island to New Jersey, enough to power 1,320,000 homes, which will further reduce the need for gas.
We must also consider the problems Broadwater will create in the Long Island Sound. The "Race," which is the entrance from the Ocean to the Sound (between the tip of Long Island and Rhode Island) would have to be shut, and all other traffic halted, each time an LNG tanker passes through. The tanker would have to be escorted by the Coast Guard, at an estimated $80,000 per ship. The LNG conversion plant requires a zone of 3 miles all around, necessitating the closing of lobster beds and 24-hour Coast Guard surveillance. In addition, two to three tankers are expected to make the trip weekly, with each taking up to 15 hours to offload.
Based on these observations, Assemblyman Lavine believes the Broadwater application should be rejected by FERC.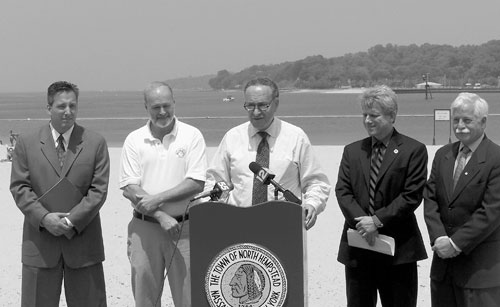 Assemblyman Lavine and others join Senator Schumer as announces a bill to provide funding to fight invasive species.