Lavine scores high with environmentalists
Assemblyman Lavine is proud to have received a grade of 103, the highest grade given out for 2009, from the Environmental Activists of New York, a 40-year-old lobbying organization that advocates for the future of the state's environment and the health of its citizens, as well as serving as the voice for the environment in the State Capitol.
Assemblyman Lavine said, "I am honored to be recognized by the Environmental Activists of New York. Our environment is very precious and fragile, and I consider anything we as lawmakers can do to preserve or restore our natural resources a top priority."
The organization's scorecard grades New York State lawmakers according to their votes on bills that could benefit our air, land and water. On this year's annual scorecard, a score of 103 was merited by only 12 of the Assembly's 150 members.
In addition, the Bigger Better Bottle Bill, which Assemblyman Lavine cosponsored and worked diligently to have passed, was named one of five Super Bills by EPL/Environmental Activists.
"I am proud to congratulate Assemblyman Lavine for voting to protect New York's precious natural resources during the 2009 legislative session," said Robert Moore of EPL/Environmental Advocates. "Year after year, Assemblyman Lavine rates among New York's greenest lawmakers by consistently supporting the environmental community's priority Super Bills, including legislation to cap global warming pollution, protect our drinking water and recycle toxic e-waste."
Lavine elected President of Association of Jewish Legislators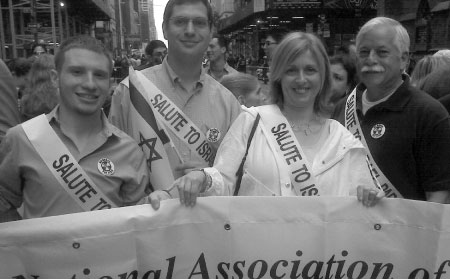 In March 2010, Assemblyman Lavine was elected President of the New York State chapter of the National Association of Jewish Legislators, a nonpartisan network of federal, state and local legislators, including non-Jewish affiliates, which focuses on issues of social justice, discrimination, poverty, education, and health and human services.
The NAJL has its roots in the International Council of Jewish Parliamentarians, an organization formed in 1988 whose mission is, among other things, "to promote an ongoing dialogue and a sense of fraternity among Jewish legislators and officials" and "to uphold the principles of democracy, further the cause of human rights and promote the rule of law worldwide." Currently, there are between 30 and 40 members in the New York State chapter of the National Association of Jewish Legislators.
Pictured carrying the banner of the NAJL in the annual Salute to Israel parade are Steven Friedman of Wantagh and Assemblymembers Micah Kellner, Michelle Schimel and Charles Lavine.
Working to revitalize New Cassel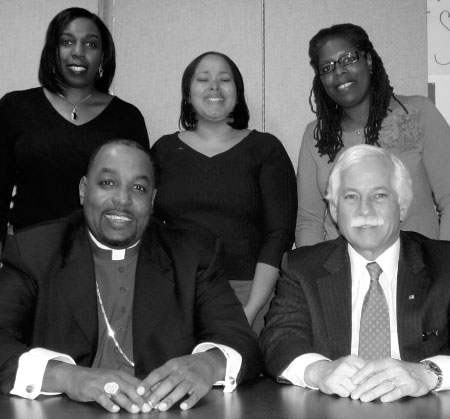 Assemblyman Lavine is always happy to meet with members of Unified New Cassel Community Revitalization Corporation. Since its inception nearly a decade ago, UNCCRC has been a catalyst for many outstanding accomplishments. Over the last several years the New Cassel community has witnessed an amazing transformation, including new affordable housing. New Cassel is part of the Empire Zone program which promotes economic growth by assisting established New Cassel businesses and attracting new ones.
Pictured standing are Dr. Monique Harvey, Laura Caines-Giralde and Kennetha Pettus, executive director. Seated are Bishop Lionel Harvey, president and CEO of UNCCRC, and Assemblyman Lavine.
Lavine celebrates holidays with Westbury seniors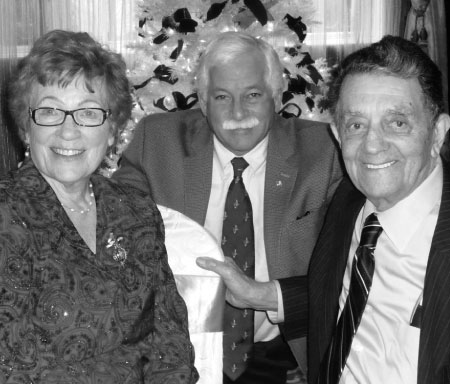 Assemblyman Lavine was happy to join members of the Westbury Senior Center for their annual holiday party, held this year at Westbury Manor.
Pictured with Assemblyman Lavine are Ann Pupo and John Pietrofere.
Lavine has ticket to ride at OB Railroad Museum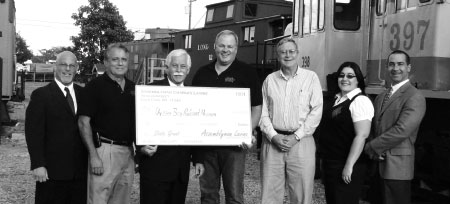 Assemblyman Lavine made tracks to the Oyster Bay Railroad Museum to tour historic equipment the museum is compiling. "The Oyster Bay Railroad Museum is a monumental project that will serve to both preserve and teach a piece of local history. This train station was built in 1889 and was used by Theodore Roosevelt during his presidency. I am proud to do all I can to support the museum," said Assemblyman Lavine.
Pictured with Assemblyman Lavine are Gary Farkash, trustee; John Specce, museum president; Ben Jankowski, chairman of the board; Bill Bell, museum director; and Lauren Godoy and Rob Brusca, museum trustees.
Red light cameras come to Nassau County
Assemblyman Lavine's Red Light Camera bill was signed into law by the governor during the 2009 legislative session. The legislation established a program in which up to 50 photographic violation-monitoring devices were installed on traffic lights throughout Nassau County. Locations of the cameras include county-owned intersections with the highest incidence of accidents.
The purpose of the legislation is to deter motorists from recklessly violating traffic laws, thereby preventing vehicular accidents and lowering the rate of fatalities and injuries. Motorists choosing to ignore traffic signals by driving through a red light will trigger a snapshot of the vehicle's rear license plate. The photograph will be reviewed and the vehicle owner notified by mail of the liability.
"Currently many large cities throughout the United States, including New York City, Los Angeles, Philadelphia, Chicago and New Orleans, have the red light cameras in place. These proven lifesavers will serve to protect the safety of our local citizens," said Assemblyman Lavine.
Lavine honors ORT member Anna Goidell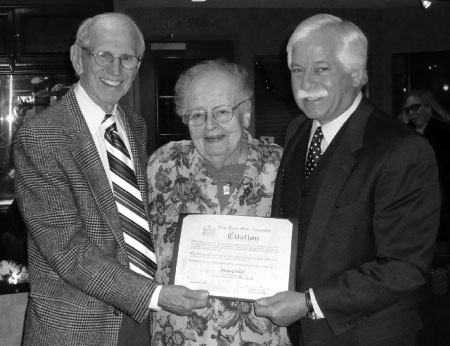 Assemblyman Lavine was pleased to join the members of World ORT and ORT America for their annual holiday party. The assemblyman presented a citation, as well as high praise, to member Anna Goidell of Plainview for her decades of service to both organizations. Mrs. Goidell was proud to credit her late father as the inspiration for her dedicated service to ORT.
Mrs. Goidell is pictured flanked by Assemblyman Lavine and her husband, Eugene.
Leandra's Law is enacted
Assemblyman Lavine worked hard with fellow legislators to ensure passage of an assembly bill that makes it a felony to drive while intoxicated with a child aged 15 or under in the car. The bill, titled Leandra's Law, subjects a driver with a blood alcohol level of .08 to a prison sentence of up to 1-1/3 to 4 years for the first offense. Once a convicted felon is able to have his or her driver's license reinstated, it will be mandatory that a breath alcohol ignition interlock device be installed in the car. If at any time the interlock is tampered with, that too will be a crime.
"Driving while intoxicated is a criminal act that has been responsible for many senseless deaths. I am proud to have been part of this legislation and I am confident that it will prove to save lives," Lavine said.
Lavine visits Holocaust Center, meets survivors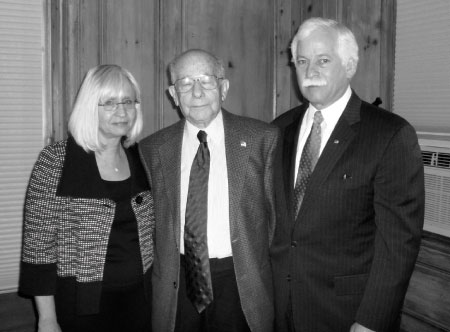 Assemblyman Lavine paid a visit to the Holocaust Memorial and Tolerance Center of Nassau County when it reopened its doors after 18 months of major renovations. During a visit to the new museum, which contains artifacts and photos contributed by local Holocaust survivors as well as a state-of-the-art multimedia exhibit, Assemblyman Lavine said, "This Holocaust Memorial and Tolerance Center, which has already educated tens of thousands of people, is an essential part of our evolution into a society of kind and decent human beings, a truly American ideal."
Assemblyman Lavine is pictured with Nassau County Legislator Judi Bosworth and Holocaust survivor Eddie Weinstein, who lived through the horrors of the Treblinka death camp.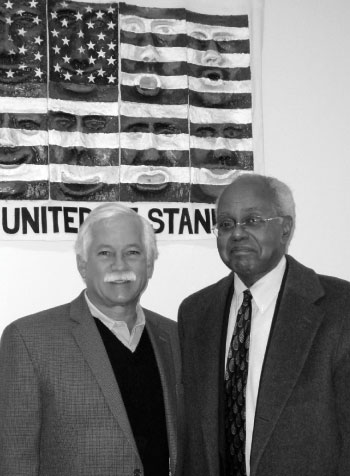 Lavine welcomes Civil Rights Activist Joseph McNeil
In commemoration of Rev. Dr. Martin Luther King Jr.'s birthday, Glen Cove held its 26th annual celebration of the slain civil rights leader's life. Assemblyman Lavine was proud to welcome honoree Joseph A. McNeil, a member of the "Greensboro Four," a group of college students who, in 1960, held one of our nation's earliest non-violent sit-ins at a segregated lunch counter in Greensboro, North Carolina. Assemblyman Lavine thanked Mr. McNeil for his courage, "especially at the young age of 17," and said he was honored to meet "a part of living history."
Assemblyman Lavine lends a hand to Island Harvest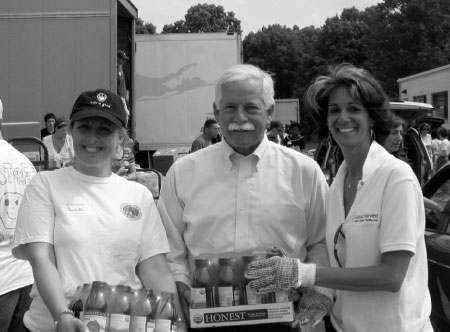 Assemblyman Lavine joined volunteers of Island Harvest's third Summer Food Blitz at the organization's storehouse in Uniondale where they sorted, packaged and transferred approximately 500,000 pounds of donated food to more than 100 local agencies and food pantries. Assemblyman Lavine said, "Island Harvest is made up of a dedicated group of caring and hardworking individuals from all walks of life. The outpouring of concern for their neighbors exhibited here manifests the true meaning of community. I am always eager and proud to assist Island Harvest in any way I can."
Assemblyman Lavine is pictured with Assemblywoman Michelle Schimel and Randi Shubin Dresner, president and CEO of Island Harvest. (Photo courtesy of Island Harvest)
Lavine attends Island to Island Benefit at Mistretta Galleries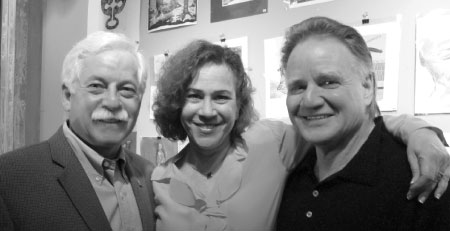 Assemblyman Lavine joined members of the community at Mistretta Galleries in Locust Valley for the opening of the Island to Island Haitian Relief Through the Arts exhibition and sale. Assemblyman Lavine said, "This art exhibit is a wonderful way to show support for our neighbors in Haiti who are struggling to survive and rebuild after the devastating earthquake that ravaged the island."
Assemblyman Lavine is pictured at the opening of Island to Island Haitian Relief Through the Arts with artist Sherryl Sachs and gallery owner Don Mistretta, both of Sea Cliff.
National Night Out in Glen Cove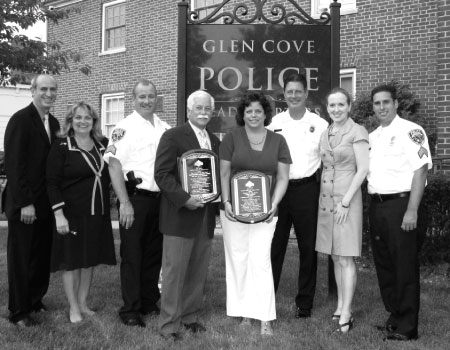 Assemblyman Lavine was honored by the Glen Cove PBA at last summer's National Night Out event. National Night Out is a program designed to heighten crime awareness and open the doors of communication between the community and law enforcement.
Pictured with Assemblyman Lavine are Ralph V. Suozzi, mayor of Glen Cove; Leg. Diane Yatauro, minority leader, Nassau County Legislature; Police Sgt. Patrick Hall; Carol Kenary; Police Chief William Whitton; Nassau County District Attorney Kathleen Rice; and Police Sgt. Chris Ortiz.
Lavine joins in honoring Pearl Harbor survivors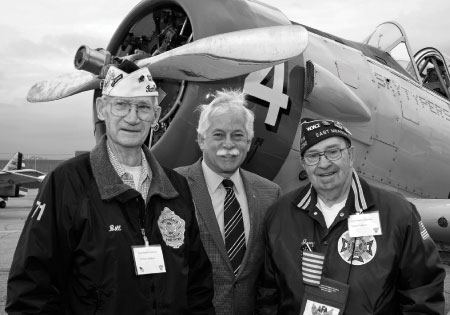 Assemblyman Lavine was proud to join veterans, families, friends and other Americans in honoring survivors of the Pearl Harbor attack during ceremonies held at the American Airpower Museum at Republic Airport to mark the 68th anniversary of Pearl Harbor Day. "The decades have not tarnished the valor, courage and sacrifice of those who served at Pearl Harbor that morning. They fought back with tenacity and bravery and provided our nation with an extraordinary lesson about the cost of defending democracy," said Assemblyman Lavine.
Assemblyman Lavine is pictured with Pearl Harbor survivors William Halleran and Gerard Barbosa.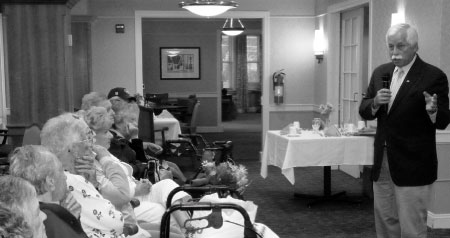 Atria of Plainview welcomes Assemblyman Lavine
Assemblyman Lavine spoke to residents at Atria of Plainview during National Assisted Living Week, which takes place every September. Residents engaged in an informal discussion with the assemblyman. They asked questions pertaining to New York State's legislative branches and the ways that government entities work together. Also on the list of hot topics were questions about healthcare.
Assemblyman Lavine is pictured conversing with residents.
Room 441, LOB • Albany, NY 12248 • (518) 455-5456
70 Glen Street, Suite 100 • Glen Cove, NY 11542 • (516) 676-0050 •
lavinec@assembly.state.ny.us