Assemblyman
Charles D.
Lavine
Reports to the People
Fall 2011
Under the leadership of Governor Andrew M. Cuomo, our legislature completed its 2011 legislative session with a long list of extraordinary accomplishments.
In the midst of a global economic crisis, we passed a balanced, on-time budget that spent less than the previous year and did not add new taxes. That budget also closed a $10 billion gap without borrowing.
We enacted a property tax cap limiting tax increases in villages, towns, school districts, cities and counties to 2% or the rate of inflation, whichever is lower. This will provide meaningful relief for Long Islanders whose property taxes are among the highest in the nation.
Comprehensive ethics reform is a major first step in ending the seemingly constant stream of scandals coming out of Albany. The Public Integrity Act of 2011 forces legislators to make unprecedented disclosures of their private clients and customers. It requires fuller disclosure of the income and assets of members of the executive branch and legislators. It creates a public database of who is appearing before state agencies and establishes an independent commission to oversee enforcement. Importantly, the law includes the provisions of a bill I had written that forfeits the public pensions of officials who are convicted of crimes.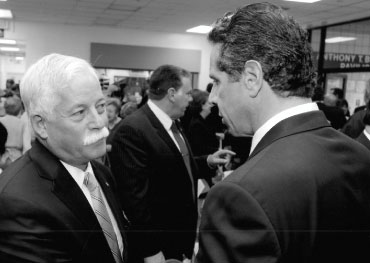 On the 10th anniversary of September 11th, Assemblyman Charles Lavine was proud to stand with Governor Andrew Cuomo and other elected officials at one of many statewide "New York Remembers" exhibits of artifacts from the 9/11 attacks.
The historic passage of same-sex marriage laws has returned New York to its status as a national leader in justice, equality and fairness. After all, only second class states have second class citizens.
Under Governor Andrew Cuomo, we have also begun the task of modernizing our State University system and seen the establishment of 10 Regional Economic Councils to encourage investment in our economy and the creation of badly needed jobs. I am honored to have been appointed Chairman of the Assembly Administrative Regulation Review Commission.
While much has been done in a short time, there is far more that has yet to be accomplished to protect our citizens. Working together, I am certain that we will make sure that New York continues in the best direction.
Working hard for the 13th Assembly District
Named Chairman of Administrative Regulation Review Commission
In February, I was named chairman of the Administrative Regulation Review Commission, a bipartisan commission that will keep New York State's government agencies accountable to the taxpayer. The commission will review and examine the rules set by unelected state agencies, and will find new ways to streamline and increase the transparency of the rule-making process.
Creating Quality Jobs on Long Island
This year, I advocated for efforts to create a new jobs program called Recharge New York. Recharge New York is a sustainable and predictable energy program for businesses and not-for-profits designed to protect and create jobs and encourage new capital investments. Power for Jobs, a program which will be continued under Recharge New York, has already created more than 200,000 jobs across the downstate region.
Promoting Construction Jobs
Legislation I sponsored that will assist cities, villages and contractors in completing construction projects for local municipalities passed the legislature unanimously. The bill grants city and village planning boards more flexibility in finalizing projects with contractors. The legislation will save local governments sorely needed funds by reducing duplicate re-bidding and will create construction jobs in New York State.
Lavine Helps Author Ethics Reforms
Legislation that I fought for will revoke public pension payments to public officials convicted of crimes, and has been adopted by the Governor and Legislature's ethics reform law. Strong ethics are a cornerstone for efficient and good government. I am proud that legislation that I sponsored was adopted in the final ethics law. It is important to revoke taxpayer-funded pensions from those who violate the public trust for their own benefit.
Assisting Our Small Businesses
I sponsored legislation that will shield small businesses from certain fines or penalties imposed by regulatory entities. This bill was passed by both the Senate and the Assembly. The legislation requires that government regulators must consider implementing a cure period, which would provide time for businesses to correct infractions before receiving a fine.
Standing Up for Early Intervention Patients and Providers
I gathered alongside a bipartisan group of legislators and rallied with patients and providers of the essential Early Intervention program to fight cuts and regulations which would damage patient care.
4201 Schools and Expanding Health Insurance Coverage for Autism Spectrum Disorders
The State Legislature was able to successfully restore $98 million dollars to 4201 schools and create a new funding mechanism that will ensure important support for schools such as Mill Neck Manor and the Henry Viscardi School. 4201 schools serve the special education needs of children who are deaf, blind, and/or severely disabled. In addition, I also announced the passage of ground breaking legislation to specifically require HMOs and individual and group health insurers to require screening, diagnosis and treatment of autism spectrum disorders (ASD).
Continuing the Internship Program
For the fourth straight year, high school and college students from the 13th Assembly District participated in our summer internship program. Our interns gained valuable experience in weekly meetings to discuss the important issues that our state and nation face. Those interested in applying to be part of the internship program can contact our office's Community Liaison Harrison Feuer at feuerh@assembly.state.ny.us.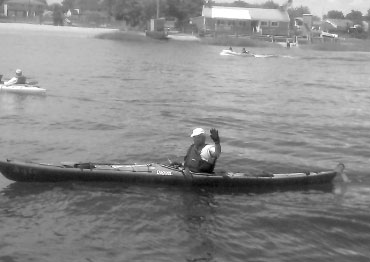 Assemblyman Lavine participated in the Bay's Big Bash Kayak-A-Thon at Centre Island Beach in Bayville. The event was sponsored by Bridge Marine and benefited the Cancer Center for Kids at Winthrop University Hospital.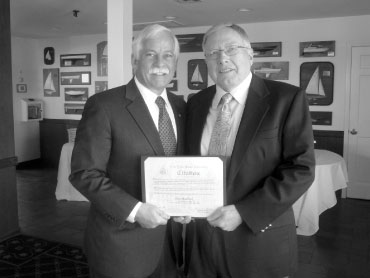 Assemblyman Lavine presented Sea Cliff Village Administrator Dan Maddock with a NYS Assembly citation, upon his retirement, for many years of dedicated public service.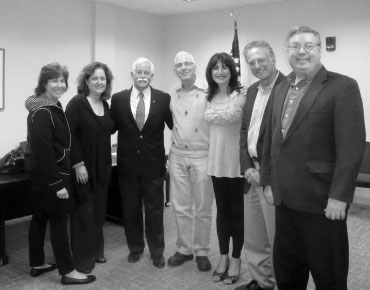 Assemblyman Lavine was the guest speaker at Clearview Village Civic Association's Annual Meeting. Clearview Village is a community located in Syosset. Pictured (l to r) Gail Schwartz, Julia Perl, Assemblyman Lavine, Norm Weingart, Robyn Feld, Herb Weiss and James Ripka.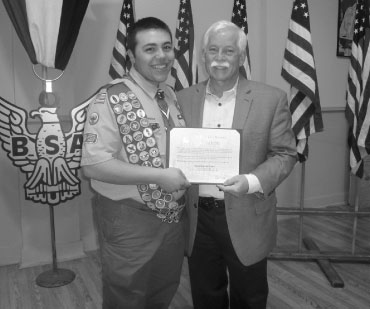 Assemblyman Lavine attended Matthew Bellomo's Eagle Scout Court of Honor last spring. Matthew is a member of Troop 6 and dedicated his Eagle Scout project to restoring the Morgan Park gazebo and garden area.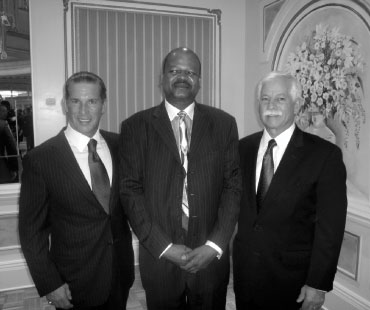 Assemblyman Lavine was the proud recipient of the Public Service Award at the McCoy Center's 2nd Annual Spring Dinner. Pictured (l to r) President/CEO of Long Island Compost and Glen Cove resident Charles Vigliotti, McCoy Center Executive Director William Pruitt, and Assemblyman Lavine.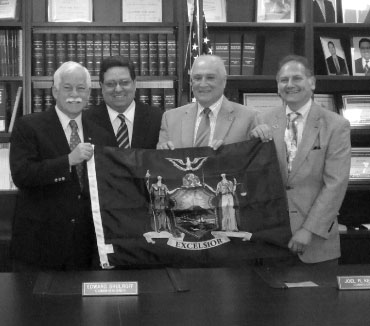 Assemblyman Lavine was proud to present a New York State flag to the commissioners of the Plainview Water District. Pictured (l to r) Assemblyman Lavine, Commissioner Andrew Bader, Commissioner Edward Shulroff, and Commissioner Joel Kessler.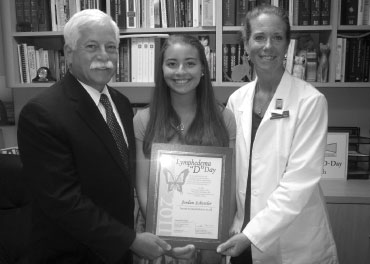 Assemblyman Charles Lavine presented Jordan Schessler with a New York State resolution honoring her outstanding advocacy on behalf of lymphedema. Jordan is a resident of Bethpage and an honors student in math at Muhlenberg College. Pictured (l to r) Assemblyman Lavine, Jordan Schessler, and Dr. Bonnie Lasinski.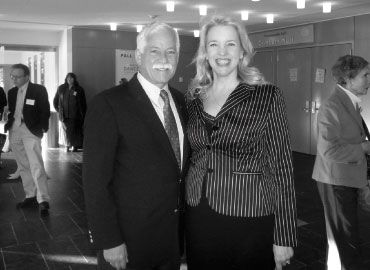 Assemblyman Lavine attended the 2011 Long Island Arts Alliance gala held at the Tilles Center. Pictured are Assemblyman Lavine and Theresa Statz-Smith, Executive Director of the LIAA and a Bayville resident.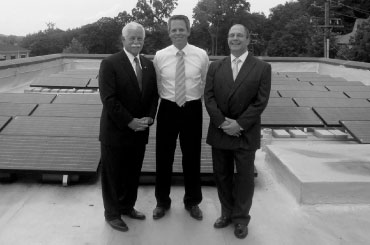 Assemblyman Charles Lavine toured a solar panel project with Northwest Company CEO Ross Auerbach and Quad State Solar founder Jonathan Lane. The panels were installed by Quad State Solar Incorporated of Plainview and are located on the rooftop of the headquarters of the Northwest Company in Roslyn. Pictured (l to r) Assemblyman Lavine, Ross Auerbach, Jonathan Lane.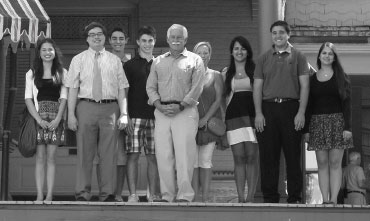 Assemblyman Charles Lavine and the summer intern class of 2011 toured Sagamore Hill National Historic Site in Oyster Bay. Pictured (l to r) Allie Shafran, Brian Lafferty, Michael Starr, Cody Goldsmith, Assemblyman Charles Lavine, Chief of Staff Tara Butler, Neha Sodhi, Max Kramer, and Sydney Egnasko.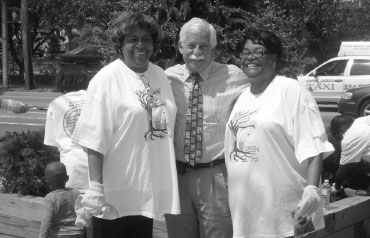 Assemblyman Lavine joined members of the Unified New Cassel Community Revitalization Corporation on a beautiful spring morning to help with their cleanup. Pictured (l to r) Jackie Caines, Assemblyman Lavine and Cynthia Williams.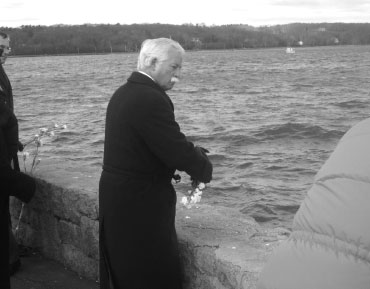 Assemblyman Charles Lavine at a Pearl Harbor Day commemoration ceremony at Roosevelt Park in Oyster Bay.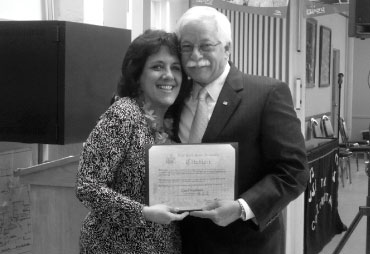 Assemblyman Lavine presents Carol Waldman, the Executive Director of the Glen Cove Senior Center, with a citation from the New York State Assembly for her commitment and dedication to the senior community.