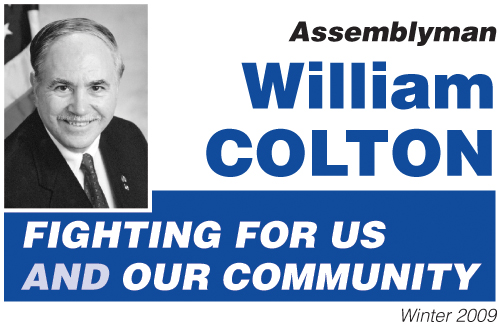 Your Petitions Helped Save Our Post Office!
Assemblyman Colton thanks you for the thousands of petitions that you sent to his district office in an effort to prevent the Highlawn Post Office from closing. This is a big victory for our community and a great example of how we can all pull together and unite around a great cause. Through community organizations and individuals, the Assemblyman's office sent several thousand signatures to the US Postal Service, which was considering closing this post office as a cost saving measure. Together we have raised awareness of the importance of the Highlawn Post Office, and in the process saved jobs, and preserved convenience to the thousands of patrons, including many seniors, who use the Highlawn Post Office. Once again, thank you!
Colton Hosts Education Breakfast to Oppose Cuts
Assemblyman Colton has once again rallied the community to speak up and oppose the governor's proposed cuts to education. Assemblyman Colton has labeled the $686 million mid-year cuts to school aid as devastating and a serious step-backward for achieving the mandated aid increases under the decades long Campaign for Fiscal Equity (CFE) court case.
Under the CFE court ruling, the state is required to restructure school aid formulas to compensate for inadequate funding for high needs school districts such as New York City, and to increase funding over a period of five years. Assemblyman Colton recently held a breakfast with parents, teachers, community leaders, children's advocates and District 21 UFT to organize action for opposing these unfair cuts to education.
Assemblyman Colton believes there are better ways to address the state's deficit other than deep mid-year school aid cuts that will have a profound effect on children's education, which has been underfunded for far too long. The Assemblyman's office collected some 5,000 letters to the governor opposing these cuts. Recently, the Assembly and Senate passed a $2.8 billion dollar deficit reduction plan, which rejected mid-year cuts to education and reduced proposed cuts to healthcare and higher education.
Colton Back to School as Principal for a Day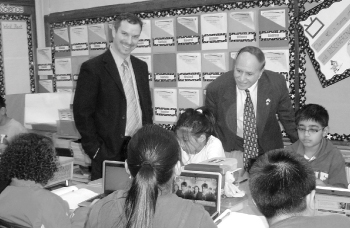 Assemblyman Colton is seen here alongside Principal Gregg Korrol, interacting with some children at P.S. 101.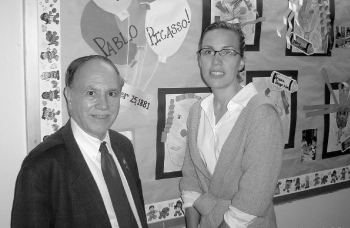 The Assemblyman had the privilege to be a honorary principal at P.S. 97 as well. Pictured here with him is Principal Kristine Mustillo.
Colton Gets Grant for Enviromedia Mobile
Assemblyman Colton obtained a $100,000 grant for the Urban Divers Estuary Conservancy group for a traveling environmental center and micro-maritime museum on wheels. The Enviromedia Mobile Tour will provide weekend family fun-filled days of environmental education and maritime cultural enrichment activities. Parents, children, and visitors will be inspired by the various exhibits that define and illustrate the living nature of our NYC urban estuary and watershed. The goal is to bring awareness to the variety of aquatic life living in our local waterfront and to become educated on the best practices for preserving our biodiversity and natural resources. For news and bookings on upcoming events please contact
Executive Director Ludgar Balan at (347) 224-5828 or e-mail enviromediamobile.udec@gmail.com
Colton Continues to Fight Gas Drilling
in the NYC Watershed
Assemblyman Colton recently submitted preliminary comments to the Department of Environmental Conservation (DEC) demanding that a ban on drilling be imposed within the New York City watershed. The comments also requested that the public have an extension of time to review the over 800 pages of proposed regulations. Just recently the DEC extended the comment period from November 30th to Dec. 31st 2009. Assemblyman Colton is pushing for an even greater extension so that the New York City Department of Environmental Protection (DEP) can complete an independent review. The DEP's report is expected to be released by early January.
Gas Company Concedes:
Colton Says Fight Is Not Over
Recently, the gas company Chesapeake Energy released a statement saying that it had no intentions on developing the leases obtained within the watershed. However, Assemblyman Colton is going to continue to fight until a ban is included in the DEC's regulations and continue to fight to make sure that ALL water resources are protected across the state.
Assemblyman Colton is encouraging everyone in the community to write the Department of Environmental Conservation and demand that a ban be placed on the watershed area and that all precautions be taken to ensure that drinking water is protected across the state. All comments should be sent to the Bureau of Oil and Gas Regulation, NYSDEC Division of Mineral Resources, 625 Broadway, 3rd Floor, Albany, NY 12233-6500.
Drilling Accidents
Highlight Need for Restraint
"There have been 270 cases of wastewater spills, well contamination, explosions and ecological damage that have occurred from drilling in New York State since 1979. Significantly expanding these operations without the waste water infrastructure or proper oversight is far too great a risk to take in exposing the citizens of the state and city of New York to chemicals that are linked to cancer and other health problems."
"If an accident were to occur in the NYC watershed it could ruin our fresh water supply and force NYC to build a filtration plant, which could cost up to $10-20 billion. Besides the monetary factor and the burden to the city's water and sewer rate payers, the possibility for permanent contamination of one of the most pristine fresh water sources is inexcusable and unethical. It is in my view that drilling in and around the NYC watershed should be banned outright," Colton stated.
For More Information
Please click here
for more information on drilling in the Marcellus Shale and to view the comments he submitted to the DEC.
Governor's Plan for New License Plates Is Defeated
Through a bipartisan effort, the Assembly will eliminate the requirement that all New York State vehicle owners purchase new license plates. Assemblyman Colton is quoted as saying,
"The economic downturn has affected us all, and we recognize the strain this plan would have on working families and small businesses across the state. I pushed hard to roll back this requirement in order to lessen the financial burden that our state's families already feel."
Assemblyman Colton also fought hard against $2.1 billion in regressive taxes and fees proposed in the 2009-2010 budget and helped to get these "nuisance" taxes removed from the budget, saving families from this extra burden.

Consecutive Sentences for A-I Violent Felons
Under this new law, A-I felons will no longer be eligible for early release on parole and would be required to serve sentences consecutively rather than concurrently if they are repeat offenders. A-I felons include offenders that have committed first or second degree murder and first degree kidnapping, arson, and criminal possession or use of a chemical or biological weapon.
Protecting Victims of Child Sex Offenses
This legislation establishes that a person is guilty of criminal trespass in the second degree when an individual, who is a registered sex offender, enters or remains in a school knowing that the victim of his or her offense attends or formerly attended such school. Assemblyman Colton is a sponsor of the bill.
New York State now has the toughest law in the books when it comes to adults driving drunk with children in their car. Such an offense will now be considered a felony and violators would face imprisonment from 1 to 4 years for the first offense. The bill also mandates the installation of an ignition interlock system for all first time DWI offenders, regardless of whether or not they had children under the age of 15 present at the time of the offense. Assemblyman Colton is a sponsor of this law.
This law permits citizens to be notified with automatic e-mail alerts of a Level 2 and Level 3 sex offender living in their community. The law allows citizens to request cost-free e-mail updates for up to three counties or zip codes from the Division of Criminal Justice Services. Assemblyman Colton is a sponsor of this law.
Colton Engaged In Community Affairs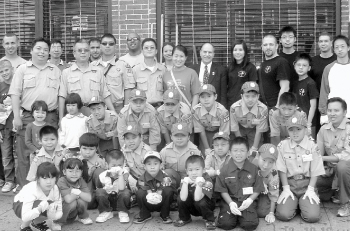 Assemblyman Colton is seen here with local volunteers from the United Chinese Association of Brooklyn (UCA), U.S. Navy Neighborhood Recruiting Center, Chase Bank, TD Bank and Chanwan Supermarket for a cleanup of Bay Parkway. This cleanup represents the third cleanup the Assemblyman has sponsored. The other two were at MacDonald Ave. and 86th Street. More community cleanups are currently being planned across the district.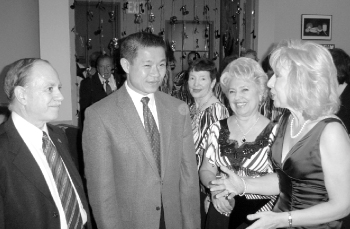 Assemblyman Colton is pictured here with New York City Comptroller-elect John Liu, visiting the Sephardic Senior Center for a multi-cultural entertainment event. This lively event gives a chance for seniors to showcase their singing and dancing talents from a wide variety of cultural backgrounds.
Assemblyman Colton Continues
Fight Against Waste Station
Assemblyman Colton has been leading a community-wide fight to stop the NYS Department of Sanitation from placing a garbage waste transfer station at the site of the now closed South West Brooklyn Incinerator at Shore Parkway and Bay 41st Street.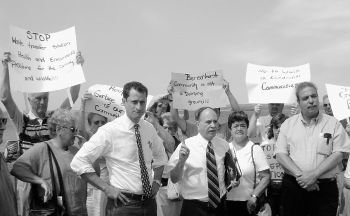 Assemblyman Colton is seen here with Congressman Weiner and, from left to right, community activists Ida Sanoff, Adeline Michaels, and Charles Ragusa.
Releasing Old Toxins into Waters
The city plans to dredge or dig up the water bottom at the site to make it deep enough for waste barges to enter and exit. This will release 30 years of toxins buried there from the former incinerator and could do irreparable harm to the wildlife that uses the area as their habitat. Samples taken from the bottom of the bay revealed levels of mercury and other poisonous metals.
Appealing DEC
Administrative Law Judge Ruling
At a hearing held in January 2008, over a thousand people voiced their strong concerns about the negative environmental and health effects that would be brought about by the city's poorly thought out plan.
Nonetheless, a Department of Environmental Conservation (DEC) Administrative Law Judge ruled that there was no justification for any further hearings regarding the potential environmental and health problems, because the DEC lacked the power to deny a permit based upon health and safety concerns.
Letter Writing Campaign to the Governor
Since this outrageous ruling undermines the very statutory role of the NYS DEC to protect public health, safety and the environment from such concerns, Assemblyman Colton, together with community organizations and individuals, has sent some 12,000 letters to Governor Paterson, demanding that his appointed commissioner affirm DEC's statutory duty to protect public health and overturn the ruling.
The community and many environmentalists are prepared to take their concerns to court if the DEC refuses to review the impact of dredging in an already contaminated and environmentally sensitive area. Assemblyman Colton insists that the DEC will commit a gross dereliction of duty and responsibility if it allows the permits to be approved.