Use Your Head - Wear a Helmet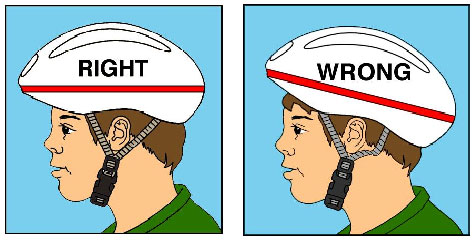 Pictures courtesy of Consumer Product Safety Commission
To prevent head injuries, your helmet should:
Fit comfortably touching the head all the way around; level and stable enough to resist even violent shakes or hard blows and stay in place
Adjust fit pads or rings to secure helmet. It should sit level on your head, with the front just above the eyebrows or frame of glasses. If you walk into a wall, the helmet should hit before your nose does!
Adjust straps so when you look up, the front rim should be barely visible to your eye; the "Y" of the side straps should meet just below your ear.
The chin strap should be snug against your chin so when you open your mouth very wide, you feel the helmet pull down a little bit. (Bike Helmet Safety Institute)
A Good Helmet
The body of the helmet, made of dense crushable material, absorbs the force of impact.
An outer shell with a ventilation hole helps prevent injury to the head.
The padded lining insures a comfortable fit.
The strong, flexible chinstrap helps to keep the helmet on your head.
| | |
| --- | --- |
| 1. _____ | Bicycles are toys. |
| 2. _____ | Hand signals tell other drivers that you can drive with one hand. |
| 3. _____ | Traffic signs and signals are only for car drivers. |
| 4. _____ | You only need to wear a helmet when riding on busy streets. |
| 5. _____ | Before you enter a street from an alley or driveway, you should always stop first. |
| 6. _____ | Before you make a left turn, look quickly over your shoulder to find out what is coming behind. |
| 7. _____ | The seat of a bike is the right height if you can touch the ground with the toes of both feet. |
| 8. _____ | Your brakes are good enough if your rear wheel skids on loose dirt, but not on pavement. |
| 9. _____ | A loose bicycle chain means that it is easier to pedal. |
| 10. _____ | Sidewalks are safer to ride on than roads. |
| 11. _____ | You don't have to stop at a stop sign if you are on a bike and there are no vehicles coming. |
| 12. _____ | It's generally a good idea to ride a bicycle at least four feet out from parked cars even if it means being closer to moving cars. |
| 13. _____ | Bicycles should be operated in the middle of traffic lanes. |