Building on a record of protecting children, cracking down on sexual predators
To keep our families safer, Assemblyman Cusick advanced several new measures that have passed the Assembly to:
Prohibit Medicaid from covering Viagra and similar drugs for convicted sex offenders (A.8999, awaiting governor's signature)

Enforce stricter penalties for sex offenders who fail to register (A.1342)

Require the most dangerous sexual predators be registered for life (A.8369)

Spell out who should be notified of a sex offender, such as school superintendents, day care centers, community centers and neighborhood watch groups (Chap. 680 of 2005)

Require current photos be used in the sex offender registry (A.1159)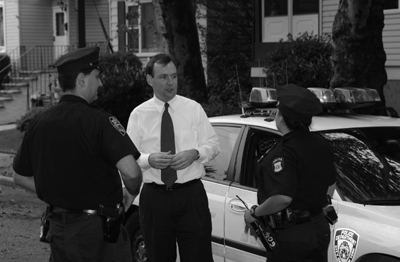 Making it easier to prosecute drunk drivers

Because of a law Cusick helped enact (Vasean's Law, Chap. 39 of 2005), it will be easier to prosecute an intoxicated or impaired driver who causes physical injury or death. The law removes the element of criminal negligence now required in these cases, and will make sure drunk drivers pay for their crimes instead of receiving just a slap on the wrist.

Cusick also authored a bill creating the crime of "dangerous driving," which would impose penalties of 1 to 25 years in jail depending on the severity of the accident (A.7885).

Eliminating the New York City sales tax on clothing

Assemblyman Cusick worked to abolish the 4 percent city sales tax on clothing and footwear under $110 to help families and allow businesses to effectively compete with New Jersey – which is completely exempt from sales taxes on clothing (Chap. 285 of 2005). As of last September 3, families no longer need to leave their hometown to reap the savings, and merchants can stop worrying about seeing their business cross the bridge to New Jersey.

Preventing sprawl and protecting wetlands

Assemblyman Cusick authored a bill (A.3528) that passed the Assembly requiring those seeking land use approval to be in compliance with applicable state zoning and building requirements.

This legislation will ensure that all applicants have complied with all relevant state permits and licenses before they start to build.