WEIGHING THE MERITS OF MAYORAL CONTROL
In 2009, the State law that allowed for Mayoral control of the New York City school system will sunset and my colleagues and I will decide whether it should be extended. Mayoral control, put in place in 2002, replaced the previous Board of Education (BOE) system. In that system, the Borough Presidents appointed 5 BOE members and the Mayor appointed 2, with each appointee serving a fixed 4-year term. The power to select a Chancellor to lead the school system rested with the BOE, while locally-elected school boards provided the means for parents to participate in decision-making and gave them a formal role in the Superintendent appointments process.
With the enactment of Mayoral control, the Mayor was given much greater authority over the school system. The Mayor now has sole authority to appoint a Chancellor, as well as the power to appoint 7 members of the 13-member Panel on Education Policy (PEP), which replaced the BOE. The remaining 5 PEP members are chosen by the Borough Presidents, and all appointees serve at the pleasure of their respective appointing authorities, meaning that they can be removed at any time and for any reason. Finally, locally-elected school boards were replaced with Community Education Councils (CECs), which are comprised of 2 Borough President appointees and 9 members elected by the local parent association. Unlike the prior school boards, the CECs have no formal role in the appointment of Superintendents; the Chancellor has sole authority for their appointment.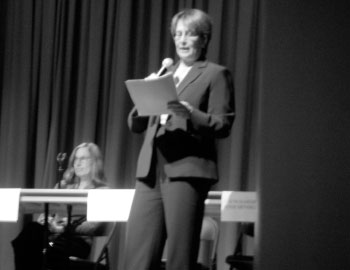 Assemblymember Glick addresses the crowd at a forum she organized to hear constituents' views on Mayoral Control of the public school system.
I have heard from many constituents who feel that, under Mayoral control, there is no opportunity for input into the system by anyone outside of the Mayor's office and Department of Education (DOE). Some people argue that the PEP, which was meant to be an independent voice, is not truly independent since its members can be removed at will. Others have complained about the administration's seeming prioritization of things like standardized testing and fancy computer ranking systems, rather than listening to and focusing on parents' top concerns, such as class size reduction. Some people feel that these issues merit non-renewal of Mayoral control, while others support an extension, but with additional safeguards built in to address these issues.
Although it is still early in the process, I have begun to seek input from constituents on this issue. Just last month, my office organized a public forum on Mayoral Control in which a panel of experts expressed their varied views and audience members had the opportunity to share their opinions. In addition, my office has created a survey on this issue for constituents in my district and I invite you to share your views with me in this way. To participate in this survey, please contact my office via e-mail at glickd@nysa.us or by phone at (212) 674-5153.