Summer 2009 • New York's 66th Assembly District In Action • ISSUE 43
Dear Neighbor,
I recently spoke at the commencement ceremony at the University of Albany, one of the four university centers of the State University of New York (SUNY). I expressed my understanding that this is a particularly scary time for recent college grads and I tried to reassure them that things will get better. While we most often talk about the corporate greed, irresponsible speculation and poor oversight that fueled the economic crisis, there is also an ongoing societal shift occurring which has contributed as well. This cataclysmic shift from an industrial and manufacturing based economy to a technological and information based one is similar to that which occurred in moving from an agrarian society to an industrial based one. They are part of the cycle of history. I am confident that, as the market recovers and this shift concludes, we will enjoy a more vibrant economy which will generate benefits and advances that will produce a better tomorrow.
Unfortunately, these shifts are extremely difficult and trying for many New Yorkers. I have heard from countless constituents who have lost their jobs or are otherwise finding it difficult to make ends meet during this difficult time. Many seem unaware of the supports available to assist people during periods of transition. For this reason, I have focused this newsletter on providing such information. I am hoping that it will be helpful to you or perhaps to a struggling friend, relative or neighbor.
And, as always, if there is any way in which my office may assist you, please do not hesitate to call upon us.
Best Wishes,



Deborah J. Glick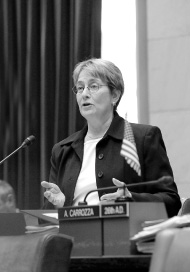 Assemblymember Glick speaking in favor of marriage equality legislation during the Assembly's debate on the issue. The Assembly passed this crucial measure later that day.
PROMOTING WISE POLICIES AT HOME AND IN ALBANY
Fighting for a Seat for Every Student.
When the Mayor took control of the New York City school system in 2003, there was hope that this revised form of school governance would improve our public schools. However, due to poor planning by the Administration, the West Village, Tribeca, and Downtown's well-documented population growth has caused serious overcrowding in local schools. I have heard from many constituents, who like me, are very concerned with this situation. It is simply unacceptable that some kindergarten students in a neighborhood zoned for their particular school are denied admission.
I have been very active in efforts to call attention to this problem and generate appropriate solutions. My office has testified at multiple City Council hearings regarding the Department of Education. Most recently, I testified about the siting of charter schools. I have serious concerns that while the administration only plans to create 25,000 new school seats in the next capital plan, they are committed to creating 100,000 charter school seats. Creating more seats for charter schools will not alleviate overcrowding, reduce class sizes, or improve the quality of education for students system wide, it will only do so for a small portion of our students.
I also created a survey on mayoral control to assess constituents' opinions on the issue, and I have released a report on my findings. More than 80% of respondents stated that they wished to see Mayoral Control amended or reversed. It appears that the Administration's response to overcrowding has led many individuals to either question whether this form of school governance is the most effective, or to at least see the need for more oversight, transparency and parental involvement requirements be included in the current system.
Finally, I have met numerous times with Chancellor Klein urging him to lower class sizes and find additional space in the community for schools. I have helped organize tours of 75 Morton Street, and have continually relayed other potential school sites to the Department of Education. Overcrowding will remain an issue unless the Administration begins to take it seriously and create a real plan to address it.
Ensuring Equal Protection for All.
The Assembly has once again passed legislation that would provide same-sex couples the opportunity to enter into a civil marriage. I am a co-sponsor of this measure and have worked hard to realize its passage.
Access to the institution of marriage is a basic civil right which must be afforded to all loving couples. To be clear, the passage of marriage equality legislation does not mean that religious institutions will be compelled to perform marriage ceremonies for couples. While I hope that more religious institutions will choose to embrace same-sex couples, the passage of State legislation would only require that government bestow the civil rights and benefits of marriage upon all couples. With the Governor's enthusiastic support and more Assembly votes in favor of the legislation than in 2007, I believe that New York is closer to realizing marriage equality than we have ever been. It now remains for the State Senate to do its part to get us there.
I have also championed another important measure, the Gender Expression Non-Discrimination Act (GENDA), which would add gender identity and expression to the State's hate crimes law and protect transgender people from discrimination in areas of everyday life. I have been a co-sponsor of this important legislation since its introduction in 2003 and was thrilled to join my Assembly colleagues in passing it again this year. It is unconscionable that, in New York, it is currently legal to fire someone from their job, refuse to rent them an apartment or deny them service in a restaurant simply because they are (or appear to be) transgendered. It is my hope that the Senate will step up to the plate this year and join us in passing this crucial protection for transgender people.
Enacting Sensible Drug Law Reform.
I was eager to join in passing a bill reforming the Rockefeller drug laws in New York State and am thrilled that the Governor has signed it into law. This landmark measure, which I co-sponsored, makes a number of important changes to the overly harsh and expensive drug laws. It has been a very long struggle to bring a more common sense approach to criminal laws related to illegal drugs. This change restores judicial discretion, removes mandatory prison sentences and permits judges to sentence non-violent drug offenders to probation, local jail or a combination of these. The bill also enhances options for substance abuse treatment and rehabilitation.
Safeguarding our Environment.
Since last fall, when I first heard about potential drilling in New York City's upstate watershed area, I have been vocal in my opposition to it. The practice, called "fracking," involves drilling horizontally through bedrock and cracking it open with high pressure blasts of water, sand and chemicals in order to release the gas. In the process, significant volumes of wastewater are released, potentially endangering New York City's drinking water, 90% of which comes from this upstate area. I am thrilled that the State has indeed placed a moratorium on drilling and has called for an environmental study of the issue.
I have taken action on another important environmental issue by co-sponsoring A.6896, which would require a reduction in sulfur for all heating oil used in New York City and other areas in the State. Home heating oil is essentially the same as diesel fuel, except there are virtually no limits to the level of sulfur that it may contain. In fact, since it has such high sulfur levels, combustion of home heating oil makes it the second largest source of sulfur dioxide emissions in the state, causing nearly 42,000 tons of sulfur dioxide to be emitted each year. The exhaust particles that form from the use of this fuel are known to exacerbate allergies, trigger asthma attacks, decrease lung function, cause heart attacks and shorten life expectancy.
Finally, I am thrilled that the Bigger Better Bottle bill has finally been passed by the Legislature and signed into law. This measure expands the state's beverage deposit program to include water bottles, which make up nearly one-quarter of New York's beverage market. In addition to being important for the environment, eighty percent of all unclaimed deposits will revert to the state, generating approximately $114 million in revenue.
Protecting Struggling Consumers.
The increased number of families that have lost jobs or are otherwise struggling has increased during this economic downturn, bringing increased attention to the practices of debt collection agencies. While some protections are in place, it is apparent that they do not go far enough, as evidenced by the increased number of complaints of unscrupulous debt collection agencies utilizing abusive tactics that may permanently damage the interest, reputations and fiscal well-being of citizens. I have co-sponsored legislation, A.3926a, that requires debt collection agencies to be licensed by the state and allows for the imposition of penalties against agencies that use improper practices. Another measure I am co-sponsoring, A.7268, would require debt management services to register with the state Banking Department, provide protection against fraud and notify consumers of all fees associated with the service.
ASSISTANCE FOR THE UNEMPLOYED OR OTHER STRUGGLING NEW YORKERS
While the entire country is feeling the impact of the current economic crisis, New York State and City have been hit especially hard. The current unemployment rate in New York City is 8.1%, a significant increase from its 4.6% rate one year ago. Further, the number of people currently receiving unemployment assistance is nearly twice that of last year. For most of these individuals, receipt of unemployment assistance is crucial in enabling them to pay their everyday expenses and remain in their homes.
Unfortunately, due to the recession, many of those who might have easily found new employment in the past have not been able to do so today, leaving many individuals to worry about how they will pay the bills once their unemployment expires. Thankfully, the Federal government has created, and the State Legislature and Governor have acted to accept, extended unemployment benefits for certain people whose benefits would otherwise end. Below, I respond to some questions that my staff and I are frequently asked about these changes. In the next section, I describe a number of support programs that may help individuals and families make ends meet after a job loss or during another financially difficult time.
Unemployment Q&A
How Long May I Receive Unemployment Insurance Benefits?
The Federal Stimulus Plan increases benefits by $25 per week, assists with COBRA payments and provides extended benefits for some recipients. In addition, both the Federal and State governments will be exempting from 2009 income taxes the first $2,400 of unemployment benefits received.
In New York State, recipients who remain unemployed after receiving 26 weeks of regular benefits may claim an additional 33 weeks of benefits thanks to a federal grant. According to the State Department of Labor (DOL), 57,000 New Yorkers will exhaust these 59 weeks of unemployment benefits by mid-May, with an additional 5,000 to 8,000 exhausting benefits each week thereafter. For this reason, I co-sponsored A.8273, a measure that was just signed into law and will now allow New York State to tap into another federal grant to provide another 13 weeks of unemployment insurance, along with a further automatic 7 week extension if the unemployment rate climbs to 8 percent or greater. Consequently, individuals may now access a total of 72 (and potentially 79) weeks of unemployment benefits.
Individuals can claim unemployment benefits and the existing extensions in the same manner as they claimed their original 26 weeks of benefits–i.e., via the New York State Department of Labor's online system (www.labor.state.ny.us) or toll-free service number (888-209-8124). For more information, along with more detailed instructions on filing a claim or appealing a benefits denial, as well as job search resources, call or e-mail my office to request my pamphlet, "Unemployed: A guide to what to do next."
What If I Can't Resolve an Issue with Unemployment?
My staff and I are doing all we can to assist constituents who have lost their jobs during this difficult time. We have helped dozens of individuals to resolve issues with the DOL that had resulted in suspended payments or erroneous denials. If you have tried to resolve an issue with DOL but have been unable to do so, contact my office and we will be happy to assist you.
What is Assemblymember Glick Doing to Help Unemployed Constituents?
In addition to assisting individual constituents in resolving their DOL issues, I have taken a number of other actions to help constituents during this stressful time. This past winter, due to the huge increase in the number of unemployment claims, the DOL's call center was unable to keep up with the volume of calls they were receiving. In response to complaints from constituents who could not get through to someone at the DOL's call center, my office pushed the agency to expand their call center operations. I am glad to report that they subsequently added dozens of operators and am pleased to hear constituent reports of a greatly improved ability to get through to DOL to resolve issues.
Beyond supporting legislation to provide an additional 13 weeks of emergency unemployment benefits to recipient, I have co-sponsored legislation, A.4921, which would increase the maximum unemployment insurance benefit rate in graduated steps over the next four years. The current maximum benefit is insufficient for many individuals, particularly those with higher living costs that they must somehow cover solely with their unemployment insurance.
Additional Help for Unemployed and Low-Income New Yorkers
There is a fairly extensive safety net to help New Yorkers who are struggling to make ends meet. While many people believe in the importance of this assistance for helping a struggling neighbor, many have not considered accessing these resources to help themselves through a trying time. Whether you are unemployed or just struggling with your bills, the resources in the next section may help alleviate your financial burden either to get you through a temporary crisis until you are able to get back on your feet again or to assist you in permanently lowering your bills.
Below is a listing of support programs that may be available to help you, a family member or neighbor through a tough time. Note that, for many of these programs, eligibility is based on the past few months of income. So even if you were not eligible for assistance before, you may now be eligible if you lost your job or experienced other financial hardship, even if the change was recent. You may wish to use ACCESS NYC, an online tool that identifies and screens users for over 30 government programs. It is available at www.nyc.gov/hra.
ASSISTANCE PURCHASING FOOD
What is it? Food Stamps are used to provide assistance in purchasing food to low-income individuals and families. Recipients are provided a certain amount of money for food each month on a 'swipe' card from which money is deducted at grocery stores.
Who is eligible? Each application is evaluated on an individual basis and people may own a home or a car and still be eligible for Food Stamps. In general, applicants are eligible for up to $162 per person in Food Stamps if their income falls below the limit for gross monthly income (i.e., income before taxes or other subtractions) and net income (i.e., income after deductions for certain expenses like housing costs, child care and some medical expenses). Single individuals may be eligible if their gross monthly income does not exceed $1,107 (or $851 in net income). For each additional family member, add $377 in gross income or $290 in net income to the figures above to calculate the income limit. Note that the State has also recently raised the income eligibility level for working families with significant child and dependent care costs, so families earning up to $42,396 per year with significant child care costs ($800 or more) can still qualify for Food Stamps. Further, if you receive SSI/disability benefits, you can still qualify for Food Stamps and receipt of Food Stamps will not reduce those payments.
Where can I get more information or apply? Call the New York City Human Resources Administration's (HRA) Infoline at 877-472-8411 or download an application at www.otda.state.ny.us/main/foodstamps.
SAFETY NET ASSISTANCE
What is it? Income-eligible families and individuals may obtain temporary assistance to help pay for housing, utilities and other expenses. Families may receive up to 60 months of federally funded cash assistance under the Temporary Aid to Needy Families Program (TANF), while single individuals without children may receive benefits under the New York State Safety Net Program.
Who is eligible? Eligibility is based on factors such as income, resources and household composition. Clients receiving temporary cash assistance must engage in work activities. HRA refers clients to programs designed to provide assistance with job training and placement, education, resume services, workshops and other support services.
Where can I get more information or apply? Call HRA's Infoline at 877-472-8411 or visit www.nyc.gov/hra.
DISCOUNTED HOME OR CELL PHONE SERVICE
What is it? A government-created program that provides discounted or free home telephone or cell phone service to income-eligible consumers. Most home phone providers offer Lifeline service. While savings and benefits vary by company, all include lower basic local service charges and no subscriber line charge. The Federal government also recently approved one Lifeline cell phone provider. Through the "Safelink" program, customers will receive a free cell phone with no service charge. Since the program was designed to provide phone service for emergency purposes and short conversations only, customers receive 68 free minutes a month but may purchase their own minutes. Note that customers may only take advantage of either the home phone or Safelink program.
Who is eligible? Lifeline service is available to customers who receive Supplemental Security Income, Food Stamps, Medicaid, Veteran's Disability or Surviving Spouse Pension, Family Assistance or Safety Net Assistance or individuals who are income eligible (ask your provider for their income limits).
Where can I get more information or apply? For Lifeline home phone service, you may speak to your telephone company's customer service representative. You can also find fill out an application for Lifeline or find more information about the program and the discounts offered by each company by visiting the NYS Public Service Commission's website at www.askPSC.com or by calling them at 800-342-3377. For Safelink Wireless, visit www.safelinkwireless.com or call 800-977-3768.
RENT INCREASE EXEMPTION
What is it? The Senior Citizen Rent Increase Exemption (SCRIE) and Disabled Rent Increase Exemption (DRIE) programs help keep senior and disabled tenants in their homes by freezing the rent for eligible tenants while compensating landlords with tax credits. Although legal rents for SCRIE or DRIE-enrolled tenants will continue to increase, the portion that enrolled renters must pay will remain the same.
Who is eligible? SCRIE is available to seniors age 62 or older living in rent-regulated, Mitchell-Lama and some other housing program units, whose annual household income is no more than $28,000. DRIE is open to disabled tenants receiving eligible disability-related financial assistance with incomes no more than $18,396 for individuals or $26,460 for couples. To be eligible for either program, the tenant must pay (or face a rent increase that would cause them to pay) one-third or more of their income for rent.
Where can I get more information or apply? Visit www.nyc.gov or call 311.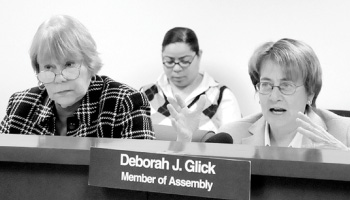 Assemblymember Glick questions State officials regarding the redevelopment of Lower Manhattan during an Assembly hearing earlier this year.
REDUCED FARE METROCARD
What is it? Qualified applicants will receive a personalized Reduced-Fare MetroCard that allows them to pay half fare or less on NYC Transit subways, local and non-rush hour express buses operated by NYC Transit or the MTA, along with non-rush hour Long Island Railroad and Metro-North trains.
Who is eligible? Seniors age 65 or older or individuals with qualified disabilities.
Where can I get more info or apply? Visit www.mta.info/nyct/fare/rfindex.htm or call 212-638-7622.
PROPERTY TAX RELIEF
What is it and who is eligible? The City and State offer a number of tax reduction programs to qualified resident homeowners of 1-, 2- and 3-family houses, condos or coops. These benefits include:
School Tax Relief (STAR): available to all resident owners regardless of owner's age or income.

Enhanced STAR: available to resident owners age 65 or older as of December 31st of the exemption benefit year and whose an annual adjusted gross income is $73,000 or less.

Senior Citizen Homeowners' Exemption (SCHE): available to residents owners age 65 or older as of December 31st of the exemption benefit year and whose Federal Adjusted Gross Income, reduced by unreimbursed medical expenses is less than $36,400 a year. Homeowners who receive SCHE will get a 5 to 50% reduction in the assessed value of their home and automatically receive STAR and Enhanced STAR.

Disabled Homeowners' Exemption (DHE): similar to SCHE, but available to low-income, disabled homeowners of any age.

Veterans' Exemption: qualified veterans, their spouse or registered domestic partner, their unremarried surviving spouse, or a Gold Star parent may receive a property tax exemption based on whether the veteran served in combat and/or was disabled.
Where can I get more info or apply? Visit www.nyc.gov/dof, call 311 or call the City's Property Tax Customer Assistance line at 212-504-4080.
HEALTH INSURANCE PROGRAMS
If you recently lost your job and/or are among the many New Yorkers who do not have health insurance, there could be help for you. My office has compiled an informational brochure listing a range of health care assistance programs. The brochure includes eligibility and benefits information for subsidized COBRA fees, public health insurance options for low and moderate-income individuals and families, and prescription drug discount cards and programs for people with a range of incomes. Please call my office at 212-674-5153 or e-mail us at glickd@nysa.us and we will be happy to mail one to you.
ALBANY BUDGET REPORT
I am pleased that, despite a $17 billion deficit, the Legislature and Governor were able to come to an agreement on the State's 2009-2010 budget. New York should be proud that, as the first state in the country to complete its budget process, we were also the first to begin using federal economic stimulus dollars. These funds have allowed us to plug the biggest budget gap in state history while preventing the most devastating cuts to education, health care and other important programs. It is important to note that, while many cuts and reforms were enacted this year and the future budget gap was dramatically reduced, general fund spending did not increase. The budget appears to increase only due to the usage of federal stimulus funds for critical programs. It was important to use these funds as they were intended—to retain and create jobs and otherwise shore up the economy during difficult times.
It should also be noted that the State has a legal requirement to put in place a balanced budget. To do this, we had to make some difficult cuts and we instituted a new personal income tax increase for three years on the wealthiest 3% of New Yorkers, similar to the one put in place post-9/11. It is my hope that, in the future, we will continue to move toward a more progressive income tax structure, which was eroded during the Pataki administration.
Below are some of the budget restorations my colleagues and I were successful in including in the state budget:
Education: $1.1 billion in education funding beyond the Governor's budget, along with maintained funding for the universal pre-kindergarten program. In addition, we included new reporting requirements for New York City regarding its Five Year Class Size Reduction Plan to ensure that the City is using these funds to reduce class size, as the Legislature intends;
Health Care: $382 million to hospitals and $196 million to nursing homes, along with $50 million to the Elderly Pharmaceutical Insurance Coverage Program (EPIC) and nearly $3 million to the Medicaid program to restore "wrap around" coverage for drugs denied by Medicare Part D. The final budget also rejected a number of harmful changes proposed for the Early Intervention Program, which serves infants and toddlers with disabilities or developmental delays.
The Environment: $17 million in funding for the Environmental Protection Fund, which is utilized toward parks, waterfront revitalization, zoos, botanical gardens and aquariums and water quality improvement projects. Locally, I successfully advocated for $6 million in additional funding for Hudson River Park.
Legal Services: nearly $14 million in restorations for civil legal services for lower-income New Yorkers facing eviction, foreclosure, unemployment and domestic violence.
INFORMATION AND RESOURCES
New Travel Identification Requirements.
Beginning June 1, 2009, a change in federal law requires most United States citizens to present a valid passport or other acceptable document to enter the U.S. at all land and sea boarder crossing from Canada, Mexico, Bermuda and the Caribbean. If you do not have a passport, upgrading to an enhanced driver license (EDL) or enhanced non-driver photo ID card (ENDID), each of which is an acceptable document, may be an option for you. The fee for these enhanced cards is $30 in addition to the regular fees required for your driver license or non-driver identification card. You can obtain an EDL or ENDID at any New York State Department of Motor Vehicles (DMV) office that processes driver license transactions. Note that a passport is still required for travel to and from all other foreign countries. For more information, visit your local DMV office or visit www.nysdmv.state.ny.us.
Sign Up to Receive Public Alerts.
Several years ago, I joined the Lower Manhattan community in urging the City to put in place a public messaging system to quickly alert the public about significant events. In response, the City piloted Notify NYC, a public messaging system, in Lower Manhattan and three other neighborhoods. I am pleased that the program has now expanded citywide. Individuals who register will receive e-mail, text or phone message "notifications", which provide information and status updates about situations that may impact the neighborhood, and "alerts", which provide time-sensitive information about major emergency situations and provide instructions on how to respond. To sign up for Notify NYC, visit http://www.nyc.gov/html/notifynyc or call 311. Note that participants need not reside in the neighborhood to sign-up.
Sign up for E-Updates from my Office.
Each month, my office sends out an e-mail newsletter as another way for me to keep in touch and stay accountable to my constituents in a timely, environmentally-friendly and cost-efficient way. It includes my views on local issues, details of my legislative and policy work, and information about community programs and events. To sign up, e-mail my office at glickd@nysa.us. Note that we do not share this information with any outside parties.