WINTER 2010 • NEW YORK'S 66th ASSEMBLY DISTRICT IN ACTION • ISSUE 46
---
Dear Neighbor,
I have grown increasingly disturbed by the recent spate of gay teenagers driven to suicide due to feelings of worthlessness and isolation prompted by bullying about their sexual orientation or perceived orientation. Most recently, a Rutgers College student named Tyler Clementi jumped off the George Washington Bridge after being outed in a very cruel way by his fellow classmates.
Whether bullying is on the rise, or whether the media has become more attuned to its impact, it is clear that as a society we need to rethink the way we treat one another. Children are impressionable and are influenced by what they see around them. The bullying that takes place in our schools is merely a reflection of a society that has come to accept vile attacks over a true exchange of ideas. "Reality" television may be popular and cheap to produce but it impacts our reality through its celebration of arguments and violence. The coarsening of the public discourse has even resulted in political supporters stomping on the head of someone with whom they disagreed. One has to wonder where civility has gone and how we get it back.
It would be fool-hardy to call for the end of bullying in schools without also making an appeal to the adults whose behavior children are emulating. The bullying and harassment of LGBT youth, is mirrored by the insults and threats routinely cast at those with different viewpoints. This has escalated to repeated attacks leveled against all government actions, and even towards our President. Although it is understandable, and sometimes even honorable, to disagree with the President of the United States it is never acceptable to denigrate his person, such as calling him the "Anti-Christ" or falsely accusing him of not being born in the United States. And yet the unpalatable has morphed into the norm. It is up to us as citizens and neighbors to change the tenor of the conversation.
As a community, we need to come together and expect civility from each other. By modeling positive behavior rather than hostility, we can change the norm. It begins with small things like introducing yourself to your neighbor, or holding the door for the people behind you. If someone annoys you, take a second to breathe before you lose your temper. As Mahatma Gandhi said, "You must be the change you wish to see in the world." So starting today make the world around you a little smaller. Shop at that neighborhood store you've been eyeing for a while, say hello to a stranger.
To combat bullying in schools the New York State Legislature recently passed a bill called Dignity for All Students Act. This legislation mandates that every school in New York State has a plan to address bullying and harassment. Although this law is a good first step, it is difficult to legislate civility. In a world of Twitter, Facebook, and YouTube clips, we can't lose sight that interacting with our neighbors on a human-to-human level, has a far greater impact on what our world looks like and how people behave.

UNDERSTANDING CHANGES TO HEALTH CARE
There has been a lot of confusion about the Federal changes made to health insurance in the Affordable Care Act passed in September. This legislation, although not as far reaching as I would have liked, represents a positive shift in the current policy, that leaves far too many underserved and without coverage. Changes to the current system are being made slowly, with new provisions in effect by 2014. Some of the new regulations are as follows:
Insurance companies will be required to cover dependants up to age 26 under their parent's insurance;

Companies are prohibited from discriminating against those with pre-existing medical conditions;

Life-time limits on coverage paid-out by the insurance company for an individual is prohibited;

Most annual limits on health care coverage are phased out;

Insurance companies are prohibited from canceling a policy as long as the policy holder was honest on the application, and has made premium payments;

Creation of a standardized appeal process for denied claims, run by independent parties;

Required coverage of regular, recommended preventative services;

No co-pays or deductibles for immunizations or screenings for newborns;

Allows policy holder to choose doctors within network;

Starting next year, Medicare recipients will be eligible for a 50% discount on brand-name prescription drugs.
In addition, Medicare recipients are receiving a one-time $250 rebate this year to compensate for the "donut hole" coverage of prescription drugs that has been in existence.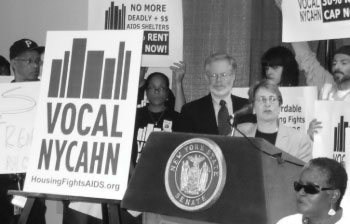 Assemblymember Glick rallying the crowd at a press conference urging the Governor to pass a 30% AIDS Rent Cap Bill, with Assemblymember Gottfried.
Finally, as part of the changes to Federal Law, health care must be available for people even if they have a pre-existing medical condition. In response, New York created the NY Bridge Plan which will cover people through the end of 2013, when all insurance companies are required to be in compliance with the new Federal regulations.
STATE CHANGES TO HEALTH INSURANCE The passage of a new state law, A.11369, has drastically changed the regulations regarding insurance companies' ability to raise health care premiums. Consumers will now be informed in advance of the proposed change in premium, as opposed to after the rates have been changed, but such notice does not mean an increase is automatic.
Here is a quick outline of how the new system works if a provider wishes to increase insurance rates: First, the insurance provider is required to notify all policy holders of proposed increases. In this notification, the policy holder must also be provided with contact information for the insurance company and the New York State Department of Insurance, both of which have official means of collecting public input regarding the proposed increase. At the same time policy holders are notified, the insurance company must also submit the plan for rate increases to the Superintendent of the New York State Department of Insurance for review.
For the following 30 days, the public has the opportunity to provide feedback on the proposed increase. This feedback can be submitted on the New York State Department of Insurance website, http://www.ins.state.ny.us/health/prior_app/prior_app.htm, and/or to the provider directly. During this time, the Superintendent of Insurance reviews the proposal, and has an opportunity to ask the insurance provider for additional information if needed. After the 30 day review period, the Superintendent approves, denies or amends the proposed rate increase.
Finally, if the Department of Insurance approves a rate change, the insurance company must then notify policy holders at least 60 days before the rate will go into effect.
The reason behind the minimum of 60 days notice of an approved rate change is to give policy holders enough time to shop around for other insurance, should they wish to do so. A list of plan comparisons, including cost and services covered, can also be found on the State Department of Insurance website at: http://www.ins.state.ny.us/hgintro.htm.
Although increases in health insurance premiums, especially private plans, can be expensive and seemingly unavoidable, the Department of Insurance is very engaged in this process and is working diligently to protect consumers from unfair price increases. In addition to the initial review, where the Superintendent is able to approve, deny or amend the increase, there is an annual audit of all insurance providers at the end of each year. During this audit, the amount of money collected by the insurance company through premiums is compared to the amount of payouts the company made on health claims (loss-ratio). The new law requires a minimum of an 82% loss-ratio- meaning that at least 82% of the money collected in premiums must be paid out directly for services provided. If the ratio of direct expenses to premiums charged is less than 82%, all policy holders receive a rebate of premiums for that year. This data is also then considered during any subsequent applications for increased premiums.
I urge you to consider looking at the list of other insurance providers and plans to see if there is an alternative with which you might be more satisfied. Additionally, you could look into other resources, such as Healthy New York (http://www.ins.state.ny.us/website2/hny/english/hny.htm), or Freelancers Union (http://www.freelancersunion.org/insurance/explore/), both of whom allow you to join a group plan if you meet certain criteria.
PROTECTING YOURSELF FROM BED BUGS
In recent months, it's been hard to escape the frenzy around bed bugs in New York City. Bed bugs can happen to anyone, regardless of how clean an apartment is, or in what neighborhood one resides. While the epidemic sounds frightening, there are ways to both prevent and exterminate bed bugs in your home. Knowledge is power. Hopefully these few tips will help you maintain calm should you find bed bugs in your apartment.
Prevention
Actively working to prevent bed bugs takes a little bit of knowledge and time, but can obviate the stress, anxiety, and cost of treatments if you get them. A few simple reminders to help prevent bed bugs in your home:
Never bring bed frames, mattresses, box springs, or furniture found on the street into your home.

Get rid of clutter to reduce places where bed bugs can hide.

When traveling, inspect the bed and furniture. Keep suitcases off the floor and bed, and inspect them before you leave.

If you suspect you have been around bed bugs, immediately wash and dry your clothing on hot settings or store it in a sealed plastic bag if you can.

Seal cracks and crevices with caulk, even if you don't have bed bugs. This will help prevent bed bugs and other pests from coming in.
Treatment
The first step to knowing if you have bed bugs is to be able to properly identify the species. There are several other bugs that look similar, and false assumptions regarding bed bug infestations can lead to anxiety and unneeded costs of extermination. If you suspect you have bed bugs, you should find a pest control specialist to do an assessment as soon as possible. Don't panic. Make sure you invest the time to find a professional that is reputable. To choose a professional:
Find a company through dependable referrals, directories, professional associations and check to make sure they are licensed at www.dec.ny.gov.

Interview several companies before choosing. Ask about their training, and their approach to controlling bed bugs.

Agree on a service plan and its cost. Expect at least two treatment visits and a third follow-up visit to confirm that bed bugs have been eliminated. Severe infestations or cluttered apartments may take more visits to eliminate bed bugs.
We have all heard horror stories about pest control professionals charging an exorbitant amount of money to treat a bed bug infestation, but that is not the norm. There are many respectable, reputable pest control professionals, just make sure you know what to ask and what to expect from them before you agree to a treatment plan. A good company will:
Inspect your property before giving you a price quote or begin any pesticide application.

Give you a written inspection report, and an action plan of how to prepare for treatment and prevent further infestation.

Base quotes on inspection findings, not flat fees.

Visit often until the job is done.

Employ qualified, well-trained pest management professionals.

Educate you on how to prevent bed bugs.

Work with you until the bed bugs are gone.
Know Your Rights
Bed bugs can travel between apartments, and the best way to ensure that the problem is resolved in your apartment is to ensure that the problem is controlled in other units as well.
As stipulated in Chapter 2, Sub-chapter 2, Article 4 of the New York City Rental Guidelines, if you are in a rental, it is your landlord's responsibility to pay for extermination. As the renter, it is your responsibility to inform the landlord of a potential infestation as well.
If you are in a Co-op check with your Co-op Board on notification instructions for your building. If you are in a Condo, adjacent apartments are most at risk, so informing your neighbors and the individuals who live directly above and below you, would be a wise decision.
For more information regarding prevention and treatment, please visit the New York City Department of Health's website which has a plethora of valuable information.
STAYING SAFE IN THE WINTER MONTHS
As the weather turns cold in New York City, it is important to keep certain safety precautions in mind to avoid the risk of fire breaking out in your home. According to the Fire Department, more than one third of all home fires in New York occur between December and February the majority of which can be prevented by keeping in mind a few tips:
Space heaters: Make sure you are using an electric space heater. Kerosene and propane heaters are illegal in New York City, and have been proven to pose a high risk of death and injury. Always unplug space heaters when not in use, and never use in rooms where they can come in contact with water, like your bathroom or the kitchen.
Electric Blankets: Electric blankets should be replaced every ten years to avoid the risk of frayed wires coming in contact with the fabric of the blanket and igniting. In addition, make sure you do not tuck the corners of the blanket into the bed, and make sure you don't put additional blankets on top of the electric blanket. It should always have one side facing open air to avoid overheating.
Christmas Trees: Place your Christmas tree at least three feet away from all heat sources in the home, including fireplaces and radiators. Make sure to water your tree regularly- trees can soak up close to a gallon of water a day, and a dry tree is a serious fire hazard.
Candles & Menorahs: Residential fires started by candles have doubled over the last decade, and the number of incidents peaks during the holiday season. Remember to blow your candles out before going to bed or leaving your home, to keep candles at least two feet away from curtains, and to never spray aerosol cans like air fresheners near candles. If you light a menorah in your home, make sure to place it in the center of the room, as far away from combustible items as possible to reduce the risk of fire overnight while the candles are in the process of burning out.
Following these tips throughout the holiday season takes only a few seconds and can leave your mind worry-free to enjoy the time spent with friends and family over the holiday season. Have a wonderful holiday season and a Happy and Healthy New Year!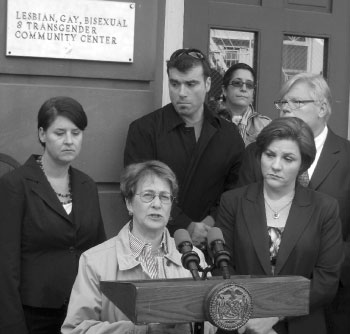 Assemblymember Glick speaking at a press conference condemning recent violence against members of the LGBTQ community in Greenwich Village with Speaker Quinn and Senator Duane.
NEW YORK'S BUDGET PROCESS
Since we are close to the beginning of the Legislature's 2011 Session, I wanted to update community members on the New York State budget process. Constitutionally, the budget is the Governor's budget. It is put together by the Executive, this year by our new Governor Andrew Cuomo and his agency, the Division of the Budget (DOB). The budget must be released by the 3rd week of January and passed by April 1. The Legislature has joint fiscal committee hearings after the release of the budget to determine the expected impact of the various spending proposals on the people of the state.
Now things start to get tricky. In the past, negotiations between both houses of the Legislature and the Governor take place with the purpose of finding budget proposals that both branches of government can agree to and pass in the Legislature and be signed by the Governor. The Legislature is limited in its ability to adjust the budget. We can increase spending by the Governor; we can restore funds to previously appropriated funds in the budget; and we can make some language changes on how appropriated funds are to be spent. All of these have to be in concert with the Senate. The Governor can agree with the Legislature's budget or he can line item veto the changes. This is what happened last year when the Assembly and Senate agreed upon a spending plan that did make some restorations to education and rejected some cuts made by the Governor, for example, base-aid to community colleges. Unfortunately, the Governor vetoed those changes.
In the case of vetoes, the only way to reinstate the Legislative passed budget is to do a veto override. That requires a two-thirds vote in both Houses of the Legislature. We were not able to do this in the Senate because of its nearly even partisanship. I don't think that it will be any different this coming year. It's important to try to reconcile the spending priorities of the Legislature and the Governor so that we can have an agreed upon budget and hopefully, an on time budget. Currently, the budget gap for next year is anticipated to be approximately $9.5 billion. This will make it very difficult, if not impossible, to come up with a spending plan that doesn't impact a wide range of programs important to all New Yorkers.
REFORMING NYC'S CONFLICTS OF INTEREST BOARD
On November 2nd, New York City made changes to the New York City Charter, a little talked about document which is essentially the operating guide for New York City government. New Yorkers were asked to weigh in on 10 changes to the charter but what is most notable is the issue that was not addressed—much needed revisions to New York City's Conflicts of Interest Board (COIB).
The public is rightfully concerned about the ethical landscape in government, and the Charter Revision Commission's silence on the matter is a missed opportunity to make a difference. There is concern that there are people who view public service as an opportunity for self-dealing. Part of re-establishing confidence in government is ensuring that checks and balances exist and are vigorously engaged in shining a spotlight on government operations. That is why the Conflicts of Interest Board would have been an excellent and easy to understand area for the Charter Commission to examine and transform.
Currently, the Board is appointed by the Mayor with the consent of the City Council. There have been several eyebrow raising decisions that suggest that there is much room for improvement. For example, the Board gave the okay for former Deputy Mayor Dan Doctoroff to continue his involvement in a number of high profile development plans even though he is now a private citizen, who happens to work for the Mayor's private company. It is impossible to separate the knowledge gained as a public servant from the knowledge that might be utilized in a private business transaction. Worse yet, private transactions have no transparency and could be viewed as something akin to inside trading.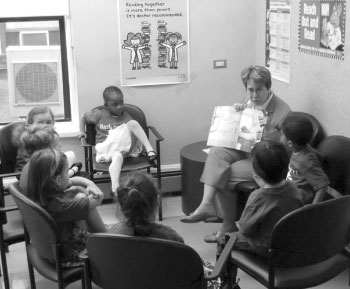 Assemblymember Glick reading aloud to a group of children on behalf of the Reach Out and Read program.
In another instance, the Board was unconcerned about ex-Chancellor Klein raising money for his national nonprofit education organization using city resources. In fact, the Department of Education has had more than one questionable arrangement. While classified as a top aide at the Department, Caroline Kennedy was not required to file a full financial disclosure although two of her high level subordinates were required to file. The Board offered no challenge to the Department's determination. In another instance the Board did imply in a letter that Deputy Chancellor Christopher Cerf, former president of Edison Schools, inappropriately solicited charitable contributions from Edison executives for a foundation on whose board he sits, but it took no other action. It may seem laudable to assist a foundation in raising money, but when that same corporation will be coming before the Department of Education to engage in contracts with the Department of Education, there is more than an appearance problem. But aside from a letter scolding Mr. Cerf, no action was taken.
While some would suggest that there is a qualitative distinction between a for profit operation and a nonprofit organization, there is a continuing appearance problem that arises from having people appointed by a mayor to a board to review conflicts and then have those same people sit on boards of organizations that seek city funds. Although some would say that we want civically minded individuals to do this work, there is no reason why these individuals can't temporarily withdraw from these activities in order to serve on the COIB. There are only five members of the COIB and so the impact will be minimal. In any event it would be appropriate for a higher standard to be instituted and for the Board itself to have more than one appointing authority.
I suggest that members of the COIB come from a recommendation by each of the five Borough Presidents, the Public Advocate, and the City Comptroller with the Mayor having two appointments and all to be subject to the consent of the City Council. This would add balance and would greatly reduce the appearance that the Board's review has been less vigorous when it comes to those who are close to the Mayor. Although the public will not have an opportunity to vote on these changes this year, it is something that definitely should be addressed in years ahead.
TAXPAYER RECEIPT
For many Americans, the amount they pay in taxes is larger than any purchase they make during the year, but studies show they know almost nothing about how that money is spent. This contributes to incorrect assumptions and wild propaganda about the goals and agenda of the federal government. To help elucidate this matter, I am providing a Taxpayer Receipt based on a 2009 tax receipt for a taxpayer earning $34,140 and paying $5,400 in federal income tax and FICA. Below are selected figures extrapolated from an accounting that does not factor in payroll taxes.
Social Security
$1,040.70
Medicare
$625.51
Medicaid
$385.28
Interest on the National Debt
$287.03
Combat Operations in Iraq and Afghanistan
$229.17


Military Personnel
$192.79
Veterans' Benefits
$74.65
Federal Highways
$63.89
Health care research
$46.54
Foreign Aid
$46.08
Education Funding for Low Income K-12 Students
$38.17


Military Retirement Benefits
$32.60
Pell Grants for Low Income College Students
$29.75


NASA Space Program
$28.09
Internal Revenue Service
$17.69
Environmental Clean Up
$11.67
The FBI
$11.21
Head Start
$10.91
Public Housing
$10.50
National Parks
$4.27
Drug Enforcement Agency
$3.14
Amtrak
$2.23
Smithsonian Museum
$1.12
Funding for the Arts
$.24
Salaries and benefits for Members of Congress
$.19


Source: www.thirdway.org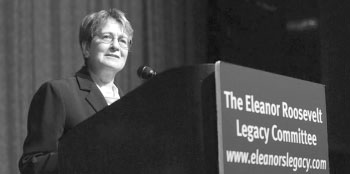 Assemblymember Glick accepting a 2010 Pioneer in Politics award from the Eleanor Roosevelt Legacy Committee.