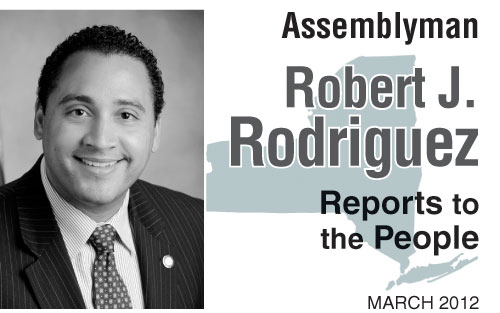 District Office: 55 East 115th Street, New York, New York 10029 • 212-828-3953
Albany Office: Room 729, Legislative Office Building, Albany, New York 12248 • 518-455-4781
Assemblyman Rodriguez Celebrates the Passing of Livery Cab Legislation that Legalizes and Extends Curbside Service
El asambleísta Rodríguez celebra la aprobación de legislación que legaliza y extiende el servicio de recogido de pasajeros de taxis en la calle
Assembly Member Rodriguez joined Mayor Bloomberg and elected officials such as Assembly Members Guillermo Linares, Nelson Castro, Karim Camara and Carl Heastie and representatives from the livery taxi industry in Washington Heights on December 22nd to celebrate the livery taxi cab agreement reached between Governor Cuomo and the State Legislature. After a 5-month-long debate last year, in which Assembly Member Robert Rodriguez spoke out on the steps of City Hall against the Mayor's original proposal, a deal was reached on a bill that will provide legal street hail service to underserved areas in New York City (including Upper Manhattan and the outer boroughs) in a more equitable and affordable process. The bill will also authorize a medallion sale that could bring up to $1 billion in new revenue to the city to help plug the budget deficit, and will expand the number of wheelchair-accessible taxis. Assembly Member Rodriguez strongly supported the Assembly version of the bill (
A.8691-A
), which was introduced by Assembly Member Carl Heastie, stating in a recent press release that "it is imperative that we continue to support these kinds of initiatives to make traveling within New York City more accessible, efficient and affordable." Final revisions to the bill were completed in mid-January paving the way for economic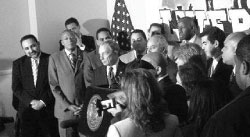 opportunity for this District's livery cab drivers and this community in general.
Assemblyman Rodriguez at the Mayor's press conference regarding livery cabs.
El asambleísta Rodríguez durante la conferencia de prensa del Alcalde sobre los taxis.
El asambleísta Rodríguez se unió al alcalde Bloomberg y a otros oficiales electos como los asambleístas Guillermo Linares, Nelson Castro, Karim Camara y Carl Heastie, y a representantes de la industria de taxis de Washington Heights el 22 de diciembre para celebrar el acuerdo logrado entre el gobernador Cuomo y la legislatura estatal sobre las compañías de taxis. Tras el debate de cinco meses realizado el año pasado, en el que el asambleísta Rodríguez habló sobre los pasos de la ciudad en contra de la propuesta original del Alcalde, se logró un acuerdo que permitirá a los taxistas recoger pasajeros en las calles de áreas que carecen de servicio en la ciudad de Nueva York (incluyendo el Alto Manhattan y condados en las afueras de la ciudad) en un proceso más equitativo y accesible. Este proyecto de ley también autorizará una venta de medallones que podría traerle a la ciudad hasta mil millones en nuevos ingresos, ayudando a cerrar el déficit presupuestario y ampliando el número de taxis con acceso a sillas de ruedas. El asambleísta Rodríguez apoyó firmemente la versión de este proyecto de ley en la Asamblea estatal (
A.8691-A
), presentado por el asambleísta Carl Heastie, afirmando en una conferencia de prensa reciente que "es imperativo que continuemos apoyando este tipo de iniciativas para que los viajes dentro de la ciudad de Nueva York sean más accesibles, eficientes y menos costosos". Las revisiones finales de este proyecto de ley fueron completadas a mediados de enero preparando el camino a más oportunidades económicas para los taxistas de compañías de transporte y la comunidad en general.
Assemblyman Rodriguez Addresses World AIDS Day Observers
El asambleísta Rodríguez se dirige al público durante la celebración del Día Mundial del SIDA
In acknowledgment of World AIDS Awareness Day, Assembly Member Robert J. Rodriguez joined Speaker Christine Quinn and Councilwoman Inez Dickens at the launching of the Hairdressers Against AIDS Campaign press conference in Central Harlem. The Assembly Member gave brief remarks at the recently opened Hair on Madison Salon of locally renowned beautician, Rochelle Walters. AIDS awareness activist, Maria Davis, celebrity hairdressers Kimmi Hendrix and Traci Washington, and the Chair of Hairdressers Against AIDS USA, Christine Schuster, also participated in the event.
"The reality, in our community especially, is that we feel more comfortable confiding in our hairdressers, who we see more frequently than we see our doctors. Hairdressers are positioned to influence and comfort individuals battling with the diseases of HIV and/or AIDS and I am so glad that one of our very own service professionals is taking a stand by launching this campaign in Harlem," said Assembly Member Rodriguez. He further spoke about the importance of HIV education and awareness in light of staggering statistics reported at the press conference. For example, 1.2 million Americans are living with the disease today, and 20% of those infected (1 in 5), do not know they are infected. The press conference was followed by an exclusive reception for the crowd of nearly 100 attendees including corporate representatives from L'Oreal, Inc., the National Black Leadership Commission on AIDS, Inc., Harlem United and members of the press.
Assemblyman Rodriguez stands in solidarity with City Council Member Inez Dickens and Speaker Christine Quinn at the Hair on Madison's Hairdressers Against AIDS press conference.
El asambleísta Rodríguez, la concejal de la ciudad de Nueva York Inez Dickens y la portavoz del Concejo de la Ciudad Christine Quinn demuestran su solidaridad durante la conferencia de prensa Estilistas contra el SIDA en Hair on Madison's Salon.
En reconocimiento del Día de Concienciación Mundial sobre el SIDA, el asambleísta Robert J. Rodríguez su unió a las concejales Christine Quinn e Inez Dickens durante la conferencia de prensa sobre el lanzamiento de la Campaña de Estilistas contra el SIDA en Central Harlem. El Asambleísta ofreció unas breves palabras en el recién abierto Hair on Madison's Salon de la reconocida esteticista local, Rochelle Walters. El evento también contó con participación de la activista del SIDA Maria Davis, las famosas estilistas Kimmi Hendrix y Traci Washington y la presidenta de Estilistas contra el SIDA en EE. UU., Christine Schuster.
"La realidad, en nuestra comunidad especialmente, es que nos sentimos más cómodos confiando en nuestros estilistas, quienes vemos con más frecuencia que a nuestros médicos. Los estilistas tienen la oportunidad de influenciar y darle ánimo a sus clientes que están batallando con la enfermedad de VIH o SIDA y me complace que una de nuestras propias profesionales esté tomando acción al lanzar esta campaña en Harlem". El asambleísta Rodríguez profundizó sobre la importancia de educar y levantar conciencia sobre el VIH en vista de las asombrosas estadísticas reportadas en la conferencia de prensa. Por ejemplo, actualmente 1.2 millones de estadounidenses viven con la enfermedad, y 20 por ciento de los infectados (1 de cada 5), ni saben que están infectados. La conferencia de prensa fue seguida por una recepción exclusiva para el grupo de casi 100 asistentes, incluyendo representantes corporativos de las empresas L'Oreal, Inc., la Comisión Nacional de Liderazgo Afroamericano sobre el SIDA, Inc., Unidos en Harlem y miembros de la prensa.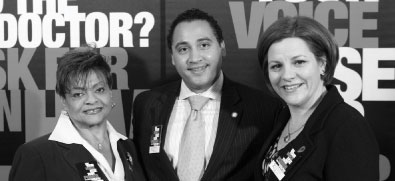 Assemblyman Rodriguez Stands at the Battle Lines to Protect Wadleigh Middle Schoolfrom Grade Truncation by the Department of Education
El asambleísta Rodríguez lucha para evitar que el Departamento de Educacióncierre la escuela intermedia Wadleigh
On January 26th, Assembly Member Robert J. Rodriguez stood on the front lines of the battle to protect Wadleigh Middle School for the Performing Arts from "grade truncation" by the Department of Education (DOE) as part of the Mayor's campaign to close schools deemed "persistently low achieving." Assembly Member Rodriguez reaffirmed his statement in the public address prior to the press conference and in a meeting with DOE Deputy Chancellor Mark Sternberg. "I am extremely concerned about the lack of predictability of truncations and closings...The DOE should be offering support to our schools and not closing them down," he said.
Assembly Member Rodriguez stood in solidarity with prominent Wadleigh Middle School advocates including elected representatives, Manhattan Borough President Scott Stringer, City Comptroller John Liu, Public Advocate Bill de Blasio, Senator Bill Perkins, Assembly Member Keith Wright, City Council Members Inez Dickens and Robert Jackson, and community leaders from the United Federation of Teachers (UFT) and members of the Panel for Education Policy. As a result of the hard work and efficacy by Assembly Member Rodriguez and community leaders, the Department of Education decided not to truncate Wadleigh Middle School and instead offered new school leadership and more supportive services.
Assemblyman Rodriguez speaks at the pre-hearing press conference about Wadleigh Middle School, along with other elected officials and community leaders.
El asambleísta Rodríguez habla en la conferencia de prensa sobre la escuela intermedia Wadleigh junto a otros oficiales electos y líderes de la comunidad.
El 26 de enero, el asambleísta Robert J. Rodríguez encabezó la lucha para proteger a Wadleigh Middle School for the Performing Arts de la "eliminación de grados" propuesta por el Departamento de Educación (DOE) como parte de la campaña del Alcalde para cerrar las escuelas consideradas con "bajo rendimiento continuo". El asambleísta Rodríguez reafirmó su declaración en el discurso público sometido antes de la conferencia de prensa y en una reunión con el vicecanciller del DOE Mark Sternberg. "Me preocupa extremadamente la falta de predecibilidad de la eliminación de grados y el cierre de escuelas. El DOE debería estar ofreciéndoles apoyo a nuestras escuelas y no cerrándolas", dijo el Asambleísta.
El asambleísta Rodríguez se declaró en solidaridad con esta causa junto a otros prominentes defensores de la escuela intermedia Wadleigh incluyendo representantes electos, el presidente del condado de Manhattan Scott Stringer, el contralor de la ciudad de Nueva York John Liu, el defensor público Bill de Blasio, el senador Bill Perkins, el asambleísta Keith Wright, los concejales de la ciudad de Nueva York Inez Dickens y Robert Jackson, los líderes comunitarios de la Federación de Maestros Unidos (UFT), y los miembros del Panel sobre Políticas de Educación. Como resultado del arduo trabajo y la eficacia del asambleísta Rodríguez y otros líderes comunitarios, el Departamento de Educación decidió no cerrar la escuela intermedia Wadleigh y en vez ofreció nuevo liderazgo escolar y más servicios de apoyo.

State Budget Recommendations
On Tuesday, February 14th, Assembly Member Robert J. Rodriguez wrote to Speaker of the Assembly Sheldon Silver providing feedback on how the Governor's proposed budget for the FY 2012-2013 state budget will impact East and Central Harlem. In his 9-page letter, Assembly Member Rodriguez called for the Speaker to restore and increase critical funding for youth, housing, senior services, social services, education, and labor amongst other areas of concern.
"While I applaud the Governor's good faith effort to close the State's budget deficit by reducing spending, and I remain interested in pursuing new revenue opportunities to fund existing needs, I do not believe that we should balance the budget at the expense of our children, seniors and the infirm," stated Assembly Member Rodriguez. An original copy of the Assembly Member's letter can be obtained by emailing leek@nysa.us.
Recomendaciones sobre
el presupuesto del estado
El martes 14 de febrero, el asambleísta Robert J. Rodríguez le escribió al portavoz de la Asamblea Sheldon Silver para darle a conocer su opinión sobre la manera en que el presupuesto propuesto por el Gobernador para el año fiscal 2012-2013 impactará a las áreas del este y centro de Harlem. En su carta de 9 páginas, el asambleísta Rodríguez le pide al Portavoz restaurar y aumentar los fondos esenciales para programas juveniles, vivienda, servicios para ancianos, servicios sociales, educación y empleo, entre otras áreas de gran preocupación.
"Aunque aplaudo los esfuerzos de buena fe del Gobernador para cerrar el déficit presupuestario del estado y reducir el gasto del gobierno, y mientras sigo interesado en buscar oportunidades de fondos para financiar necesidades existentes, no considero que debamos balancear el presupuesto a costas de nuestros niños, ancianos y enfermos", dijo el asambleísta Rodríguez. Pueden obtener una copia original de la carta enviada por el Asambleísta, si envian un correo electrónico a: leek@nysa.us.
Speaking Out Against Cyber Bullying
Assemblyman Rodriguez Talks to High School Youth
On December 14, 2011, Assembly Member Robert Rodriguez joined prominent anti-cyber bullying advocates and politicians such as State Senator Jeffrey Klein, City Council Member Melissa Mark-Viverito, Principal of The Renaissance Charter High School for Innovation, Nicholas Tishuk and Miss New York, Kaitlin Monte, to speak out against cyber bullying. During their visit, Assembly Member Rodriguez charged a classroom of tenth and eleventh graders to get two or three more of their friends to take the "Click, Comment and Create Change" online survey to inform legislators on how they've been impacted by cyber bullying and suggest ways to combat the epidemic. Recalling his Youth Summit just two months earlier, Assemblyman Rodriguez said, "I recognize many of you from the Youth Summit we held in October, discussing issues such as youth violence. I want to see each of you continuing to share your information and creating awareness for the innovative solutions you all have put forth. Cyber bullying is not going to change from the top down; it has to come from the demands and voices of youth such as each and everyone of you." The Assemblyman also pledged support for Senator Jeffrey Klein's forthcoming state legislation targeting cyber bullying in the 2012 Legislative Session.
Assemblyman Rodriguez talks to high school students about cyber-bullying awareness.
El asambleísta Rodríguez les habla a estudiantes de escuela secundaria sobre el acoso cibernético.
Denunciemos el acoso cibernético
El asambleísta Rodríguez habla con estudiantes de escuela secundaria
El 14 de diciembre de 2011, el asambleísta Robert Rodríguez se unió a defensores y políticos como el senador estatal Jeffrey Klein, la concejal de la ciudad de Nueva York Melissa Mark-Viverito, el principal de The Renaissance Charter High School for Innovation Nicholas Tishuk y Miss New York Kaitlin Monte, para hablarles a los estudiantes sobre el acoso cibernético. Durante su visita, el asambleísta Rodríguez exhortó a estudiantes de décimo y undécimo grados a lograr que dos o tres de sus amigos llenen la encuesta por Internet titulada en inglés "Click, Comment and Create Change" (Oprime, Comenta y Crea Cambios) para, de este modo, informar a los legisladores cómo han sido impactados por el acoso cibernético y sugerir maneras para combatir esta epidemia. Recordando su Cumbre Juvenil, realizada a penas dos meses, el asambleísta Rodríguez dijo, "reconozco a muchos de ustedes de la Cumbre Juvenil que acabamos de celebrar en octubre, donde se discutieron asuntos como la violencia juvenil. Quiero ver a cada uno de ustedes compartiendo su información y levantando conciencia sobre las soluciones innovadoras que allí se propusieron. El acoso cibernético no va a desaparecer por sí solo; el cambio tiene que venir de las exigencias y voces de jóvenes como todos y cada uno de ustedes". El Asambleísta también prometió apoyar la legislación estatal que presentará el senador Jeffrey Klein contra el acoso cibernético en la Sesión Legislativa 2012.

Assemblyman Rodriguez Gives Congratulatory Remarks at NYCHA's Unveilingof the James Weldon Johnson Houses Community Center
On December 2nd, Assembly Member Robert J. Rodriguez joined Chairman John Rhea and other prominent elected officials at the long-awaited unveiling of the New York City Housing Authority's (NYCHA) James Weldon Johnson Houses Community Center. The Assembly Member was joined by Department of Youth and Community Development Commissioner Jeanne B. Mullgrav, Supportive Children's Advocacy Network Executive Director Lew Zuchman, Children's Museum of Manhattan Executive Director Andy Ackerman, Time Warner Vice President Bobby Amirshahi and Tenant Association President Ms. Ethel Velez.
In brief remarks, Assemblyman Rodriguez proclaimed, "Instead of spending billions of dollars incarcerating young people, the money should be invested in community centers...I think this [community center] right here is the best alternative to incarceration." The Assembly Member was greeted by rounds of applause from the crowd of over 500 residents who have waited a little more than a decade for the center's opening. The ceremony was held inside the newly renovated $21 million, 21,500-square-foot center's regulation-size gymnasium where refreshments, entertainment, and tours were made available to those in attendance. In addition to the gymnasium, the newly renovated center also features a children's center, locker room, performance space with a movie screen and outdoor amphitheater, exercise room, technology center sponsored by Time Warner Cable, game room and commercial kitchen. The Assemblyman will join Time Warner officials next month to formally present the Technology Center.
El asambleísta Rodríguez celebra inauguración del centro comunitariode las viviendas James Weldon Johnson de la NYCHA
El 2 de diciembre, el asambleísta Robert Rodríguez se reunió con John Rhea, presidente de la Autoridad de Vivienda de la Ciudad de Nueva York (NYCHA) y otros prominentes oficiales electos en la esperada inauguración del centro comunitario de las viviendas James Weldon Johnson. El Asambleísta fue acompañado por la comisionada del Departamento de Desarrollo Juvenil y Comunitario Jeanne B. Mullgrav, el director ejecutivo de Supportive Children's Advocacy Network Lew Zuchman, el director ejecutivo del Museo de Niños de Manhattan Andy Ackerman, el vice presidente de Time Warner Bobby Amirshahi y la presidenta de la Asociación de Inquilinos Ethel Vélez.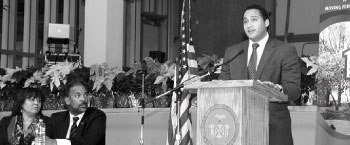 Assemblyman Rodriguez gives remarks at NYCHA's Johnson Center unveiling.
El asambleísta Rodríguez comparte unas palabras durante la inauguración del Centro Johnson de la NYCHA.
En breves palabras, el asambleísta Rodríguez declaró, "En vez de gastar miles de millones de dólares encarcelando a los jóvenes, el dinero debería ser invertido en centros de la comunidad...Yo creo que éste [centro comunitario] es la mejor alternativa al encarcelamiento". El Asambleísta fue aplaudido por más de 500 residentes que llevaban esperando más de una década por esta inauguración. La ceremonia se realizó en el recién renovado gimnasio de $21 millones y 21,500 pies cuadrados, donde los presentes recibieron refrigerios, entretenimiento y recorridos. Además del gimnasio, el recién renovado centro también incluye un centro para niños, un vestuario, espacio para presentaciones con una pantalla para películas y un anfiteatro a la intemperie, un cuarto para ejercicios, un centro de tecnología auspiciado por Time Warner Cable, un salón de juegos y una cocina comercial. El Asambleísta acompañará a los oficiales de Time Warner el próximo mes para presentar formalmente el Centro de Tecnología.
Assemblyman Rodriguez Surprises Elementary School StudentsDuring "Breakfast with the Band" Series
El asambleísta Rodríguez sorprende a estudiantes de escuela primariadurante la serie "Desayuno con la Banda"
On Thursday, February 2nd, Assembly Member Rodriguez surprised a group of elementary school students during their monthly Breakfast with the Band practice. The 25 students in attendance played instruments ranging from the clarinet, drums and flute to the piano and cymbals. The students are participants of the Education Through Music (ETM) program which was founded to promote the integration of music into the curricula of disadvantaged schools in order to enhance students' academic performance and general development. Recalling his own experiences in elementary school at River East playing the clarinet, Assemblyman Rodriguez said, "Programs like these helped open up my world to understanding classical music and education. I am so proud that you all are moving in that direction." Acknowledging the need for more funding, he further stated, "Please know that you all have my support in Albany where, fortunately, we were able to increase the funding for schools by 4 percent, and I look forward to advocating for more resources for your school in the near future."
Assembly Member Rodriguez with PS 38 band students.
El asambleísta Rodríguez con estudiantes de la banda musical de PS 38
El jueves 2 de febrero, el asambleísta Rodríguez sorprendió a un grupo de estudiantes de escuela primaria con su evento mensual "Desayuno con la Banda". Los 25 estudiantes presentes tocaron diferentes tipos de instrumentos como clarinete, timbal, flauta, piano y címbalo. Los estudiantes participan en el programa Educación a Través de la Música (ETM), fundado para promover la integración de la música en el currículo académico de escuelas en desventaja económica para mejorar el aprovechamiento académico de los estudiantes y su desarrollo general. Recordando sus días como clarinetista en la banda musical de la escuela River East, el asambleísta Rodríguez recalcó, "programas como éste ayudaron a abrir mi mundo a la apreciación de la música clásica y la educación. También me siento muy orgulloso de que estén creciendo en esta dirección". Reconociendo la necesidad de más fondos, el Asambleísta dijo lo siguiente, "pueden estar seguros de que tendrán todo mi apoyo en Albany, donde afortunadamente logramos aumentar los fondos para las escuelas por 4 por ciento, y espero luchar para obtener más recursos para su escuela en el futuro".