Dear Constituent:
Despite newspaper reports to the contrary, the past few months have been very productive in Albany. For the first time in a generation, an important change was made in the state's returnable container law: a new provision for deposits on bottled water. After over a generation, major reform was finally passed to the Rockefeller drug law. And we passed a rescue plan for the MTA to keep the fares down and block service cuts and new tolls on the Harlem and East River bridges. In addition, despite facing a $17 billion budget deficit, we passed a balanced, on-time budget that preserved essential services.
We face many important issues locally: problems in how our schools are run; incompetence and dishonesty on the part of the Department of Environmental Protection in the construction of the giant water filtration plant and ancillary facilities; predatory ticketing on the part of traffic enforcement agents; the inability of the NYC Department of Transportation to complete any project on time. The list goes on, but I work on every one of these issues and many more and am fortunate to have an extraordinary staff to address constituent complaints. My staff is expert in cutting through government red tape and resolving almost every problem imaginable.
If you have any issues, problems or questions, please do not hesitate to contact my office. Have a wonderful summer.
Sincerely,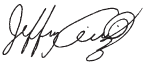 Jeffrey Dinowitz
Member of Assembly
Assemblyman Jeffrey Dinowitz, his daughter, Kara, and his son, Eric, are pictured in front of the U.S. Capitol for the Inauguration of President Barack Obama.
Community Stands Up Against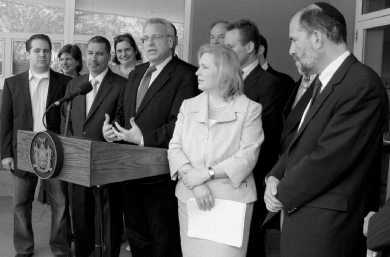 After a terrorist plot against Riverdale Temple and the Riverdale Jewish Center was foiled, Governor Paterson announced a $50,000 grant to bolster the security of the two synagogues. He is pictured with Assemblyman Jeffrey Dinowitz and U.S. Senator Kirsten Gillibrand announcing the grant on the steps of the Riverdale Jewish Center along with Rabbi Judith Lewis, Rabbi Jonathan Rosenblatt, Bronx Borough President Ruben Diaz Jr., State Senator Eric Schneiderman, City Council Member Oliver Koppell, and Ari Hoffnung.
A plot by four hate-filled would-be terrorists to bomb Riverdale Temple and the Riverdale Jewish Center was foiled thanks to the excellent work of the NYPD, the FBI and the entire law enforcement community. It was heartening to see Jewish, Christian and Muslim clergy all come together to denounce hatred and bigotry in our community. I spoke at the community rally that was also attended by U.S. Senator Charles Schumer, Congress Members Eliot Engel and Charles Rangel, State Senator Eric Schneiderman, Bronx Borough President Ruben Diaz, Jr., Councilman Oliver Koppell, and other community members.
I met Governor Paterson the next day and asked him to come back to Riverdale – and bring some funding with him to help our community with additional security measures. The Governor did indeed come back to Riverdale with $25,000 grants to each of the two synagogues that were the targets of the plot. I stated at a press conference on the steps of the Riverdale Jewish Center with Governor Paterson, Senator Kirsten Gillibrand, and our local elected officials, that "our community was the target of a heinous plot of four individuals whose goal was to kill as many Jewish people as they could. The Riverdale Jewish Center, on the very block where I live, and Riverdale Temple, of which my family and I are members, were both saved thanks to the incredible work of the NYPD, the FBI, Homeland Security, the Joint Terrorism Task Force, and the entire law enforcement community. Governor Paterson reacted quickly and decisively. I very much appreciate the fact that the Governor has returned to Riverdale and responded to our request by providing much-needed funding to support our efforts to protect the people of our community. We must remain strong and vigilant, and I look forward to continuing to work with the Governor in every way possible to keep Riverdale and every community in New York safe."
Despite facing one of the greatest fiscal challenges in decades, the Assembly passed a state budget that saved numerous essential programs and services that affect the people of my district. Programs such as the city's 2009-2010 Aid and Incentives to Municipalities funding will help support local projects and programs essential to the well-being of New York City residents and will help offset cutbacks in city services like police, fire protection, and sanitation. Education remains a central concern of the Assembly, and the budget provides nearly $8.5 billion in state funding for New York City schools. We rejected the proposal to shift the cost of special education to the New York City Department of Education—saving taxpayers $97 million. The final budget delivered nearly $1 billion in additional funding to New York City schools. The City University (CUNY), which is a significant economic development tool for New York City, will receive a total of $1.9 billion in funding.
The budget makes critical investments in housing, homeless prevention and programs to assist at-risk youth. Aiming to ensure that struggling New Yorkers continue to receive the healthcare they need, the budget continues the Assembly's effort to reduce the Medicaid burden on New York City taxpayers, who will see a savings of $137.6 million. The budget will also continue the Assembly's longstanding commitment to cover the total cost of the state's Family Health Plus program. As a result, New York City will realize an additional $315 million in savings.
As Chair of the Assembly Committee on Aging, one of my top budget priorities was to restore $49.9 million that was cut from EPIC, the state's prescription drug program for seniors. I am pleased to report that I was successful in getting all of this funding restored.
In this fiscal crisis, cuts to programs and spending have been necessary, and there will likely be more in our future. However, I remain committed to protecting the programs and services that are essential to the health of our state, city, and community.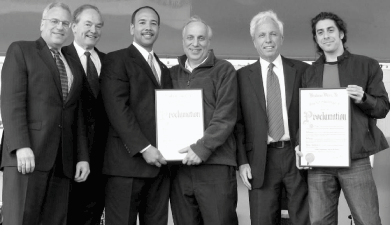 Assemblyman Jeffrey Dinowitz, City Council Member Oliver Koppell, Bronx Borough President Ruben Diaz Jr., Rabbi Avi Weiss, former Public Advocate Mark Green, and Jon Weiss at the Israeli Independence Day Festival.
One of the biggest victories in the 2009-2010 budget is the provision to expand the state's Returnable Beverage Law to include water beverage containers under one gallon. This will significantly increase recycling and provide a new revenue stream to New York State. There will be a five cent deposit on water bottles and mandate that box stores over 40,000 square feet have reverse vending machines on their premises to process returnable containers. In addition, 80 percent of all the unclaimed nickels on beverage containers (that are not returned) would be remitted to the state. I think we have all noticed that most bottles found littering our streets, parks and streams and clogging our landfills are water bottles. This new incentive to recycle will go a long way toward making our neighborhoods—and ultimately, our environment—cleaner and healthier. Finally!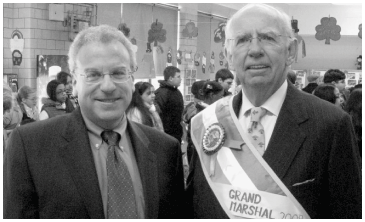 Assemblyman Jeffrey Dinowitz and Michael Gibbons, Grand Marshal of the 2009 St. Patrick's Day Parade, are pictured at St. John's School on Kingsbridge Avenue. Mr. Gibbons graduated from St. John's grammar school in 1954 and lived on Albany Crescent.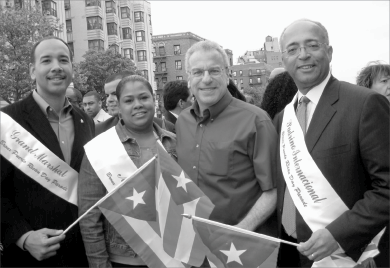 Bronx Borough President Ruben Diaz, Jr., Assemblyman Jeffrey Dinowitz, City Council Member Annabel Palma, and City Comptroller William Thompson are pictured at the Bronx Puerto Rican Day Parade. Thousands of Bronxites turned out for this annual event that took place on the Grand Concourse.
REFORMING THE OUTDATED
ROCKEFELLER
DRUG LAWS
I have long been a supporter of a major overhaul of the draconian, expensive 1970's Rockefeller drug laws. The state's 35 year-old Rockefeller Drug Laws were passed when then-governor Nelson Rockefeller wanted to prove he was tough on crime because he was running for national office. These outdated and harsh laws for low-level, non-violent offenders have had little effect on reducing substance-abuse related crimes
"The annual cost to taxpayers for drug law incarcerations is $45,000 per inmate...
and have disproportionately impacted our state's poorer communities. Furthermore, the annual cost to taxpayers for drug law incarcerations is $45,000 per inmate, an extraordinary figure when there are successful alternatives to combating substance abuse and street-level crime. The new law restores sentencing discretion to judges by eliminating oppressive minimum sentences to low-level, non-violent offenders, and emphasizes probation and addiction treatment, but ensures that major drug dealers will continue to receive harsh sentences.
BY TRAFFIC ENFORCEMENT AGENTS
DOT recently raised the price of parking meters in business districts by 50%, from 25 cents for 30 minutes of parking to the same price for only 20 minutes. Almost as soon as the meters were converted, Traffic Enforcement Agents eagerly pounced upon unsuspecting car owners. Though the rate increase had been announced in the City's latest budget proposal, the DOT did not issue any additional notice to the community as the day of the rate hike approached by such measures as posting signs around the meters. Of course, this all stems from the city's predatory policies that essentially mandate traffic agents to wring as much money out of drivers as possible by taking every opportunity to issue tickets—even when that means making up, ignoring, or outright breaking traffic and parking regulations to issue tickets, sometimes for bogus reasons—to make a quick buck for the city. Meanwhile, at a time when the deteriorating economy has forced everyone to tighten their belts, and the city especially must find ways to cut spending, Mayor Bloomberg has ordered the hiring of hundreds of new traffic agents (while threatening to fire other city workers) to better enforce his avaricious policies. Ultimately, it is clear that the policies and priorities of the city are not to ensure safety, harmony, and efficiency on our streets, but only to raise revenue by penalizing hard-working New Yorkers.
---
PREVENTING 1.3 BILLION IN
"NUISANCE TAXES"
I strongly opposed a series of taxes proposed in the executive budget that would have nickel-and-dimed New Yorkers in a tough economy. In March, the Assembly reached an agreement with the Senate and Governor Paterson to prevent the enactment of $1.3 billion in "Nuisance Taxes," which included sales taxes on non-diet soda, the savings from store coupons, and clothing under $110. Not only did we save people money but we also ensured that hardworking New Yorkers are not overburdened. I will continue fighting so that my constituents make it through these difficult economic times without being crushed under the weight of so many nuisance taxes.
---
City Council Member Oliver Koppell, Bronx Borough President Ruben Diaz Jr., Woodlawn Heights Taxpayers Association President Christine Sheridan, Assemblyman Jeffrey Dinowitz, recording Secretary Josephine Bastone, and Lorraine Abbotte at the annual Woodlawn fun fair.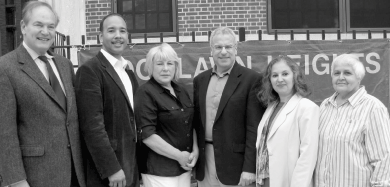 ABANDONED CARS
Recently I was contacted by residents of Delafield Avenue who informed me that three seemingly abandoned cars were parked on their block. The cars had been ticketed multiple times, and one had been vandalized. Beyond being an eyesore for the residents of that street, the residents and I were concerned that if the issue went unaddressed, the message would be sent that it was acceptable to abandon vehicles on this particular street, and even more vehicles would be dropped there. I reached out to the 50th Precinct's Community Liaison, Detective Luis Rodriguez, who promptly organized an investigation, contacted the owners of the vehicles, and ensured that they were all removed.
---
STELLA D'ORO STRIKE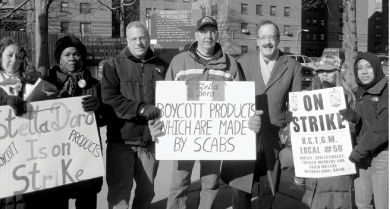 Assemblyman Jeffrey Dinowitz and Congressman Eliot Engel stand with some of the striking workers from the Stella D'Oro factory in Kingsbridge. The outside company now running Stella D'Oro has severely cut back on salaries and benefits for the Stella D'Oro workers.
I strongly support the striking workers from the Stella D'Oro bakery on Broadway. The workers, represented by BCTGM Local 50, have been on strike since August 13 of last year, when the bakery's parent company, Brynwood Partners, began attempts to cut wages, impose crushing health care premiums, eliminate holidays, vacations, sick pay, and existing pensions, and eliminate extra pay for working on Saturdays. I have attended rallies to raise awareness and show Byrnwood Partners that the community is not afraid to take a stand for those in need. I also contacted every major food retailer in the area, urging them to remove Stella D'Oro products from their shelves. It is my hope that by continuing to work together, we can convince Byrnwood Partners to see the injustice they are inflicting and enter fair negotiations with the workers. In the meanwhile, we should all be very choosy about which cookies we eat.
The State Department of Health is now accepting applications for the new, free New York Prescription Saver Card. With more than 2,500 pharmacies throughout the state participating, this is a significant step forward in helping people afford their healthcare. The program will offer participants significant discounts on thousands of prescription medications and provides savings of more than 60 percent on generic drugs and 30 percent on brand name drugs. The program serves New Yorkers who are disabled or are between the ages of 50 and 64 with an annual income of $35,000 or less for those who are single and $50,000 or less for married individuals. Medicaid recipients or those enrolled in the EPIC program are not eligible for the Prescription Saver Card.
---
City Council Member Oliver Koppell, Bronx Borough President Ruben Diaz Jr., 47th Precinct Community Council President Elizabeth Gill, Assistant Chief Thomas Purtell (C.O. Patrol Borough Bronx) State Senator Ruth Hassell-Thompson, Bronx District Attorney Robert Johnson, Assemblyman Jeffrey Dinowitz, and Assemblyman Carl E. Heastie all attended the 47th Precinct Community Council's 20th Annual Fellowship Breakfast.

---
NY PHILHARMONIC
Please join me and thousands of our neighbors in enjoying the New York Philharmonic when they perform in Van Cortlandt Park on Thursday, July 16, at 8:00 PM. The renowned Philharmonic will play Mozart's Symphony No. 41 and Mahler's Symphony No. 1. The performance is free and will be followed by a fireworks display.
One of the most contentious issues this year has been the financial problems of the Metropolitan Transportation Authority (MTA) and the efforts to craft a sensible MTA bailout plan. The Assembly majority conference stood firm as the MTA threatened service cuts, exorbitant fare hikes, and the imposition of new tolls on the Harlem River and East River bridges as means of raising enough revenue to cover their huge deficit, a deficit due partly to their own mismanagement. Fortunately, most of the MTA's "Doomsday" proposals were avoided. Instead of a proposed 32% increase in subway and bus fares, for example, fares will rise by only 10% this year; the proposal to place new tolls on small, neighborhood bridges—like the Broadway Bridge that connects Inwood and Marble Hill—has been defeated, as have the proposals to cut or eliminate several important bus and subway lines, slash weekend and late night service, and close multiple stations overnight.
The proposal to create new tolls on the Harlem and East River bridges was particularly troubling for residents of my district and the entire Bronx, who rely on these bridges as they go to work, to school, to shop, or to the doctor. Tolling these bridges would have put far too heavy a burden on those who drive over these very small bridges instead of spreading out the cost among the population. Furthermore, the proposals to eliminate the 34 Bus in Woodlawn and Norwood and the 20 Bus in Riverdale and Kingsbridge, which would have had a detrimental effect in those communities, prompted hundreds of constituents to express their outrage. This proposal would have put many residents of Woodlawn and Riverdale into 2-fare zones, costing them over $1000 extra per year.
The bailout agreement also includes long-overdue reforms of the MTA, giving the Legislature the authority to conduct independent audits every two years beginning in 2009. It combines the positions of chairman and chief executive officer of the MTA, creates a new MTA mission statement, and requires the appointment of board members who actually have expertise in finance or transportation. This agreement will require an overhaul of how the MTA operates; gone are the days when board members are appointed regardless of their expertise—or lack thereof. We are aiming to institute transparency and fiscal responsibility, and also create a public input office where riders can voice their concerns about transit projects and service. The plan also provides significant funding for the MTA's capital improvement plan. It raises money through a payroll tax, additional fees on car registrations and drivers' licenses, and a surcharge on taxi fares. Ultimately, the Legislature's agreement saves New Yorkers from the worst of the MTA's proposals, while also ensuring that New York City's public transportation system is maintained and improved and that the MTA's finances are appropiately monitored in the future.
---
Assemblyman Jeffrey Dinowitz celebrates with Ruben Diaz Jr. and Aurelia Greene in the New York State Assembly chamber. This was the last day that Mr. Diaz and Ms. Greene served in the Assembly prior to them taking office as Bronx Borough President and Deputy Bronx Borough President.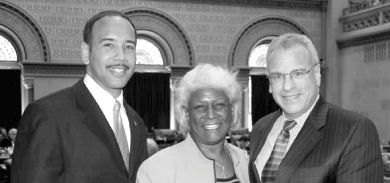 ---

As the sponsor of legislation to address the health problems caused by lead, I joined Governor David Paterson in celebrating the creation of the Governor's Task Force on the Prevention of Childhood Lead Poisoning to further the state's efforts to eliminate childhood lead poisoning. The Task Force will bring together a variety of state agencies to make findings and recommendations for the development and implementation of a coordinated strategy to reduce childhood exposure to lead. Children in low-income households throughout the state are still at serious risk from these toxic products, which were used decades ago but still pose a threat. The creation of this task force is an important step towards reducing exposure to lead-based paint. I welcome the input it will produce in helping communities safeguard kids against contact with these paints.
---
Assemblyman Jeffrey Dinowitz and Council Member Oliver Koppell marched in the opening day parade of the North Riverdale Baseball League.
Assemblyman Jeffrey Dinowitz participated in the opening ceremonies of the Kingsbridge Little League alongside with some of the local superstars.
Free Notary Service
My office provides free notary service during our regular office hours, 10 a.m. to 4 p.m. Monday through Friday. Please bring two forms of identification, at least one with your photo and signature, if you would like your signature notarized.