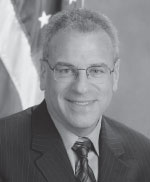 Assemblyman
Jeffrey Dinowitz
Reports to the people of the 81st Assembly District
Winter 2010/2011
Dear Constituent:
The Legislature will soon be headed back to Albany for the 2011 legislative session during one of the most difficult economic times in decades. While the federal government has officially declared the Great Recession over, large numbers of people are still out of work, and budgets at all levels of government are in deficit. Incoming Governor Andrew Cuomo will have his hands full in trying to address what is expected to be a $9 billion budget deficit for the 2011-2012 fiscal year, which begins on April 1, 2011.
Tough decisions will have to be made to pass a balanced budget as the law requires. Given the size of the deficit, large cuts will have to be made in the state budget. It's been my experience that most people support making cuts but nonetheless do not want cuts in the areas they care about most. I would welcome comments from constituents on the budget. Do you prefer new taxes or cuts to programs? What areas must not be cut? What programs should be eliminated? Please feel free to call, mail, fax, or e-mail my office. I welcome your comments and suggestions.
The State's budget deficit isn't our only problem. The City is facing a $3 billion deficit. The Mayor has already proposed laying off thousands of workers, including teachers. One of the Mayor's proposals is to raise the price to use parking meters in our neighborhoods from seventy-five cents per hour to a dollar per hour.
There are so many issues facing our neighborhoods that I am involved with. I try to play a constructive role in all of our community issues. My staff is superb at resolving individual constituent problems, so if you have an issue please do not hesitate to come to my district office. Also, we provide free notary service to all constituents, and everyone in my office is a notary public.
Happy holidays and a healthy new year to all.
Sincerely,



Jeffrey Dinowitz
Member of Assembly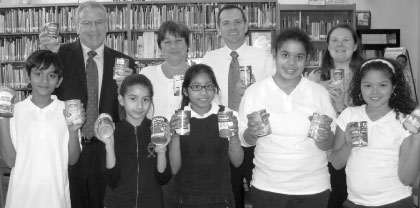 Assemblyman Jeffrey Dinowitz visited P.S. 7 in Kingsbridge where he is pictured with Principal Frank Patterson, Tara McMaster, Kelly Links, and student government leaders who are holding cans of food at the school library. The school collected hundreds of pounds of food for Assemblyman Dinowitz's canned food drive. The food was donated to the Kingsbridge Heights Community Center and the food pantry at Saint Francis of Rome Church in Wakefield for families in need.
Assemblyman Dinowitz Leads the Way in Saving Senior Centers
Governor Paterson cut federal Title XX funding from his 2010-2011 Executive Budget earlier this year. This would have meant the loss of over $25 million in funding to New York City that is used to fund senior centers. Dozens of centers would have had to close their doors had these cuts gone through.
As Chair of the Assembly Committee on Aging, I led the fight to have this money restored. Looking out for seniors not only in my district but throughout the state is my job as committee chair. I organized a coalition of over 60 Assembly Members from New York City to ask Assembly Speaker Sheldon Silver to make restoration of this crucial funding a top priority. In addition, seniors and senior advocates from throughout the city spoke loudly and clearly on this issue. Our efforts paid off. One hundred percent of this funding was restored, and we saved dozens of senior centers from closing. But we will have more work to do. Both the City and the State face huge budget deficits in the coming year, and we may have to fight this same fight again.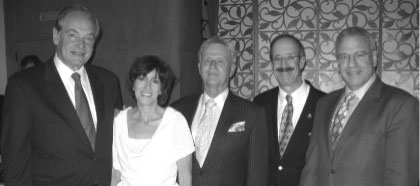 Riverdale Temple recently named their religious school in honor of Karen and Rabbi Stephen Franklin. Assemblyman Jeffrey Dinowitz, Congressman Eliot Engel, and Councilman Oliver Koppell are shown here with the Franklins at a dinner celebrating the occasion.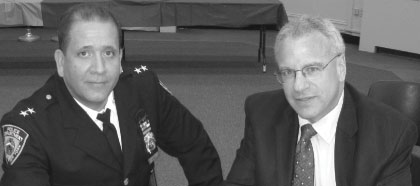 Assemblyman Jeffrey Dinowitz met with Chief Carlos Gomez, Commanding Officer, Patrol Borough Bronx, and discussed crime and safety issues in the 81st Assembly District.
Assemblyman Dinowitz Calls for an Educator to be Named as Schools Chancellor
After Mayor Bloomberg named former corporate executive Cathleen Black as his choice to replace Joel Klein as Chancellor of the New York City Public Schools, I contacted the State Education Commissioner to express my concern. In order to be eligible for this position, Ms. Black needed to get a special waiver from the State Education Department because she lacked any experience or credentials in education. I wrote to Commissioner Steiner asking that the waiver be denied.
Joel Klein has been Chancellor for the past 8 years. Some people think he has done a good job; others think he has been horrible. He had no education experience either. Although Ms. Black may be talented in her field, I believe that it is vital that an individual with a strong education background who is truly qualified and ready to tackle the important issues facing us be chosen to lead the largest school district in the country. After all, there's no rule that the Chancellor shouldn't have experience in the education field. I'm certain that there is at least one person in this nation of 300 million people who has the corporate expertise that the Mayor loves so much but who is also well-versed in education issues.
It was very disappointing that Commissioner Steiner granted the waiver to Ms. Black. It was under the condition that a chief academic officer (who actually has the qualifications she doesn't) be appointed to work at her side, an admission that she is not qualified.
This is an important issue affecting all of the public school children in our community. I'd be interested to know how public school parents feel about this issue.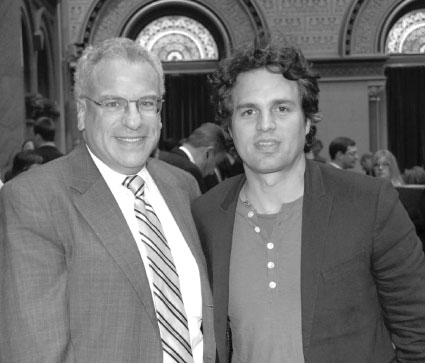 Assemblyman Jeffrey Dinowitz and actor Mark Ruffalo are shown here in the Assembly Chamber. Ruffalo is a leading opponent of hydrofracking. Assemblyman Dinowitz is a co-sponsor of a bill to limit this environmentally damaging procedure.
In my last newsletter I wrote about the urgent need to pass significant reform in Albany, including ethics reform, redistricting reform, campaign finance reform and budget reform. It's clear to me that the people of the 81st Assembly District agree with my call for reform. While there's no question that reform is needed at every level of government, the recent campaigns for the governorship and state legislative seats have increased the focus on the great need for reform in the state capitol.
I am certain that these four major reform issues will be high on the political agenda in the upcoming legislative session. As a sponsor of several of these reform bills I will continue to fight to bring much-needed change to Albany.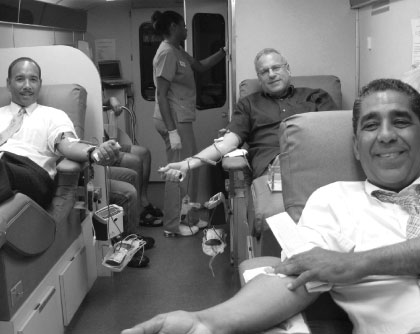 Local elected officials gave their blood at a local blood drive. State Senator-elect Adriano Espaillat, Bronx Borough President Ruben Diaz Jr., and Assemblyman Jeffrey Dinowitz are shown here donating their blood at the Riverdale Neighborhood House.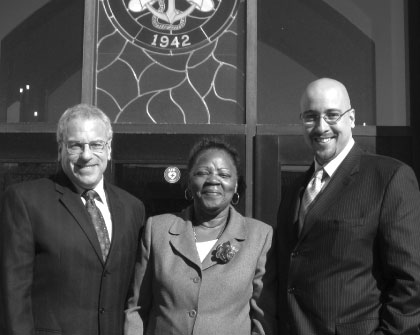 Assemblyman Jeffrey Dinowitz and newly elected State Senator Gustavo Rivera are shown here with community leader Sallie Caldwell at the annual breakfast of the Precinct Community Council at Lehman College.
Welcome to Our New State Senators
Thanks to gerrymandering, my 81st Assembly District contains parts of four state senate districts. Two of our state senators are Jeffrey Klein and Ruth Hassell-Thompson. The other two state senate districts will be represented starting January 1st by Adriano Espaillat and Gustavo Rivera. Senator Espaillat will represent the 31st District (most of Riverdale), currently represented by Attorney General-elect Eric Schneiderman. Senator Rivera will represent the 33rd District (Norwood, Van Cortlandt Village, Kingsbridge and part of Riverdale) that is now represented by Pedro Espada, Jr. I've already been working closely with both Adriano Espaillat and Gustavo Rivera and look forward to working with them in the legislature and in our community in the coming years.
Justice Served: Would-be Synagogue Bombers Guilty
The would-be bombers that targeted Riverdale Temple and the Riverdale Jewish Center were convicted in October. Good. I'm very pleased that the jury found these evil people guilty of the charges against them. If these four had their way, countless innocent people would have been slaughtered. They should spend the rest of their lives in prison and never get out. A strong message was sent by the jury, and the judge should send out a stronger message by imposing the maximum sentences.
City Plans to Oversaturate Wakefield with Homeless Facilities
Once again, the City has come up with a plan that will have a negative impact on the quality of life of a vibrant middle class community. We all recognize that the problem of homelessness must be addressed, but the City administration is backing plans to put four different facilities within blocks of each other in Wakefield. Two of these large homeless shelters are planned one block apart in the area of Nereid Avenue and Bronx Boulevard. Can you believe that? A third building (a supportive housing facility for formerly homeless individuals) is planned for White Plains Road, just a few blocks away. Another homeless facility is planned a few blocks east, just outside of my district. I strongly oppose these crazy plans. I wouldn't say that there can't be any facilities for the homeless in my district, but it is sheer lunacy for there to be such a high concentration in such a small area. Wakefield and neighboring Woodlawn are strong middle class communities working hard to remain nice neighborhoods. If only the City cared about communities such as Wakefield and Woodlawn, we wouldn't be facing constant battles to protect our quality of life.
Amalgamated-Park Reservoir Concert
I was very pleased that nearly 200 people attended a concert that I sponsored with the Bronx Council on the Arts at the Train Park in the Amalgamated Houses. The beautiful music and gorgeous weather combined to make it a wonderful evening. I appreciate the work of Doris Spencer and the staff of the Amalgamated and the extraordinary talent of Alma Micic and Group. The Amalgamated, Park Reservoir and Van Cortlandt Village—what a great community!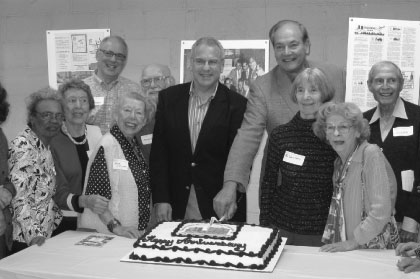 Residents of the Fieldstondale Mutual Housing Cooperative recently celebrated their 50th Anniversary. Assemblyman Jeffrey Dinowitz and Councilman Oliver Koppell, surrounded by many of the co-op's original residents, cut a cake in celebration.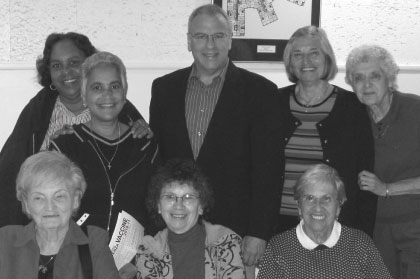 Hundreds of community residents received free flu shots thanks to Assemblyman Jeffrey Dinowitz. The free flu shot program is also sponsored by the Visiting Nurse Service, Councilman Oliver Koppell, and Congressman Eliot Engel. Assemblyman Dinowitz is pictured at Vladeck Hall in the Amalgamated Houses with community volunteers who helped make the program a huge success.
Anti-Graffiti Drive Continues
I have fought against the scourge of graffiti for many years now. It seems like an endless battle, but I will not give up. I've secured state funding for KRVCDC for many years, partially to pay for graffiti removal. With that funding, we have had the shopping areas of my district cleaned up. In addition, if local residents contact my office to remove graffiti at a particular location, we arrange for it to be cleaned. Making our community free of this filth helps improve the quality of life in our neighborhoods.
Canned Food and Turkey Drive a Huge Success
I am grateful to everyone who made my annual Thanksgiving canned food and turkey drive a huge success. We received a tremendous amount of food from students at P.S. 7 in Kingsbridge. We also received food and/or turkey dollars from students at P.S. 24, P.S. 81, and the Riverdale-Kingsbridge Academy as well as Knolls Crescent 2 Co-op. Local resident Ed Lowe, the owner of Exec-You-Van, also generously donated 20 turkeys and all the trimmings. All of this food was donated to the Kingsbridge Heights Community Center or St. Francis of Rome Church food pantry for families in need. We are also collecting food for our Christmas/Chanukah season food drive.
Surprise! West Nile Virus Spraying Without Warning to Community
After trucks were spotted in Riverdale earlier this fall spraying pesticides to fight the West Nile Virus, I was contacted by a number of constituents who were surprised and angry that it took place without reasonable notice. The NYC Department of Health and Mental Hygiene claimed they notified the public by posting the spraying schedule on their website.
I let the agency know that I was not happy with their poor notification policy. The public has a right to know when such spraying will take place. They may not want to be on the street when it happens, and they certainly would not want children or pets outside. People surely should have the opportunity to close their windows. Simply announcing spraying on a website that virtually no one reads and would have no particular reason to read is just not adequate. Flyers around the community, press releases to local newspapers, and calls to elected officials and community board offices would make a lot of sense. I hope the City will take this advice and not repeat this poor procedure in the future.
City Moves Bus Stop to Unsafe Location—and Then Tickets Residents
Residents of Riverdale Avenue recently woke up to find parking tickets on their cars—cars that they had parked legally. Unbeknownst to them, the City changed the parking regulations by moving a bus stop from the safe location on the corner of Greystone Avenue to a less safe spot further down Riverdale Avenue. Of course traffic agents couldn't wait to pounce on cars that were parked in the bus stop that no one except them knew existed.
The community was not notified in advance that the bus stop would be moved. In fact, it appears that NYC Transit employees did not know the bus stop was moved. The result was confusion for neighborhood residents, motorists, commuters, and even bus drivers. I have requested that the bus stop be returned to the original location or further north on the other side of the intersection. We have repeatedly had a problem with DOT changing a parking regulation followed immediately by traffic enforcement agents issuing summonses. This is a disgrace. STOP IT!
Parking Calendar
My 2011 parking calendar, listing the days alternate-side parking regulations are suspended, will be mailed out soon to people in my district who have driver's licenses or who own a car. If you don't receive it by the end of the year, you can pick up one in my office starting late in December, or you can contact us and we will mail one out to you.
If you are eligible for a rent freeze or a tax reduction you should apply:
SCRIE: Senior Citizen Rent Increase Exemption
If you live in a rent-stabilized, rent-controlled or Mitchell-Lama apartment, you could be eligible for a rent freeze if you are at least 62 years of age, have an annual income less than $29,000, and spend at least one-third of your income towards rent. If you think you are eligible, come to my office with proof of income and age and we will fill out the SCRIE application, file it, and follow through for you.
SCHE: Senior Citizen Homeowners' Exemption
If you own a 1-, 2-, or 3-family house, a condominium, or a co-op apartment and you are at least 65 years of age, you may qualify for a tax reduction. The combined household income must be less than $37,400 and the property must be your primary residence. The amount of the tax reduction depends upon the combined gross income of all household members.
DRIE: Disability Rent Increase Exemption
If you receive SSI, SSDI, a veterans disability pension or compensation, or disability-related Medicaid, you may be eligible for a rent freeze. You must live in a rent-stabilized, rent-controlled or Mitchell-Lama apartment and have an annual income less than $19,284 for an individual or $27,780 for all household members.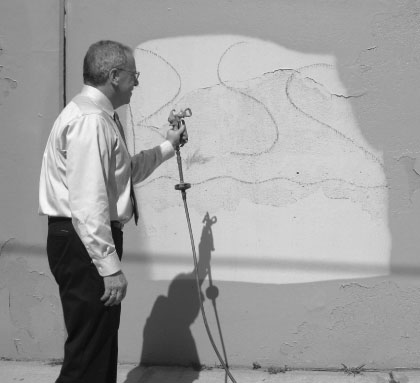 Assemblyman Jeffrey Dinowitz has long been a fighter against the scourge of graffiti. He is shown here spraying away graffiti on a wall at PS 24. His anti-graffiti program is funded through money he secured from the state for KRVCDC.
This was the first year for the new optical-scanner voting machines. In my district, there were surprisingly few problems voting; however, there were some complaints. People did have to get used to a new way of voting, but it was generally very easy for most people. At most polling sites, at least one of the machines broke down, but very few places had major disruptions.
The most frequent complaint from voters was the small size of the type on the ballot. I thought it was a disgrace that the print on the ballot was so small. Many people rightfully complained to me that it was difficult to read the content of the ballot. This was due in part to the fact that the scanners could only accommodate ballots of a certain size but no larger. It was also due to the way the Board of Elections designed the ballot. Certainly there was enough space to make the print larger. The names of the candidates could have also been in bold, just like on the absentee ballots. I will work to insure that the ballots are easier to read for the next election. If you experienced any problems voting, please contact my office. I will insist that the Board of Elections address all of the issues which are raised.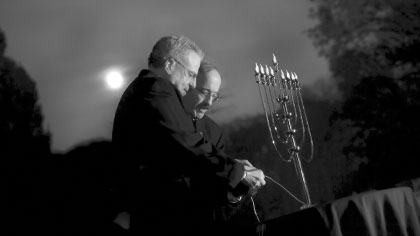 Assemblyman Jeffrey Dinowitz and Congressman Eliot Engel led the annual Chanukah Menorah Lighting at the Bronx Botanical Gardens.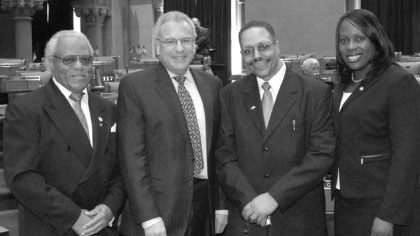 Assembly Members Jeffrey Dinowitz and Vanessa Gibson thank the hero of the attempted Times Square terrorist attack Lance Orton (second from right), who alerted the police of the failed bomb, and his father Horace Orton, in the New York State Assembly Chamber.
Free Notary Service
My office provides free notary public service during our regular office hours, 10 a.m. to 4 p.m. Monday through Friday. Please bring two forms of identification, at least one with your photo and signature, if you would like your signature notarized.