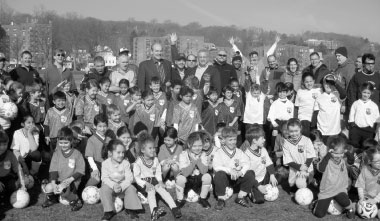 Assemblyman Jeffrey Dinowitz joined hundreds of young soccer players from the Riverdale Soccer Club at Van Cortlandt Park. He is pictured here with Council Member Oliver Koppell, Club President Bruce Silverman, coaches, volunteers, and future soccer stars.
Assemblyman Dinowitz Saves Over 100 Senior Centers
As Chair of the Assembly Committee on Aging, I led the fight in this year's state budget battle to save state funding for New York City senior centers. The Governor's proposed budget included a huge cut to Title XX funding, part of which is used to fund the City's senior centers. Mayor Bloomberg threatened to close over 100 senior centers, including the Van Cortlandt Senior Center and the R.A.I.N. Senior Center on East 233rd Street, if this funding was eliminated.
I organized my colleagues in the City and made this the top budget priority of the Aging Committee. Assembly Speaker Sheldon Silver strongly supported me in this effort. Ultimately the Governor and the State Senate agreed with the Assembly, and this crucial source of funding was fully restored. This Title XX funding was one of the few items to be completely restored in the final budget.