Dear Constituent,
A friend recently asked me why I continue to serve in the Assembly after a number of years of very long hours and the long trips to and from Albany in the dead of winter. I told him it's because I love it. I love working in and for the community in which I have spent my life and raised my children.
I am not always a "glass is half-full" type of person, but if you look around you can see that so many good things are happening in our neighborhoods. I believe that every community in my Assembly district—Riverdale, Kingsbridge, Van Cortlandt Village, Norwood, Woodlawn, and Wakefield—is a wonderful place to live and is getting better.
Signs that our communities are on the upswing are everywhere. Two new shopping malls are about to be built on Broadway in the heart of the Kingsbridge shopping district. There have been quite a number of new buildings constructed in the past couple of years throughout my district. Many new stores have opened recently in every corner of the district. Look at the amazing turnaround on Riverdale Avenue, for example. A number of our institutions are expanding. A huge amount of money is being invested in this district. That is an enormous vote of confidence in the future viability and vibrancy of our neighborhoods.
Our parks look more beautiful than ever. We are finally getting the MTA to improve, rather than cut, service on some of our bus lines. The State has put up more money than ever to improve our schools.
While we still face many challenges and there is always more work to do, it's fair to say that each of the neighborhoods in our district is improving. If you do have a problem, my district office is here to help. Every member of my staff is expert at cutting through government red tape and making government work. In addition, we provide free notary service. So, if you have a suggestion or complaint, please contact my office, and we will be glad to help.
Sincerely,



Jeffrey Dinowitz
Member of Assembly
New Shopping Centers and Jobs Coming to Kingsbridge
Great things are happening in Kingsbridge. A new shopping mall, Riverdale Crossing, is being built at the old Stella D'oro site and is slated to open in October 2013. Another shopping center, Broadway Plaza, will be constructed on the City-owned parking lot at West 230th Street and will open in 2014 or 2015. Three new apartment buildings, all built as market-rate condos, have risen within a block of West 231st Street. The beautiful new Kingsbridge Public Library has opened. Two new apartment buildings containing affordable housing opened on Putnam Avenue just a few years ago.
Riverdale Crossing and Broadway Plaza will bring new jobs, stores, and shoppers to the area, giving a shot-in-the-arm to the local economy. These malls will help make the Broadway corridor a major shopping destination for the Bronx and beyond, with the Target shopping center on West 225th Street, Broadway Plaza at West 230th Street, and Riverdale Crossing at West 237th Street. I am very happy that the Riverdale Crossing developer is seeking to hire unemployed residents from our community for construction of the shopping mall. I thank the Bronx Overall Economic Development Corporation, Council Member Oliver Koppell, and Metropolitan Realty Associates for making this possible. I am also glad that the City chose a developer who will build a shopping center at West 230th Street, rather than housing as some had proposed.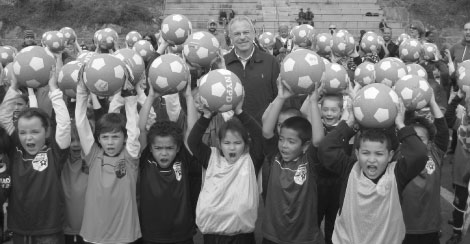 Assemblyman Dinowitz celebrated the opening day of the Riverdale Soccer Club's spring season at the Fieldston School. To mark the occasion, Assemblyman Dinowitz donated hundreds of soccer balls to the players, courtesy of the Bronx Chamber of Commerce.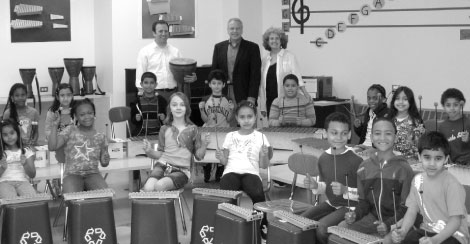 Assemblyman Dinowitz visited the AmPark School's new building and heard young musicians playing instruments that he arranged to have donated to the school through state funding he secured for the Bronx Arts Ensemble. They are pictured with music teacher Josh Joffee and Principal Elizabeth Lopez-Towey.
We Won! Tax Reform Strengthens New York
For too long New York State had what could only be described as an unfair, nonsensical tax code, based on antiquated notions of top-down economics. But together we partially corrected this problem and instituted a more progressive and fair tax code that will lead to more jobs, a better economy, and more money in the pockets of most New Yorkers.
Had we not acted, millionaires and billionaires would have seen their tax rate drop to 6.85% while everyday people are struggling and government programs are being cut. Under the new plan, we created a new tax bracket for those making $2 million and up, who will pay at a rate of 8.82% annually. We also cut taxes for those earning less, including middle-class people making between $40,000 and $150,000, who will pay a personal income tax rate of 6.45%, down from the previous level of 6.85%. This means 4.4 million middle-class New Yorkers will get a tax cut at a time when the economy, while recovering, is still fragile. A little extra money can go a long way for hardworking families. All told, the changes to the tax code will:
generate $1.9 billion in additional revenue for the state;
allow us to inject nearly $1 billion in infrastructure spending to create jobs;
reduce the MTA payroll tax on small businesses; and
create an Inner City Youth Employment Program to hire unemployed youth between the ages of 16 and 24.
I'd say that's a pretty good deal!
Raise the Minimum Wage!
I am proud to have co-sponsored legislation to increase the minimum wage in New York State from $7.25 to $8.50 per hour, and the tip-wage for food-service workers to $5.86 per hour. The legislation would also link increases in the minimum wage and the tip-wage to the rate of inflation starting in January 2014.
Presently, the minimum wage is woefully inadequate and impossible to survive on in New York City. We must increase the minimum wage and help working families keep up with rising rent, gas prices, tuition, and health care costs. The Assembly has already passed this important legislation, and I hope that the State Senate will do the same and that the Governor will sign it into law.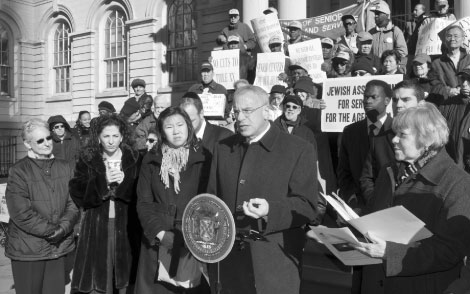 Assemblyman Dinowitz once again successfully fought cuts to Title XX funding for senior centers, and the state budget contained no Title XX cuts. He spoke out against proposed cuts, which would have closed over a hundred senior centers, at a rally at City Hall with NYC Department for the Aging Commissioner Lilliam Barrios-Paoli, State Senator Diane Savino, Assemblywoman Grace Meng, and Assemblywoman Joan Millman.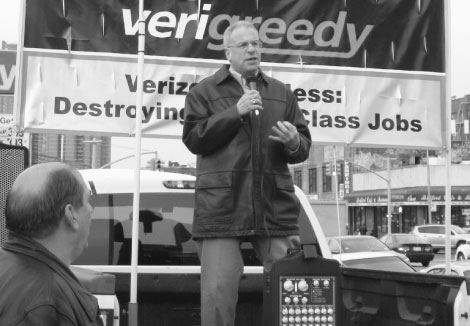 Assemblyman Dinowitz spoke at a rally on Jerome Avenue in support of Verizon workers fighting to maintain their health and retirement benefits and to protest the unjust firing of some of their co-workers.
Facebook Passwords in Job Interviews?
None of Employers' Business!
Recently, there have been reports of employers demanding login information, including usernames and passwords, to popular social media websites such as Facebook and Twitter, as well as to email and other extremely personal accounts. This information is being used as a condition of hiring, promotions, and lateral movement within companies, and in matters relating to disciplinary action including firing of individuals.
I am sponsoring legislation that would prohibit employers from demanding login information from prospective and current employees. State Senator Jeffrey Klein is sponsoring the bill in the State Senate. This type of request can lead to unfair and discriminatory hiring practices, compromises the security of the employee's account, and constitutes a serious invasion of privacy by the employer. Employees have the right to make their social media public or private through the individual websites, and they should have every right to maintain this level of privacy in their workplace or during an interview.
This legislation will address a terrible and growing abuse by certain employers. Employers should not be snooping on social media communications that are private, and they certainly should not be given passwords that are supposed to be kept secret. That's like an employer asking for a copy of your house keys so they can have a look around your home.
Fighting Unfair Parking Tickets
I am sponsoring legislation to fight predatory ticketing practices by traffic agents. One of the problems with the new electronic muni-meters is that motorists have to walk down the block to feed the muni-meter, opening a window when traffic agents can prey on innocent motorists before they return to their cars with their muni-meter receipts. Shockingly, some judges have upheld violations issued to victims of this practice.
My legislation would mandate that violations be dismissed if the motorist can produce a muni-meter receipt time-stamped before or at the same time that the violation was issued. This would give motorists an important defense against unfair tickets. I also contacted the New York City Police Department and the Department of Finance to demand a halt to predatory ticketing practices by traffic agents and unfair convictions by judges.
It's bad enough that too many traffic agents function as predators by issuing many tickets that are unjustified. It's even more outrageous that there are some Parking Violations Bureau hearing officers who ratify this outrageous behavior by finding innocent motorists guilty of violations when they in fact complied with the law. A person should not receive a ticket for failing to feed a muni-meter when they actually have. Traffic agents need to be a little more aware of what's going on around them. Administrative law judges who find such people guilty are in serious need of continuing legal education.
ReCharging New York
517 businesses and not-for-profit organizations across New York State will be awarded the first round of lower cost power allocations under the ReCharge New York program. ReCharge New York is a major statewide initiative to make low cost power available to New York State companies in return for their retention of thousands of jobs and billions of dollars in capital investments. The power will be available July 1, as provided for under the ReCharge New York legislation signed into law last year by Governor Cuomo.
I am very pleased that Montefiore Medical Center is the recipient of a power allocation through ReCharge New York. Montefiore Medical Center is not only a premier medical institution in the Bronx, but also the borough's largest employer, so the actions we take to strengthen Montefiore financially will benefit the entire Bronx.
Iran Divestment Act Becomes Law
I am pleased that the Iran Divestment Act, which I co-sponsored in the Assembly, is now law in New York. This important legislation prohibits New York State from doing business with companies that invest in Iran's energy sector. This law keeps taxpayer money out of the hands of those who might threaten our security and that of Israel and our other allies in the Middle East. It sends a clear message that the people of New York will not tolerate the government of Iran's illicit pursuit of nuclear weapons and support of terrorism. I thank Governor Cuomo for signing this legislation.
Traffic Safety on Independence Avenue
I am continuing to fight to improve traffic safety on Independence Avenue, and I will not rest until the job is done. I have demanded many changes, including stop signs at West 235th Street and a "Neighborhood Slow Zone" for the entire area, and have been joined by Council Member Oliver Koppell and our state senator in this effort. Designating the area a Neighborhood Slow Zone would bring important improvements such as a 20 miles-per-hour speed zone and additional speed bumps. These changes are vital to making this area safer, which contains several schools, houses of worship, a public library, and a park.
I am pleased that the Department of Transportation has already implemented one of the changes I requested: the school bus loading and unloading zone on West 235th Street has been extended by 40 feet. This change will improve the traffic situation, but our work is not finished yet. I have urged the DOT to implement my other requests as soon as possible, and I look forward to working with the DOT to make them a reality. The safety of our children and residents depends on it.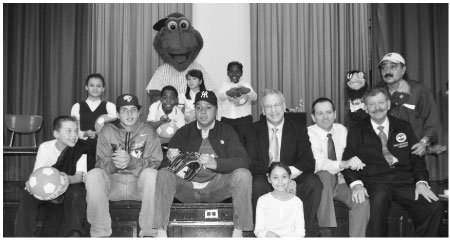 Matt Duran and Ray Negron of the New York Yankees, Assemblyman Jeffrey Dinowitz, PS 7 Principal Frank Patterson, Bronx Chamber of Commerce President Lenny Caro, and New York Yankees mascot Sultan and puppet Lucky spoke to students at PS 7. Students were given prizes such as Yankees rings, soccer balls, and toys.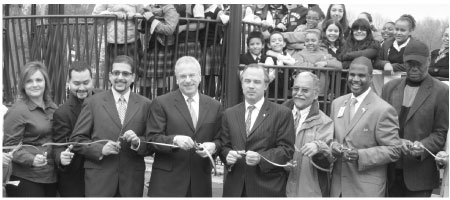 Assemblyman Dinowitz attended a ribbon-cutting for the new playground in the Williamsbridge Oval with NYC Parks Commissioner Adrian Benepe and Bronx Parks Commissioner Hector Aponte.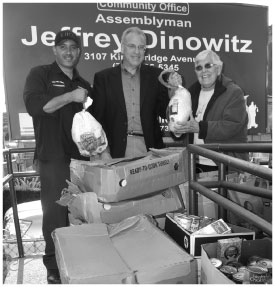 Assemblyman Dinowitz once again sponsored a hugely successful holiday food drive with the help of students from PS 7, PS 24, PS 81, and the Riverdale-Kingsbridge Academy, the Knolls Co-op Section 2, and community residents. Robert Peralta of the Kingsbridge Heights Community Center and Sister Ellen of St. Frances of Rome collected donations at Assemblyman Dinowitz's office for families in need during the holiday season.
Rush Hour Relief for the Bx7 and Bx10
I am pleased that the MTA complied with my request to increase Bx7 and Bx10 bus service during peak evening rush hours. I contacted the MTA last year to demand a solution to the severe overcrowding at the bus stop on West 231st Street just west of Broadway. After reviewing passenger counts, the MTA determined that additional Bx7 and Bx10 service was indeed warranted. Additionally, the MTA assigned supervision to West 231st Street and Broadway to monitor bus service and dispatch available buses to adjust passenger wait time.
I thank the MTA for responding to my request, and I appreciate the support of our neighbor and MTA Board Member, Chuck Moerdler. The long waits and overcrowding on these buses, particularly at West 231st Street and Broadway, have been horrendous. I am hopeful that these changes will make the evening rush hour better for our community.
I have also asked the MTA to restore service to the Bx34 bus in Woodlawn, which was reduced during the last round of budget cuts. Improving service for those who rely on public transportation is one of my top priorities.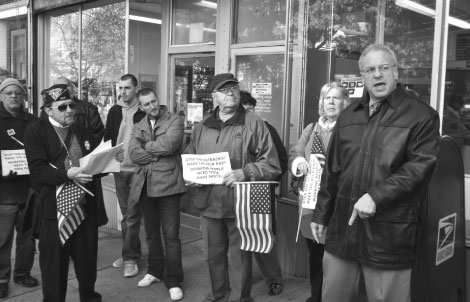 Save Our Post Offices!
We fought hard and our efforts are paying off! I am pleased that the Fieldston Post Office will be staying open, after the US Postal Service threatened to close it. But there is more work to be done. The Spuyten Duyvil Post Office is open for now, but we must continue fighting to make sure it stays open. I thank our congressman, Council Member Oliver Koppell, and all the residents who protested, wrote letters, and made their voices heard, for fighting to keep our neighborhood post offices open!
Assemblyman Dinowitz and community residents successfully fought to keep the Fieldston Post Office open at a rally in front of the post office.
Repaving Riverdale Avenue
My office worked to repair several dips in the left lane on the southbound side of Riverdale Avenue between West 238th Street and West 236th Street. This is a heavily trafficked location that is both a main road and a center of commerce for the community, but driving through there could be aggravating and dangerous.
I requested that the Department of Transportation resurface the road at this location, and I am pleased that they agreed to complete these needed repairs. The left lane was milled and the resurfacing should be finished shortly.
These repairs will make commuting safer for drivers and pedestrians. Driving in the left lane at that location could be not only annoying but also dangerous, so I thank the DOT for responding to my request.
Clearing Up Parking Confusion at Broadway and West 251st Street
Residents who live, work, or shop by Van Cortlandt Park just south of West 251st Street previously could receive fines--for parking legally. Conflicting signage at this location created a headache for motorists. On the east side of Broadway, an alternate side parking sign suggested that cars could park both to the north and south of the sign. However, just north of the sign was a bus stop for the Bx9 and the Westchester Bee-Line buses.
I requested that the Department of Transportation correct the signage so that motorists would no longer be unfairly penalized. I am pleased that the DOT heeded my request and installed the proper signage to clarify the boundary between legal parking spots and the bus stop. The new sign should ensure that motorists parking legally will not receive tickets and the location will be safer for pedestrians, cars, and buses.
Riverdale RiverFest 2012
Riverdale RiverFest 2012 will take place Sunday, June 24, from noon to 6pm, at the College of Mount Saint Vincent (Riverdale Avenue at West 263rd Street). The event was a huge success last year and will feature food, music, exhibits, crafts, and even boat rides (by reservation).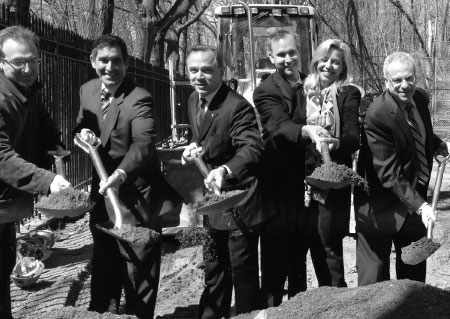 Community Board 8 Chairman Robert Fanuzzi, State Senator Jeff Klein, NYC Parks Commissioner Adrian Benepe, and Assemblyman Jeffrey Dinowitz broke ground for the Classic Playground's new basketball courts in Van Cortlandt Park.