A Message to Parents:
Dear Parents,
I wish to alert you about two programs which are sponsored by local Lions Clubs which are free of charge and may be of enormous benefit to you and your children.
The first is a vision screening program, Lions See. The mission of Lions See is to decrease childhood blindness through early detection and treatment of the most common vision disorders that cause Amblyopia. This program focuses on pre-school children between the ages of 1 and 5 with the intent of determining if a child has Amblyopia (commonly known as "lazy eye"). If your child has not yet seen an eye doctor, it might be a good idea to contact Lions See at their website to arrange a screening: www.lionsSee.org.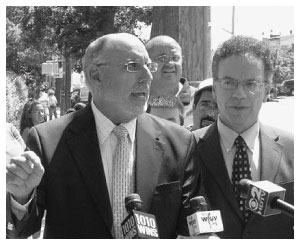 The second program, Camp Sunshine, is a year-round retreat which provides respite, support, joy and hope to children with life-threatening illnesses and their families through various stages of a child's illness. The program is free of charge to all families, and includes 24-hour onsite medical and psychosocial support. Since its founding in 1984, the Camp has had the distinction of being one of the only programs in the nation addressing the impact of a life-threatening illness on every member of the family. For more information on Camp Sunshine call (207) 655-3800 or go to the website: www.campsunshine.org
I hope these programs can be of help to some of you.
Sincerely,



Michael R. Benedetto
Member of Assembly
Assemblyman Benedetto introduces legislation to
PROTECT STUDENT ATHLETES
For years athletes playing high school football and other contact sports would receive a head injury during the course of a game and be allowed to continue to play as long as they said that they felt well enough. Unfortunately, for many of these athletes they may have been doing themselves irreparable harm.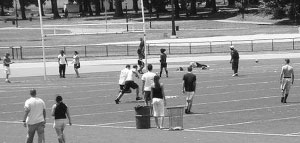 Sport head injuries leading to concussions are a major problem in high school sports. In 2008 almost 55,000 high school athletes suffered head concussions. High school sports are the second leading cause of traumatic head injuries among people ages 15-24.
The youngsters who suffer these concussions are often not even aware of the seriousness of their injuries until many years later.
To address this growing problem and to provide adequate protection for our high school athletes, Assemblyman Benedetto introduced legislation in the State Assembly which would mandate that the State of New York draw up a set of protocols for dealing with such injuries and protecting our young. The Assemblyman's legislation would call for educational training for all coaches as to the dangers of head injuries and for parents and student athletes to also be alerted to the risks. "I can only hope that future student athletes will be spared the consequences that have befallen so many that have come before," concluded Assemblyman Benedetto.
Assemblyman Benedetto aids I.S. 181 students and Haiti relief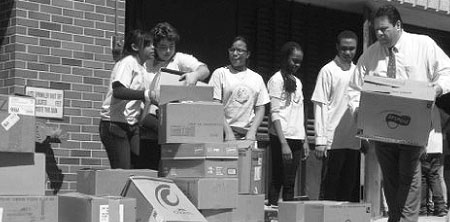 Immediately after the devastating earthquake in Haiti the students at I.S.181 in Co-op City organized a campaign to collect relief supplies. Through their effort the students collected almost 40 boxes of food, clothing and medical supplies. However, when it came to sending their goods to Haiti they found that none of the standard relief organizations would accept the collected materials; they would only accept monetary donations.
The students' dilemma came to the attention of Assemblyman Benedetto and he decided to find a solution to their problem. After some research the Assemblyman came upon Yele Haiti, an organization started by rapper/musician Wyclef Jean that had been doing humanitarian work in Haiti for a number of years and was among the first to deliver aid to the victims of the earthquake. Yele Hati agreed to help and within a week representatives of Yele Haiti, along with members of the Assemblyman's staff, went to P.S. 181 to collect the donations from the students. "I was glad to have been of assistance in this case. When any group, especially the young, decides to do a charitable work, their efforts should be acknowledged and brought to completion," said the Assemblyman.
Benedetto – Vacca – Klein join forces
THE RESULT:
Stiffer fines for parking trucks and tractor trailers on residential streets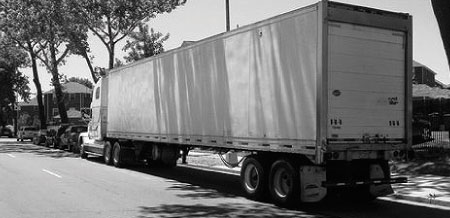 In an excellent example of legislative cooperation, Assemblyman Benedetto joined with his colleagues in government to significantly raise penalties on trucks and tractor trailers that park overnight on residential streets.
The law, which raises fines from $50 to $250 for such infractions, was initiated by Councilman Jimmy Vacca who obtained the necessary "home rule" message from the New York City Council. Then, Assemblyman Benedetto and Senator Jeff Klein introduced the bill in the state legislature and secured its passage in their respective chambers. The end result should be an end to truckers parking their vehicles on residential streets or leaving their unsightly and odorous containers on our community avenues.
"We are all tired of these trucks and trailers taking our parking spaces and destroying the quality of life in our neighborhoods. Hopefully, this will put an end to it," stated Assemblyman Benedetto.
The bill is awaiting Governor Paterson's signature.
Broadway to the Bronx:
SOPHISTICATED LADIES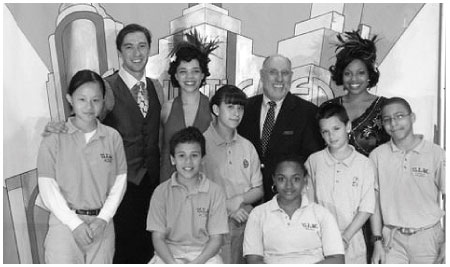 Assemblyman Benedetto secure`d state funding to sponsor a travelling production of the Broadway hit Sophisticated Ladies to be performed for the three schools at the 192 Campus in Throggs Neck. The Assemblyman, a strong supporter of the arts, believes that in today's education curriculum with an emphasis on reading and math, students often lose out in other areas. Hence, he decided to bring the music and dance of the Broadway stage to the schools. Performers from the organization Inside Broadway came to the school in May and put on the show Sophisticated Ladies for the students. Judging by the enthusiastic response of the students, it was greatly appreciated.
Two of our most important programs saved:
Student MetroCards and Senior Citizen Centers
The terrible condition of the economy has led to record deficits in both the City and State budgets and has resulted in cut backs to many programs and services that we have long relied on. However, Assemblyman Benedetto is proud to say that after long and hard battles funding was found to save two of our most important programs: student MetroCards and senior centers.
"This has not been a happy year for the budgetary process, however, we were able to salvage some good in an ugly budget season."
Assemblyman Benedetto
When the MTA announced in March that they were preparing to eliminate student MetroCards, Assemblyman Benedetto quickly chastised the public authority for using scare tactics. "I realize that the MTA had a huge deficit but I also thought that it was terrible to threaten students who need these passes," observed the Assemblyman. Assemblyman Benedetto and his Albany colleagues eventually negotiated a "settlement" with the MTA and the student passes were saved.
Similarly, New York City deficits and Governor Paterson's proposed budget cutbacks to senior citizen service programs led to the late May announcement of the closing of senior centers in the Dreiser Community Center, the Einstein Community Center and to Glebe House. Once again, Assemblyman Benedetto acting quickly with Bronx Assemblyman Jeffrey Dinowitz (Chair of the Assembly Committee on Aging) united all city Assemblypersons and fought to restore money that the Governor had cut from the Title XX program used to fund senior centers. Their action, together with the final city budget agreement, saved all three centers.
Room 602, Legislative Office Building • Albany, New York 12248 • 518-455-5296
3602 E. Tremont Avenue, Suite 201 • Bronx, New York 10465 • 718-892-2235
Room 12, 2nd Floor, Co-Op City Comm. Center #1, 177 Dreiser Loop • Bronx, New York 10475 • 718-320-2220
E-mail:
benedem@assembly.state.ny.us