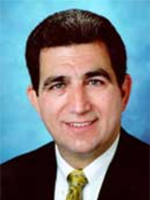 October 2009

FROM BILL MAGNARELLI
District: 333 East Washington St., Syracuse, 13202 (315)248-9651 Albany: LOB 519, Albany, 12248 (518)455-4826
120th Assembly District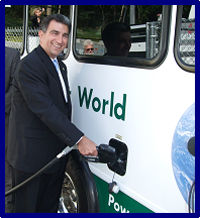 SUNY ESF Uses Bio-diesel to Power Fleet

• T

he New York State Fair butter sculpture has been put to good use. The students and faculty at the State University of New York College of Environmental Science and Forestry used the melted sculpture and saved cooking oil from nearby college dining halls to create biodiesel. Thirty-four percent of SUNY ESF's fleet of vehicles runs on some form of alternative fuel.

"The SUNY College of Environmental Science and Forestry is making great advances in environmentally friendly alternative energy sources," said Assemblyman Magnarelli. "By bringing such energy alternatives to campus vehicles, SUNY-ESF is showing Central New York residents the opportunities available to save the environment through entrepreneurial and scientific advancements."

State grants totaling $500,000, secured by Assemblyman Magnarelli, helped purchase and install two 3,000 gallon above ground fuel storage tanks and purchase two biodiesel-powered 25-passenger buses.

Join us for the 2009 Central New York Veterans Parade to be held at noon, Saturday, November 7, 2009 in downtown Syracuse.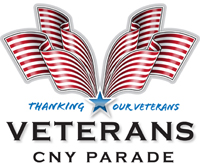 High school marching bands, the Syracuse Pride of the Orange Marching Band, more than 40 area veterans organizations and active and reserve military units are registered to participate in this military style parade to give thanks to our veterans.
Members of the 174th will provide a fly-over for the event, possibly the last before the unit switches to un-manned aircraft.
For more information, please visit the Central New York Veterans' Day Parade website.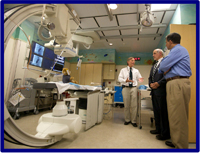 Dr. Frank Smith (left) and Dr. Paul Kronenberg explains to Assemblyman Magnarelli how the catheterization lab works using a teddy bear as a patient.

• A

ssemblyman Magnarelli stopped by Crouse Hospital to check out some of the advancements taking place. Crouse Hospital President Dr. Paul Kronenberg took Assemblyman Magnarelli on a tour to get a first-hand look at the newly renovated pediatric cardiac catheterization lab, a project for which he secured a $500,000 state grant. Dr. Frank Smith and the cardiac care center cath staff welcomed them and explained how the machine worked and why it is needed to treat the youngest patients.

Assemblyman Magnarelli was also given a status update on the Witting Surgical Center project, for which he secured $500,000 to help start the project.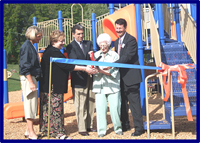 Solvay Elementary Principal Paula Kopp, Board of Education president Lena Rose Orlando, Assemblyman Magnarelli, former principal Frances Quattrone, and former principal Michael Canestrano cut the ribbon Friday at the new playground next to the school.

• A

ribbon cutting ceremony at the new Solvay Elementary Playground provided Assemblyman William B. Magnarelli with an opportunity to talk about the importance of community.

Principal Paula Kopp told the students and faculty in the audience that community members and businesses contributed financially and by volunteering their time to make this playground happen.

She thanked Assemblyman Magnarelli, who secured a $50,000 state grant which was put towards the total $73,000 cost of the new playground. The school and community started raising money for the playground about five years ago. Community and PTO members helped assemble the playground when the new parts came in this summer.

"It is a great pleasure to help provide for our community's children," said Assemblyman Magnarelli. "This is a project the whole community worked toward achieving for the elementary school children."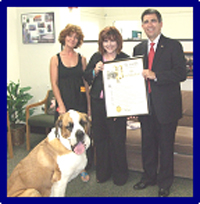 • B
ubbles, the mascot, Mary Kate Migdal, a volunteer, and Frieda Weeks, president of Hope for Heather Foundation accepted a proclamation from Assemblyman Magnarelli. Hope for Heather Foundation, named in honor of Frieda's daughter Heather Weeks, is a Central New York non-profit organization working to increase awareness and raise funds for Ovarian Cancer Research.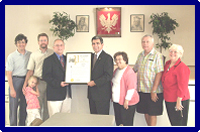 • R
obert Synakowski, president of the Syracuse Polish Home, and members of the Polish Home Community accepted a proclamation from Assemblyman Magnarelli acknowledging the 90th anniversary of the Polish Home.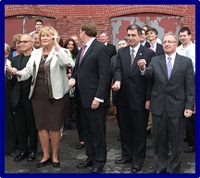 Marilyn Higgins, NWSI President and Vice President Community Engagement & Economic Development at Syracuse University, Mayor Matthew Driscoll, Assemblyman Magnarelli and Senator John DeFrancisco took part in the Near Westside Initiative's groundbreaking of the Lincoln Building renovation.

• I

nstead of the digging shovels into the ground, those attending the Near Westside Initiative's groundbreaking for the $3.2 million renovation of the Lincoln Building tossed salt over their shoulders for good luck. The building on the 300 block of Wyoming St. was formerly the Lincoln Supply Warehouse. The 100-year-old, four-story property will be renovated to create 30,000 square feet of mixed-use commercial and residential space. It will consist of two floors of commercial space and two floors of artist live/work lofts.

"The investment in the Near Westside neighborhood revitalization is a great example of how the city of Syracuse and Syracuse University can cooperate to improve the living conditions of all residents and students while also creating environmentally friendly buildings," Assemblyman Magnarelli said. "The Lincoln Building initiative not only will renovate an empty building into a community-friendly area promoting arts and culture, it will also contribute to increasing the sense of community and pride in the Near Westside neighborhood."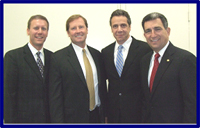 Senator David Velasky, Mayor Matthew Driscoll, Attorney General Andrew Cuomo and Assemblyman William B. Magnarelli held a press conference regarding the success of "Operation Trump."

• A

ttorney General Andrew M. Cuomo visited Syracuse to announce the success of a narcotics trafficking operation, named "Operation Trump." The investigation was part of Attorney General Andrew Cuomo's Upstate Guns, Gangs, and Drugs Initiative. The local police departments and state police filed charges against 24 people and confiscated over 4.5 kilograms of cocaine (street value of $320,000), handguns, cars and cash. Several of the drug transactions were allegedly traced to a house on Trump Street in Solvay, giving the operation its name.

"The coordinated efforts of the Solvay Police Department, the Onondaga County Sheriff's Office and other police agencies have taken a significant amount of deadly drugs off the streets of Central New York," said Assemblyman Magnarelli. "Shutting down the flow of illegal narcotics will make our communities safer."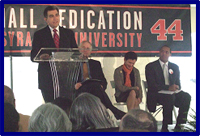 Members of the Davis family were in attendance as Assemblyman Magnarelli spoke at the dedication ceremony. All-American Syracuse football great Don McPherson, Chancellor Nancy Cantor, Senior VP Tom Wolfe and Senator John DeFrancisco took part in the dedication of Ernie Davis Hall.

• A

brand-new nine-story dormitory on Syracuse University's campus was dedicated to Ernie Davis, the first African-American Heisman Trophy winner in 1961. Davis was an outstanding running back for Syracuse University, who died of acute monocytic leukemia at the age of 23.

"Part of the experience of college is learning from people who have struggled, overcome challenges that seemed too great, and have gone on to be influential, and in Ernie Davis' case, legendary," said Assemblyman Magnarelli.





About NYS Assemblyman William B. Magnarelli
Assemblyman William Magnarelli represents the 120th Assembly District, which includes the Northside, Westside, Eastwood and Valley areas of the City of Syracuse, as well as the towns of Geddes and Van Buren. He first won election in 1998 for an open Assembly seat and was reelected in 2000, 2002, 2004, 2006 and 2008. During his previous five terms in office, Assemblyman Magnarelli has focused his efforts on bringing more jobs to Central New York, lowering taxes, providing our children a better education at every level, improving our healthcare and keeping our families safe. For more information, contact Assemblyman Magnarelli's District Office at (315) 428-9651.