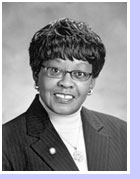 Dear Friends,
The Board of Education is the official policy-making body for Buffalo Public Schools. Its members are our representatives in the school system and each is elected by popular vote.
The Buffalo Board of Education is currently involved in an unpre-cedented renovation program whose success will undoubtedly be used to model other programs like it across the state. The billion dollar Joint School Construction Project is a massive New York State funded capital project. Decisions will be made surrounding the completion of this program that will affect every pupil in the public school system — decisions on school closings, which schools will be renovated and to what degree as well as what school programs will be combined, eliminated or relocated. All of these things will impact not only the quality of education of our children, but the quality of life for Buffalo families. No family will be untouched.
Successful implementation and administration of these dollars will create jobs and generate revenues for minority and women owned businesses through construction and service contracts. It is also designed to provide skilled trades apprenticeship opportunities and access to permanent employment opportunities through training.
Part of the Buffalo Board of Education's mission is to hold themselves accountable for educating students and working to energize all members of the Buffalo community to actively participate in the accomplishment of their mission. Parents have to do the same. Parental involvement in your child's education is not only a motivator for the child, but it is a support for their teacher. Today's economists report that the growth in the American economy and job market will be founded on knowledge based careers.
Remember, in our children's lives, if we are not part of the solution, we're part of the problem. Join the PTA. Visit your child's school regularly so that not only are you aware of his or her academic progress, but of the physical condition of their school. Get involved in the process that determines leadership in your child's school life. Vote in the upcoming May 2004 school board elections.
The Buffalo Board of Education meets on the second and fourth Wednesday of each month. The meetings are held in room 801 City Hall. Find out for yourself what's going on with your child's school and give your input. The sessions usually begin at 5:30 PM.