Assemblywoman
Crystal D.
Peoples-Stokes
Reports to the People
Fall 2011
Bills... Bills... and Passage of Bills
Complete Streets
In the pursuit of reduced air pollution and more energy efficiency across our communities, we must provide citizens with a more accommodating transportation infrastructure. The "complete streets" legislation co-sponsored by Assemblywoman Crystal D. Peoples-Stokes and spearheaded by Transportation Committee Chair David A. Gantt, will make our transportation networks more accessible to pedestrians, bicyclists, motorists, and mass transit riders. Future state and local transportation projects will be planned in a way that is more mindful of all users of our roadways.
This legislation will help to ensure consideration be given to the access and mobility needs of all users of our transportation network and the Department of Transportation (DOT) will be working with communities in improving the planning of our transportation infrastructure. With broad input and communication, our transportation network can be more responsive and reflective of the community that it supports.
Under the bill, all Department of Transportation (DOT) projects, as well as those local projects overseen by DOT which receive both state and federal funding, would be required to consider the transportation needs of all travelers through the use of complete streets design. These features include, but are not limited to, sidewalks, lane striping, crosswalks, and bicycle lanes, and could vary depending on rural, suburban, or urban locations. Factors such as land use, population density, traffic volume, community support, public safety, and funding availability will be taken into account when determining the use of complete streets design.
The DOT will be directed to issue a report within two years of the bill taking effect regarding compliance with the law, best practices, and the procedures the agency uses to incorporate complete streets design features. This initiative calls on DOT to identify best practices and to consult with transportation, land use, and environment officials including local governments, public transit operators, planning organizations, appropriate state agencies, and other stakeholders such as disability rights advocates, developers, aging groups, and bicycle and pedestrian organizations.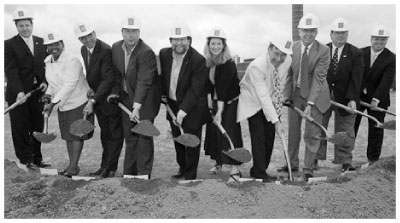 Dignitaries with Assemblywoman Crystal Peoples-Stokes at the Buffalo State Technology Building groundbreaking.
Buffalo State College Technology
As an advocate of the advancement of education, Assemblywoman Peoples-Stokes was on hand to celebrate the groundbreaking of the Technology Building for Buffalo State College. This $40.3 million project will house the technology and computer information systems department that offers five individual majors. Electrical engineering technology, fashion and textile technology, industrial technology, and mechanical engineering technology prepare students for technical careers in industry and business. Technology education prepares students for teaching careers. Construction on this project was slated to start in September 2010 and be completed in June 2013. Assemblywoman Peoples-Stokes was instrumental in securing this funding along with the Western New York Delegation to move Buffalo State College toward preparing its students for the age of advanced technology majors. Congratulations to President Aaron Podolefsky!
Upcoming Events
on MWBEs, Athletics, Kidney Screenings and the Community
Hopefully, all of you MWBEs have registered and are planning to attend the
26th Annual DASNY Conference and Expo for MWBEs
being held on
October 13th & 14th in Albany
at the
Empire State Convention Center
. For more information, please visit their website at
www.dasnymwbeforum.org
.
Assemblywoman Peoples-Stokes is presenting a community discussion on "Uniting Athletics and Academics = Success." This forum is being held on Wednesday, October 26, 2011 from 7 p.m. – 9 p.m. at the Gateway Longview Center located at 347 E. Ferry Street off Jefferson. Refreshments will be served. Parents of athletes, Little League coaches, former athletes, sports clinics, and exercise science majors are encouraged to attend. The meeting is OPEN to the PUBLIC and will be moderated by Brenda McDuffie of the Buffalo Urban League. Our panelists include athletic directors from local colleges, universities, and school districts.
The Northeast Kidney Foundation along with ECMC and UNYTS will present a FREE KIDNEY SCREENING on Saturday, November 5, 2011 from 10 a.m. – 2 p.m. at Friendship Missionary Baptist Church located at 402 Clinton St. (14204). Anyone that has high blood pressure, diabetes, kidney disease, or family history of these diseases and is 18 years or older is eligible to attend.
For more information on either event, please contact our office.
NYS Health Benefit Exchange Legislation:
Setting the stage for affordable health insurance for New York's 2.7 million uninsured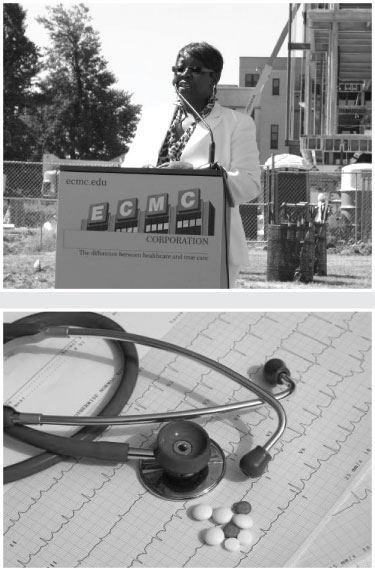 Assemblywoman Crystal D. Peoples-Stokes supported and was pleased at the passage of the New York Health Benefit Exchange. The passage of this important legislation will ensure that affordable health coverage is available for residents and small business owners who need it. The bill (
A.8514
) would bring New York State into compliance with the Federal Affordable Care Act which requires the establishment of health care exchanges to make it easier and more affordable for individuals and small businesses to obtain health coverage. The exchanges also must provide eligible individuals with access to public health coverage.
Assemblywoman Crystal D. Peoples-Stokes said, "No one should have to live without quality, affordable health insurance available. The passage of the Exchange is the first step in setting up the infrastructure that we will need to ensure access and fair implementation of the Federal Affordable Care Act. I would like to thank Speaker Silver, Insurance Chair Assemblyman Joseph Morelle (D-Monroe) and Health Chair Assemblyman Richard Gottfried for their leadership regarding this initiative.
The Exchange will revolutionize the way people enroll in public health plans like Medicaid, Child Health Plus, and Family Health Plus. Instead of many trips to the "welfare office," there will be a statewide, on-line, streamlined system for enrolling and renewing enrollment, to make it much easier and more efficient for New Yorkers to get the health coverage to which they are entitled. Those with the ability to enroll in the system will not be hindered by lack of access to a personal computer; one can enroll at public computers in libraries, community centers, and health care providers.
The measure would require the Exchange to make possible the sale of qualified health and dental plans, to provide information to help consumers compare insurance plans through the Exchange, and to enroll eligible individuals in the appropriate public and private health plans. The Exchange also would be mandated to comply with all federal operational standards, reporting requirements and other duties called for by the Secretary of Health and Human Services and to provide:
Consumer assistance to individuals and small business owners through the internet, a toll-free telephone hotline and in-person appointments, beginning January 1, 2014;

An electronic calculator to help consumers determine the actual cost of health coverage after the federal premium tax credit and cost-sharing reductions; and

Funding for organizations to conduct public education and awareness programs for the distribution of fair and impartial information to consumers.
The Exchange would be obligated to submit a report for the Governor and Legislature by April 1, 2012 about its operations, policies, and its recommendations on existing Healthy New York and Family Health Plus programs, and its ability to become self-sustaining by the January 1, 2014 deadline.
While the Federal Affordable Care Act requires the exchanges to be operational by January 2014, federal funding is available to the states for planning, implementation, and operation of the exchanges until December 2014. New York could be eligible for the maximum federal funding award, depending on how soon the New York Health Benefit Exchange is in place.
Parent Trigger Legislation:
Giving parents a real opportunity for change
Assemblywoman Crystal Peoples-Stokes recently collaborated with the District Parent Coordinating Council, Samuel Radford III and Katie Campos, formerly of Buffalo ReformED, now the NYS Secretary of Education appointed by Governor Cuomo, in drafting parent trigger legislation in hopes to give parents and students an opportunity to have a more profound impact upon any possible school reforms. With graduation rates that are well below levels that we should accept and forced structural reforms being imposed upon Buffalo schools, it has become apparent that more needs to be done to actively involve parents in the changes that we need to make in order to improve our schools.
In looking across the nation, the idea of "parent trigger" initiatives is not new. California and 13 other states have passed similar legislation in the effort to get better parent involvement in school reform. Members of both political parties and even the Gates foundation have supported this initiative's growth across the nation. Parents have been mostly receptive in looking to embrace the opportunity to work more closely with school districts to implement changes that have more of a grassroots linkage from the community.
Assemblywoman Crystal D. Peoples-Stokes said, "Parent-trigger legislation (A.7569A/S.5777 Peoples-Stokes/Grisanti), would give parents what they are looking for most—a seat at the table where they could make real decisions about real reforms for their kids. This is an opportunity to give parents a say in how to turn around some of our persistently low-achieving schools. With a 25% graduation rate and chronic absenteeism, now is a critical time to step outside of the box and embrace new ideas that can have a positive impact upon our schools."
Schools that have been identified by the commissioner as persistently low achieving and that are required, like many in Buffalo, to implement a federal education intervention model would be allowed to pick which intervention model works best for them. This would occur when 60% of the parents and legal guardians through petition and voting opt to support the intervention model of their choosing. Those models run the range from restart, where the school converts to a charter, to transformation, where the school replaces the principal, to turnaround, where the principal and 50% of teachers and staff are replaced.
The bill has been amended and is now in the Education Committee chaired by Assemblywoman Catherine T. Nolan. In the 2011 legislative session it is our desire to move it out of committee and onto the floor for a vote. We must do all that we can to support the expansion of the parental ability to collaborate and implement new strategies in pursuit of turning around PLA schools. I look forward to partnering with parents, community activists and elected officials in pursuit of those aims.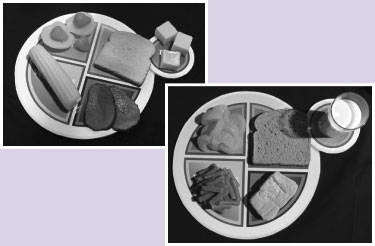 What's On Your Plate?
The Federal government recently introduced a new nutrition diagram called MyPlate to encourage Americans to eat healthier and fight obesity. This new diagram replaces the USDA's "food pyramid" that was initiated back in 1992. First Lady Michelle Obama has been an advocate and headliner for combating obesity. The logo suggests that people reduce their portion size, making at least half of each meal fruits and vegetables, making at least half of grains consumed whole grains, such as whole wheat bread and pasta, and switching to fat-free or low-fat (1 percent) milk.
In addition, the program urges cutting down on salt consumption and drinking water instead of sugary beverages.
The ChooseMyPlate.gov website will also include information for health professionals, nutrition educators, and the food industry.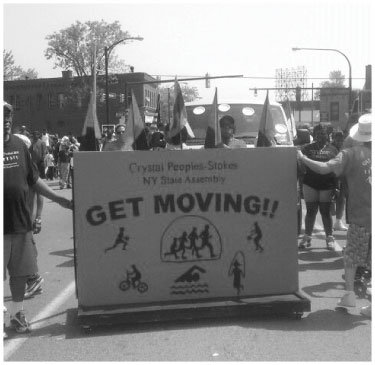 GET MOVING!
Well known for her innovative and inspiring floats for the Annual Juneteenth Parade, Assemblywoman Peoples-Stokes, her staff, and other supporters joined her in her healthy living campaign to "GET MOVING" during the Juneteenth Festival. Spawned by First Lady Michelle Obama's movement to get children and young adults more active through physical activity in their schools, Peoples-Stokes' "GET MOVING" campaign is to get everyone moving towards a healthier lifestyle. On June 19, 2011, the Juneteenth Festival Parade held in the historic MLK Park, featured over 120 different groups including dance troupes, elected officials, motorcycle clubs, businesses, and civic clubs that showcased their support of African-American heritage and their respective organizations.
Peoples-Stokes' float did not feature a flatbed truck, but rather a pushcart apparatus, pushed by her parade-goers. Jump ropes were given to the children as they danced to the music played by the moving DJ on skates. Assemblywoman Peoples-Stokes encourages everyone to get active in their daily lives, whether through a 20-minute walk or run three times a week, or more vigorous activity through sports like basketball, swimming, or joining your local gym or YMCA. Children learn by example; the easiest way to teach them about healthy life is by you doing it too, because you are the example that they see the most. Exercise at home is usually not a priority as homework, chores, and other household duties take precedence for parents and children, who are increasingly weighed down by overscheduled days and high-fat, high-sugar diets. The benefits of childhood exercise easily outweigh the time it takes to complete 20-30 minutes a day of play!
The Benefits of Exercise in Families
Benefits of Physical Fitness:
Reduces the risk of heart disease
Helps prevent obesity
Increases test scores and work ethic
Lowers blood pressure
Prevents future life-threatening injuries (Hips, Shoulders, Knees, Back)
Improves self-esteem
Improves sleep
Improves life and overall well-being
Get Moving People: It's your duty to live a healthy life!
SUNY 2020 Passage:
Keeping SUNY affordable during difficult economic times
Assemblywoman Crystal Peoples-Stokes, D-Buffalo, is pleased to see the passage and now future implementation of the landmark SUNY 2020 legislation. Although smaller in scale than originally envisioned, the passage and implementation of the plan will provide new resources and energy into the revitalization of the downtown campus and give Buffalo an opportunity to create jobs and grow out of this slumping economy.
The legislation will allow for an annual capped tuition increase at public universities of no more than $300 annually for five years and establishes a new tuition credit system for students to be eligible for the Tuition Assistance Program (TAP) to provide support for future increases. The agreement (A.8519), also requires the State University of New York to review the current TAP award levels and eligibility criteria, and make recommendations on how to improve the program to meet the future financial aid needs of students.
Assemblywoman Crystal Peoples-Stokes said, "I am extremely proud of the work that has gone into making this a compromise that can work. Gov. Cuomo, Speaker Silver, Assemblywoman Glick, and the entire Western New York delegation have shown tremendous leadership and collegiality in working together to maintain the key priorities of maintaining affordability and accessibility while attempting to enhance the quality of education at our public institutions of higher education. The Governor's pledge of maintenance of effort and his commitment that state support will not be reduced is critical as we ask families to dig deeper to pay more for tuition."
To maintain accessibility for low- and middle-income students, this legislation creates a new tuition credit for resident undergraduate students that receive TAP, at both SUNY and CUNY, after tuition has increased to over $5,000. This tuition credit would provide student financial aid at the same proportion as the amount of tuition that is covered by a student's existing TAP award. For example, students that have 100% of their tuition covered by TAP will now have 100% of any tuition increase covered by the tuition credit. The credit would be applied to a student's tuition which would not be due until the credit is applied.
This legislation is a meaningful step towards mitigating the threat of diminishing access across our State University system. Enabling SUNY to set a rational tuition plan and to retain that revenue for critically needed programs will begin to offset the negative impact of recent austerity measures imposed upon UB and the SUNY system. Giving families the opportunity to adequately prepare and plan for their higher education is of critical importance along with giving SUNY the flexibility to meet those needs.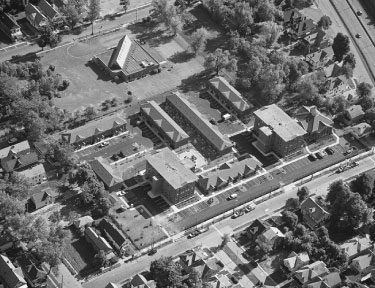 Answering the Call for Housing!
On Tuesday, August 9, 2011, Assemblywoman Peoples-Stokes welcomed Assemblyman Vito J. Lopez, Chair of the Assembly's Housing Committee, to Buffalo to present a public hearing on affordable housing. The hearing held in the Buffalo Common Council Chambers hosted over 27 groups that presented testimony regarding the affordable housing crisis in Western New York and many spectators interested in the conversation. Members of legal counsel, housing rehabilitation groups, citizens, and elected officials provided insight on what this region needs to flourish and regain its housing economy. The public hearing that lasted over five hours was worth it, as citizens gave accounts of disparities in housing, suggestions for improvement, and the necessity for tax incentives, and funding to help improve the housing landscape for Western New York. Some cited that the answer to the housing crisis is not through new build, but investment in existing structures and programs to aid residents in rehabbing their homes. An additional measure suggested was the creation of green space in the areas where housing is dilapidated and neighborhoods are scarce.
Afterwards, Assemblyman Lopez took a tour of the various areas of the 141st District to view firsthand what housing looks like to the residents of the city. The attendees were very pleased at the statistical data and feedback given from Assemblyman Lopez. Creating, maintaining, and preserving affordable housing is what is truly needed.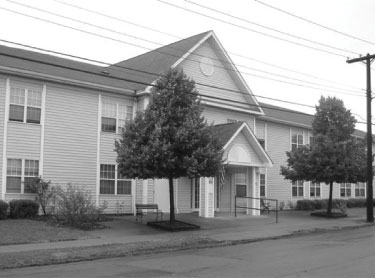 Housing for Low-Income Seniors
The TJ Wojnar Parkview Apartment building at 104 Lewis Street in Buffalo, NY contains 32 one-bedroom apartments for low-income senior citizens. The building was funded through the New York State Division of Housing and Community Renewal's HOME and Tax Credit Programs and built in 1996.
Breaking Ground:
St. Martin's Village Completion
The February edition of the "Peoples-Stokes Reports to the People" newsletter shared some information on the new St. Martin's Village Development that was underway at the former German Roman Catholic Orphan Home at 564 Dodge Street. Since then, the project has been completed and tenants are now residing in the beautiful new affordable housing property. As of late August, the complex is at nearly 100% occupancy.
Job Training
The Matt Urban Center's On The Job Training Program provides technical training, technical skills, and basic job skills that will prepare our welfare to work Erie County SNAP program participants to enter the employment fields of home repair and renovation, home painting, lead hazard control, risk assessment, environmental contracting, and green demolition contracting.
Trainees are learning effective lead safe work practices, worker protection and safety methods, community relations, clean up, clearance, and waste disposal while addressing some of the lead paint hazard control needs of residents in the City of Buffalo. This project is funded by the Erie County Department of Health and the Community Foundation for Greater Buffalo and administered by the Matt Urban Center's Housing and Community Development Division.
Your "Network" on Your "Heritage"
On August 24, 2011, Assemblywoman Peoples-Stokes was proud to attend a special State of New York unveiling and celebration of the Underground Railroad Freedom Trail signage commemorating the 1845 church builder, Rev. Samuel Davis. This event was presented by the State of New York and the Buffalo Niagara Freedom Station Coalition.
New York has always been known as a tourist hotspot, but in recent years has attracted millions of people for cultural tours and family reunions. A national "Network to Freedom" tourism initiative has been unveiled; a collaboration between the Erie Canalway National Heritage Corridor, I Love New York, NYS Office of Parks, Recreation and Historic Preservation and other partners. The Erie Canalway National Heritage Corridor presented its National Underground "Network to Freedom" designation for its program to link travel routes, hiding places, destinations, and safe houses for African Americans escaping slavery in the 1800s. In addition, I Love New York presented a promotional tour from September 10-15 for a group of travel writers and tour operators from the United Kingdom. Collaborations to establish New York State and especially the Western New York region as a hub for cultural tourism for the world to see and appreciate can be the very key to move New York back to its rightful place as "the Best State on Earth."
Honored and Appreciated
Over the course of the summer, Assemblywoman Peoples-Stokes has been honored to attend various festivals, reunions, and events in which you have welcomed her into your homes, community centers, and backyard BBQs. Recently, she was awarded the "Community Human Service Award" at the "Putting the Neighbor Back in the Hood" awards banquet by Masjid Nu'Man on July 22, 2011, for her commitment to service for her district and her state. Assemblywoman Peoples-Stokes is encouraging everyone to "be a neighbor" in this City of Good Neighbors. The message is crystal clear: "Respect others, Do Your Part, and Help Rebuild our Nation, One Block at a Time."