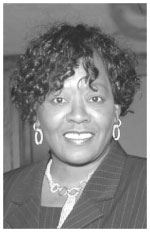 Assemblywoman
Crystal D.
Peoples-Stokes
Reports to the
People
Spring 2012
Dear Neighbor,
As we enter spring, we are in the midst of a legislative year of setbacks and triumphs. I have worked hard to help pass a responsible, on-time budget and I am glad to report back to you with the State of the District. Since the last newsletter, my office has hosted several events including the introduction of GradsUP2020, access for MWBEs, introduced new legislation and even welcomed newcomers to the city.
As you know, I am always hard at work doing the best that I can for our children, our neighborhoods, businesses, our city and region. However, I cannot do this alone. I need you to continue to work with me by keeping our neighbors informed. An informed city is a better city. I continue to remain committed to upholding the "Promise, Progress and Pride for All People."
I am asking all of us to continue to encourage our children to do well in school, and get involved in worthwhile projects to improve the quality of life and experience for those who visit, reside and work in the district. There is beauty all around us, and it is our responsibility to take hold of our resources, treasure our time, live each moment to the fullest, and stop and smell the roses in the park.
Sincerely,

Crystal Peoples-Stokes

Assemblywoman Crystal Peoples-Stokes with Welcome to Buffalo 2011 honorees and past recipients. (Left to right) Carl Morgan, Yusef Myrick, Dr. Theodore Davis, Assemblywoman Crystal Peoples-Stokes, Karen Stanley Fleming, Dr. Breanne Wilson and Gary Webster Tottress.
On November 16, 2011, Assemblywoman Peoples-Stokes presented the 6th Annual Welcome to Buffalo Reception. The reception introduced six new and returning professionals to the City of Buffalo. This reception, which demonstrates how we are a "City of Good Neighbors," was an opportunity for attendees to network that was graciously sponsored by the Buffalo Niagara Convention and Visitors Bureau. Our past honorees have joined community boards and become very influential members of society, including Karen Stanley Fleming, Warde Manuel, Thomas Beauford, Linwood Roberts and Dr. Frances Ilozue.
The honorees this year included Sheila Daniels (U.S. HUD), Yusef Myrick (Buffalo Sewer Authority) Gary Webster Tottress (U.S. Postal Service), Mr. Bernie Tolbert (retired, NBA), Dr. Breanne Wilson (Podiatrist), and Malinda Tolbert (Continental Airlines). The 7th Annual Welcome to Buffalo reception will be held in the late fall.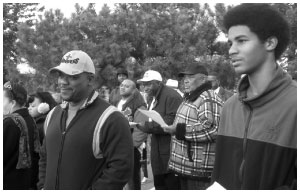 Attendees at the Christmas Tree Lighting Ceremony in MLK Park.
Peoples-Stokes Hosts Christmas Tree Lighting in MLK Park
The first Annual "Tis the Season...to be Jolly" Tree Lighting Ceremony in MLK Park was held on Saturday, December 3, 2011. It was a great opportunity for families to draw near and enjoy the spirit of the holiday season. The ceremony highlighted the benefits of partnership between community groups such as Schictel's Nursery (who donated the tree), the Buffalo Olmsted Parks Conservancy and my office to bring events to the community that bring good cheer and offer a free family-friendly holiday event.
People enjoyed hot cocoa, the sounds of the local Men in White Choir, and the lighting of the Christmas tree. Some participants brought unwrapped toys which were donated as part of Assemblywoman Peoples-Stokes' "A Mission for the City" toy drive. The gifts for different age groups were given to deserving children and families in the 141st District.
Peoples-Stokes said, "When the wading pool turns into the seasonal ice skating rink, we hope that the Tree Lighting Ceremony and skating in the park will be enjoyed for years to come by the entire community peacefully in a beautiful park on the eastside of Buffalo. We would like to thank R & P Oak Hill Development, Buffalo Olmsted Parks Conservancy, Masten District Councilman Demone A. Smith, Men in White Choir, Rev. G. Michael Tydus of Walls Memorial AME Zion Church and Rev. Darius Pridgen of True Bethel Baptist Church for helping us make this event a reality."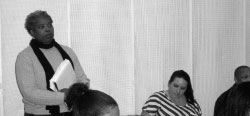 An attendee is introduced at the ESDC meeting.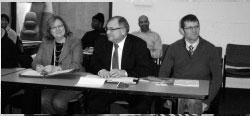 Presenters from local business organizations at the ESDC meeting.
ESDC 101: In Your Neighborhood
"ESDC 101: In Your Neighborhood," a collaborative information session presented by the Empire State Development Corporation and Assemblywoman Peoples-Stokes, was held at the University at Buffalo's Allen Hall. The event was held on January 18th and engaged over 52 businesses from the Western New York area on the services, including surety bond assistance that Empire State Development offers.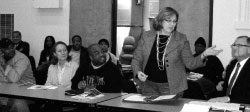 A local businesswoman speaks about her company.
ESDC President and CEO Kenneth Adams, Director of ESDC Upstate Sam Hoyt III, Greg Lindquist and Christina Orsi presented a regional economic overview to the diverse group of business owners who represented industries from construction to financial services to fashion. For more information on ESDC's services, please visit their website at
www.esd.ny.gov
.
Boosting Community College Funding Vital to Recovery
Assemblywoman Crystal D. Peoples-Stokes supported the push for increased state support for community colleges in the State Budget. With the region's economy still mired in slow growth, the need to increase funding and support of our community colleges is more vital than ever. Many underemployed and unemployed individuals are desperate to improve themselves and gain marketable skills. Creating opportunities for people to attend many of our area's quality community colleges is one of the best ways to set them on the pathway to success.
Assemblywoman Peoples-Stokes supported Speaker Silver's call to increase community college funding and offer more support for their operational budgets. By law, New York is obligated to fund up to 40% of the operational budgets of our community colleges, but only once in four decades has the state fully met that obligation. To keep the funding levels "flat," (as proposed in the Executive Budget) is unacceptable at this time, especially since community colleges are seeing an ever greater demand for their services as a result of the sluggish economy.
Erie Community College and Niagara Community College and our other regional community colleges need the state to step up and fulfill its obligation to them and their students. Community colleges are integral learning incubators and job training centers. Now more than ever we must support them by investing in education and training opportunities that we know can help lift Western New York out of a stagnant economy.
Supporting Careful Expansion of Crime DNA Databank
Assemblywoman Crystal D. Peoples-Stokes hopes that the expansion of the DNA databank, which recently became law, is done carefully. "While the goals of the supporters of this initiative are quite noble, we must endeavor to be cautious in our approach to this expansion. It is vital to protect the civil rights and privacy of citizens and to ensure fair access, use and most of all security of information contained within the database," stated Assemblywoman Peoples-Stokes.
Here in New York we have seen the rate of homicides drop to record low levels. Violent homicides are down more than 10% since 2010. Many attribute this drop to the expansion and use of the databank of offender DNA, however it can also be attributed to better law enforcement techniques, crime analysis and follow up. We must closely examine the types of crimes and misdemeanors that should be included that would mandate giving up a compulsory sample of DNA. In addition, we have to consider an expansion and the use of DNA evidence when there is a question as to the exoneration of those falsely accused and convicted of crimes.
She urged her colleague to amend several provisions in the legislation that are intended to prevent wrongful convictions. Giving defense lawyers more access to DNA information, requiring videotaped recordings of police interrogations, strengthening prosecutors' obligations to turn over exculpatory evidence to the defense and allowing a defendant who has pleaded guilty to a crime to petition a judge to get a DNA test are all good suggestions. These important provisions are ways that the public can be certain that the use of this powerful tool will be evenhanded and fair in its application.
Assemblywoman Peoples-Stokes will be looking for feedback from the community regarding this issue through an online poll on her Assembly website. It is important for the public to weigh in on this important issue. The expansion of the DNA database could save lives, incriminate the guilty, exculpate the innocent, exonerate the wrongfully accused and quite possibly deter someone from committing a crime. The database can and should be expanded but only with the proper protections in place to prevent abuse and to protect the public.
Raise the Minimum Wage to Lift Working Families
Assemblywoman Crystal D. Peoples-Stokes is fully supportive of bill A.9148 which increases the minimum wage in New York State from $7.25 to $8.50, with an annual increase to account for inflation. This legislation will also establish wages for food service workers who receive tips to be set at $5.86, with an annual adjustment for inflation as well. Other states in the Northeast such as Vermont, Connecticut and Massachusetts already have higher minimum wages than New York.
The minimum wage in New York has only increased ten cents in the last six years. In 2009, it was raised from $7.15 to $7.25 with the federal minimum wage increase. Prior to that, the minimum wage, which was set in 2007, was only $7.15. This legislation would call for the minimum wage to increase as of January 2013. Minimum wage would then be indexed, requiring an annual increase for inflation according to the Consumer Price Index, beginning January 2014.
According to the U.S. Census the poverty rate in 2010 was 15.1% — up from 14.3% in 2009. This was the third consecutive annual increase in the poverty rate. Since 2007, the poverty rate has increased by 2.6 percentage points, from 12.5% to 15.1%. Between 2009 and 2010, the poverty rate increased for non-Hispanic Whites (from 9.4% to 9.9%), for Blacks (from 25.8% to 27.4%), and for Hispanics (from 25.3% to 26.6%).
Faltering wages, persistent unemployment, and rising poverty indicate the economic distress New Yorkers have been experiencing. The State's unemployment and underemployment rates have not come down very much despite two years of "recovery" since the recession began. Moreover, underemployment is hitting the Black and Latino communities particularly hard. Black people are underemployed at 21.6%, almost two times the amount when compared with the overall population of New York. The Latino community is not far behind at 15.7% unemployed.
The number of people in poverty and in "near-poor" households, whose income is just above the federal poverty threshold, rose within the State from 2008 to 2010. In Buffalo alone, when compared with the U.S. national average, poverty levels are roughly twice the national average. That is why Assemblywoman Peoples-Stokes is a proud sponsor of this legislation. With the cost of living in New York skyrocketing, legislators are aware of the significance in raising the state's minimum wage. Increasing the minimum wage can help to close the gap between the poor and middle class and give people the opportunity to work for a living wage. An enhanced minimum wage would benefit more than a million New Yorkers, put much-needed cash into their pockets and provide direct relief to working families who need it most right now.
The Misinformation about Tier VI
With several constituent calls received by her office regarding Tier VI's effect on current retirees, Assemblywoman Peoples-Stokes would like to inform the public that Tier VI does not affect any current members of the retirement system, and would only affect new employees that are hired after April 1, 2012; existing employees and retirees retain all benefits. The state's rapidly growing pension costs are one of the most expensive mandates for local governments. The pension reform plan passed by the Senate and Assembly recognizes how the current system would struggle to sustain itself. The plan will ultimately save local governments and New York City more than $80 billion over the next 30 years.
The legislation puts in place a new Tier VI pension plan that includes, but is not limited to:
New Employee Contribution Rates: The new tier increases employee contribution rates in a progressive fashion to ensure lower paid state and local workers are not seriously affected. Employee contribution rates vary depending on salary:
$0 - $45,000: 3%
$45,000 - $55,000: 3.5%
$55,000 - $75,000: 4.5%
$75,000 - $100,000: 5.75%
$100,000+: 6%
These rates remain substantially lower than the large majority of similar state systems around the country. The new tier impacts only newly hired employees.
Increase in the Retirement Age: The pension reform includes an increase in the retirement age from 62 to 63 and includes provisions allowing early retirement with penalties. For each year of retirement prior to 63, employee pension allowances will be permanently reduced by 6.5%.

Readjustment of Pension Multiplier: Under Tier VI, the new pension multiplier will be 1.75% for the first 20 years of service, and 2% starting in the 21st year. For an employee who works 30 years, their pension will be 55% of final average salary under Tier VI, instead of 60% under Tier V. This readjustment brings New York more in line with most other states and will save billions of dollars for taxpayers and local governments.

Vesting: Under Tier VI, employees will vest after 10 years of service.

Protect Local Governments From State Pension Sweeteners: The agreement requires the state to pre-fund any pension enhancers, ensuring that these costs are no longer passed to local governments.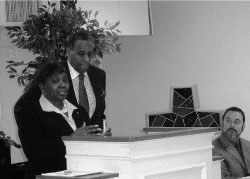 Crystal Peoples-Stokes and H. Carl McCall at the SUNY2020 MWBE meeting.
SUNY2020 MWBE meeting
with H. Carl McCall
The Chairman of the SUNY Board of Trustees, H. Carl McCall, along with Assemblywoman Peoples-Stokes hosted a town hall meeting with members of the SUNY Construction Fund on November 18, 2011 at St. John's Baptist Church.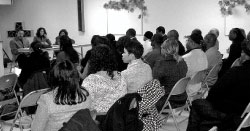 The meeting offered Minority- and Women-owned Business Enterprises (MWBEs) information about the bidding process and the opportunities that would be available to them. The passing of the SUNY2020 legislation will provide more opportunities for MWBEs to become a part of the bidding process.
Uniting Athletics and Academics
Every year, over $1 billion in athletic scholarships is given out to college seniors across the country. There is a distinct correlation between the academic performance of students who play sports and those who do not. In many studies across the country it is believed that the structure and discipline of sports can transfer into the classroom and also give the student/athlete an incentive to do well in school. Furthermore, athletic scholarships provide hopes of higher education that may not be afforded otherwise.
A community meeting entitled, "Uniting Athletics and Academics," was held on October 26th, 2011 at the Gateway-Longview Family Resource Center located at 347 E. Ferry Street. The moderator, Brenda McDuffie of the Buffalo Urban League, addressed parents of student athletes, coaches and other concerned citizens about the effects of sports participation in the lives of students. The panelists, Warde Manuel, Athletic Director at the University at Buffalo; Lloyd Aubry, Athletic Director of Buffalo Public Schools; Christopher DeMarco, Athletic Director of the Sweet Home School District; Jim Rusin, Athletic Director of Williamsville Schools; and Demaris Johnson of CAO, gave accounts of the educational and athletics advantages of participating in sports. They cited benefits including student development, reinforcement of discipline, and the building of teamwork and good sportsmanship that are essential as our children advance into college athletics and life in general. The meeting helped cultivate some great ideas, one of which was a modified sports program that would engage seventh and eighth graders as well as provide incentives to students who show improvements in attendance, grade point average and performance in school sports.
Business Access and Employment
New York State Surety Bond Assistance Program
The New York State Surety Bond Assistance Program provides critical credit, training and technical assistance support to qualified New York small businesses or Minority- and Women-owned Business Enterprises (MWBEs) to help them secure surety bonds for State contracting.
Who is Eligible
New York State small businesses or MWBEs bidding on construction or transportation projects that need assistance securing bids or performance bonds for specific projects are eligible. Businesses that have never been bonded or require increased bonding capacity are encouraged to apply. Applications can be submitted by either the contractor or bonding agent.
How it Works
Eligible businesses can apply to the program before or after seeking surety bonding. If a surety company requires collateral support in order to issue a bond, the Surety Bond Assistance Program may provide the necessary collateral support to qualifying businesses in the form of an Irrevocable Letter of Credit of up to 30% of the base contract amount. The maximum contract size is limited to $2 million. For those qualified contractors not "bond-ready," but will bid for a State contract within a year, there is training and technical assistance available, facilitated by the Dormitory Authority of State of New York and the Small Business Development Center statewide network.
How to Apply
Visit http://esd.ny.gov/BusinessPrograms/BondingAssistance.html or contact Ms. Huey-Min Chuang, Senior Director of Business & Economic Development, at 212-803-3238 or BAP@esd.ny.gov.
NY Youth Works
Governor Andrew M. Cuomo signed a bill creating NY Youth Works, which is a youth employment program that will help combat high unemployment rates by providing eligible, unemployed, low-income youth aged 16 through 24 who are located in one of the following areas: Albany, Brookhaven, Buffalo, Hempstead, Mount Vernon, New Rochelle, New York City, Rochester, Schenectady, Syracuse, Utica, and Yonkers with employment opportunities.
The new law includes $25 million in tax credits for businesses that hire unemployed and disadvantaged youth and $62 million to support job training programs.
NY Youth Works will function in 3 phases:
Phase 1: For up to six weeks before a youth is placed in employment, youth providers, like not-for-profits and workforce investment boards, will prepare eligible youth with skills such as work readiness, occupational training, and digital literacy.

Phase 2: Businesses will be offered a $3,000 wage subsidy in the form of tax credits to hire disadvantaged youths for six months. Preference will be given to employers in demand industries such as clean energy, health care, advanced manufacturing, and conservation. Priority will be given to employers that provide on-site occupational skills training during this period. During Phase 1 and Phase 2, participating youth will be provided with up to three monthly stipends of $300 to cover costs associated with transitioning into the workplace.

Phase 3: An additional $1,000 tax credit will be available to employers that retain the participating youths for an additional six months.
Under the new law, $62 million in funding will be provided to critical job training and support programs for inner city youth, including basic education programs, summer youth employment, job search and placement initiatives, and child care.
Black and Puerto Rican Caucus Weekend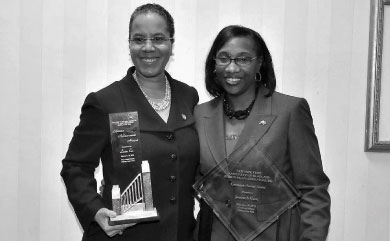 Honorees from Buffalo, Leecia Eve and Janique Curry, at Caucus Awards Reception.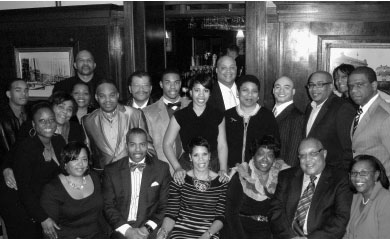 Assemblywoman Crystal Peoples-Stokes with members of the Buffalo constituency who attended Caucus weekend.
The 41st Annual Legislative Caucus Weekend entitled, "Open Doors to Employment, Opens Doors to Empowerment!" was held Friday, February 17th through Monday, February 20th, 2012. It was presented by the NYS Association of Black, Puerto Rican, Hispanic, and Asian Legislators, Inc. The weekend's events included a Chairman's Reception, NYC Council party, several receptions, a full day of plenary sessions presented by the Caucus members, a Business/Career Expo & Craft Fair, Youth and Talent Expo, and a Scholarship Gala Dinner which concluded the weekend's events on Sunday evening. Assemblywoman Crystal D. Peoples-Stokes, as a member of the Health Committee, sponsored a workshop on the Health Care Exchange and what it means to communities of color.
The weekend also boasted an international trade seminar and labor luncheon, a concert featuring SWV and Kindred the Family Soul and Sunday church services in which Rev. Jesse Jackson was the guest speaker. There was an awards ceremony in which Buffalo's own Janique S. Curry received the Community Service Award and Leecia Eve received the Lifetime Achievement Award. The highly anticipated 3rd Annual "Upstate at Its Best" reception was a great networking event presented by Assemblywoman Peoples-Stokes and Assemblymembers Gantt (Rochester) and Roberts (Syracuse). The event was partially sponsored by U.S. Senator Gillibrand and Mayor Byron W. Brown.
ALBANY OFFICE: Room 619 LOB • Albany, New York 12248 • 518-455-5005
DISTRICT OFFICE: 792 East Delavan Avenue • Buffalo, New York 14215 • 716-897-9714
Email:
peoplec@assembly.state.ny.us