News from Assembly Minority Leader Brian M. Kolb
Albany Office:
LOB 933 • Albany, NY 12248 • 518-455-3751
District Office:
607 West Washington St. • Suite 2 • Geneva, NY 14456 • 315-781-2030
E-mail: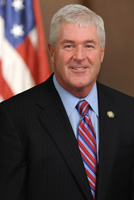 For Release: IMMEDIATELY, December 15, 2017
Contact: Mike Fraser, office: (518) 455-3751; cell: (518) 859-8518
Mounting Debt Puts Financial Future In Doubt
Legislative Column from Assembly Minority Leader Brian M. Kolb (R,C,I,Ref-Canandaigua)
According to a report by Comptroller Tom DiNapoli, New York carries more debt than every other state but California. Projections indicate that the problem will only worsen. According to the report, the state's debt burden will reach $63.7 billion by the end of March. Within four years, the Comptroller estimates that number will hit $71.8 billion.
Through no fault of their own, every New Yorker is on the hook for $3,116 in state debt. This should come as a surprise to absolutely no one. New York's tax addiction is surpassed only by its debt addiction. Albany has perfected the practice of fast-and-loose spending while accumulating massive financial obligations that are put off for another day.
PATTERNS NEED TO CHANGE DRAMATICALLY
This is a problem that can't be blamed on a federal proposal or an opposing political party. For too long, New York's irresponsible and secretive financial behavior has created a problem that may never fully get resolved.
The state takes on most of its debt using public authorities - government entities that operate with less oversight and outside many of the checks and balances governing state agencies. In total, public authorities (both state and local) have taken on an astronomical $270 billion in debt. While taxpayers will eventually be forced to pay for this "backdoor borrowing," they have no way to see or approve of the out-of-control borrowing practices putting New York in the red.
IT'S TIME TO FINALLY ADDRESS THE DEBT MESS
New York's fiscal outlook isn't promising heading into 2018. We face a potential $4 billion budget deficit, and are evaluating federal proposals that may cause even more anxiety. It's never been more important to change Albany's bad habits. The Assembly Minority has offered proposals aimed at reducing the amount of debt the state takes on, including:
New York desperately needs to get its financial house in order. The current path is unsustainable and saddles future generations with a financial hurdle they may never overcome.
What do you think? I want to hear from you. Send me your feedback, suggestions and ideas regarding this or any other issue facing New York State. You can always contact my district office at (315) 781-2030 or email me at kolbb@nyassembly.gov.