FOR IMMEDIATE RELEASE:
March 27, 2009

Silver, Assembly Hail Progress in Ten-Year Battle to Reform
Rockefeller Drug Laws

Legislation Significantly Increases Judicial Discretion, Retains Critical Public Protections,
Provides Necessary Treatment For Drug Offenders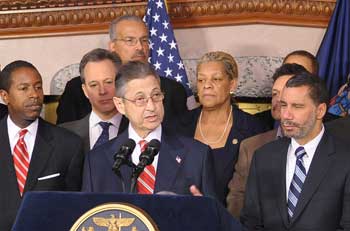 Assembly Speaker Sheldon Silver (center) and long-time advocate for the reform of the Rockefeller Drug Laws, Corrections Committee Chair Jeffrion Aubry (back row, near flag), joined Gov. David Paterson (right) and Senate Majority Leader Malcolm Smith (left) in announcing an important agreement on legislation to reform the state's drug laws. In praising the accord, Silver credited the years of diligent work and leadership by Aubry, Judiciary Committee Chair Helene Weinstein (not shown) and Codes Committee Chair Joseph Lentol (not shown) that made this announcement possible. The Speaker said the Assembly Majority will continue to work for the complete reform of the state's drug policies.
Marking a major step forward in the decade long push by the New York State Assembly to transform New York's approach to drug addiction, Assembly Speaker Sheldon Silver, Corrections Committee Chair Jeffrion Aubry, Codes Committee Chair Joseph Lentol and Judiciary Committee Chair Helene Weinstein today announced a three-way agreement with the Governor and Senate on legislation to reform New York's draconian Rockefeller Drug Laws.
The agreement would significantly increase judicial discretion - authorizing judges to sentence certain lower-level, first felony drug offenders and lower-level, second-time, non-violent drug felons to probation, local jail time, or both. Additional provisions of the agreement require a statutorily defined, uniform drug diversion program while maintaining authority for existing prosecutor-sponsored Drug Treatment Alternatives to Prison (DTAP) programs.
"Long before we had partners in either the Executive or in the Senate, the Assembly Majority was fighting for real reform of the Rockefeller Drug Laws. With this legislation, we have taken, at long last, a giant step forward in establishing a more just, a more humane and a more effective drug policy in the State of New York. No longer will drug use and addiction be considered solely a criminal matter in this state, but a public health matter as well. This legislation recognizes that drug addiction is a disease. I commend the tenacity and the dedication of my colleagues and the leadership of Assemblymembers Aubry, Lentol and Weinstein for their unyielding commitment to this issue," said Silver (D-Manhattan).
"My Assembly colleagues and I continue our pledge not to give up our fight for greater reform of New York State's ineffective and imprudent drug laws. While today's agreement brings us closer to our goal, we recognize the need to do more. We will continue to work with our partners to completely reform the Rockefeller Drug Laws," said Aubry (D-Queens).
"Thirty-six years ago I voted against the enactment of the Rockefeller Drug Laws. It was clear to me that simply locking drug offenders away without treatment would not be effective. I am pleased that we are finally moving toward turning this travesty around and judges will once again have more of the discretion they should have," said Lentol (D-Brooklyn).
"Judicial discretion has always been one of the core principles for which the Assembly has fought. With the expansion of drug courts and other options to treat addicts, we are moving toward dealing with the underlying problem plaguing many drug offenders - giving them the opportunity for treatment and reducing recidivism in New York," said Weinstein (D-Brooklyn).
"America cannot continue to fund only one side of the drug war. Unless we begin treating drug addiction as the public health crisis it is and put serious resources into drug treatment and rehabilitation, we will not win this fight," Silver said.
The reforms come a year after the Assembly convened two joint-legislative hearings on the 35th anniversary of the Rockefeller Drug Laws. The forum involved the Assembly committees on Codes, Judiciary, Corrections, Alcoholism and Drug Abuse and Social Services and included valuable testimony from prosecutors, criminal justice experts and addiction professionals.
Under the agreement, judges would be given discretion to divert certain Class "B", "C", "D" and "E" felony drug offenders whose non-violent crimes resulted from drug abuse to drug treatment programs as a potential alternative to a state prison term.
In addition, the agreement establishes uniform drug diversion programs for implementation along with maintaining the existing district attorney sponsored DTAP programs. Diversion would not be available for offenders who committed a violent felony or sold drugs to minors.
In 2004, the Rockefeller Drug Laws were modified. Silver highlighted the Assembly Majority's successful efforts to force state leaders to rethink these laws and begin moving New York toward the reality that drug addiction is a disease for which there are better, more humane, more effective, less costly alternatives than incarceration. The 2004 law allowed some class A-I felony drug offenders to apply for re-sentencing under a new sentencing structure, and made it possible for some drug-sentenced inmates to earn time reductions by participating in drug-abuse treatment and other prison programs. A 2005 amendment allowed certain class A-II drug offenders to seek re-sentencing under the new determinate sentencing scheme. No re-sentencing consideration was permitted for offenders sentenced for class B or lower felony drug crimes.
The lawmakers noted that New York currently spends almost $45,000 per year incarcerating each drug offender in state prison, many of whom are non-violent individuals plagued by substance abuse. The initial reforms made in 2004 that lowered maximum sentences and eliminated mandatory life sentences have already saved the state nearly $100 million.
-30-
For more information on the Assembly's history on Rockefeller Drug Law Reform click here