FOR IMMEDIATE RELEASE:
July 18, 2017

Speaker Heastie Makes Second Statewide Tour Stop
in Rochester Region
Visit Includes Tour of Communities
Affected by Lake Ontario Flooding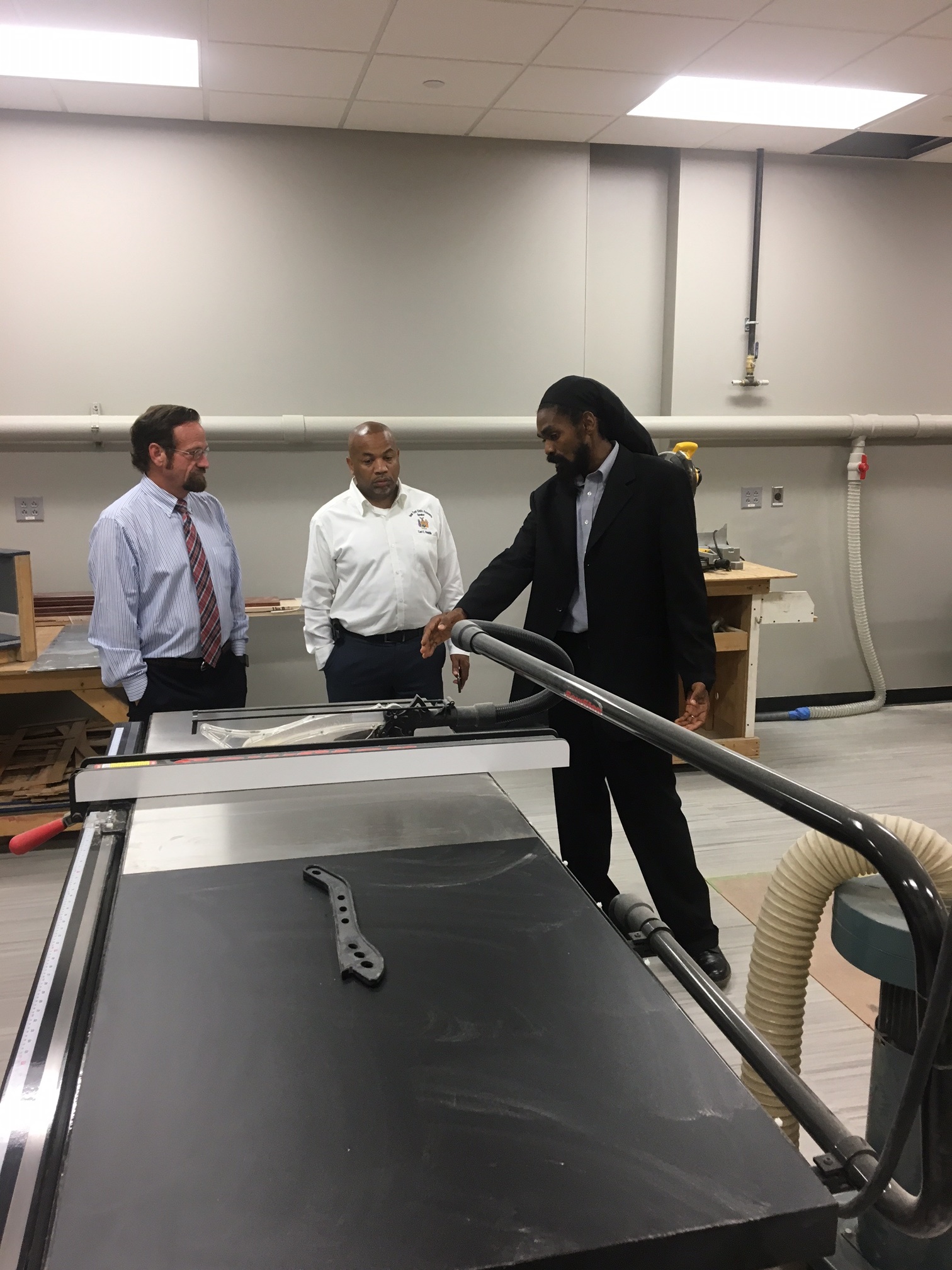 Pictured with Speaker Heastie in first photo at the Carpenters' Rochester Apprentice Training Center (left to right): Assemblymember Harry Bronson and Jomo Akono, Western NY Council Representative of the Northeast Regional Council of Carpenters.
Assembly Speaker Carl Heastie joined Majority Leader Joseph Morelle and Assemblymember Harry Bronson today in Rochester for the second stop of Speaker Heastie's statewide regional tour. During the visit, Heastie and Morelle met with a local business owner in Irondequoit to see firsthand the damage caused by historic flooding along New York's Lake Ontario coastline. The Speaker also joined Assemblymember Bronson in visiting the Northeast Regional Council of Carpenters' (NRCC) Training Facility in Rochester.
"Visiting communities across the state offers us the opportunity to see the strengths of each community, but also the tough challenges," said Heastie. "Today's visit underscores that our $55 million investment in flood recovery for these communities was undoubtedly necessary and will help mitigate the damage and loss this region has faced. Similarly, at NRCC, we were able to see the tremendous potential for carpenters in the state and navigate our legislative agenda for the future."
During today's visit, Heastie and Morelle met with Mike McKeon, owner of Silk O'Laughin's Restaurant on the shoreline of the Genesee River. The landmark waterfront pub has been closed on and off for nearly two months due to flooding and damage. The business's insurance does not cover flooding, but the restaurant will benefit from the relief package passed by the Assembly this year. The package establishes a $55 million flood recovery grant program to assist small businesses, farms, property owners and municipalities with storm-related repairs and restoration.
"In the wake of unprecedented flooding along the Lake Ontario waterfront, the State Legislature came together in a spirit of bipartisan cooperation to provide critical relief for the many lakeside homeowners and businesses struggling to contend with the devastation brought on by the rising waters," said Assembly Majority Leader Joseph D. Morelle. "I thank Speaker Heastie for his leadership and commitment to helping our community in a time of great need. Together, we will continue to work with our partners at every level of government to ensure all affected have the resources and support they need to recover and rebuild."
"We are grateful to our partners in Albany for their attentiveness to challenges being faced by Irondequoit residents and businesses near the water," said Supervisor Dave Seeley. "I applaud Speaker Heastie, Majority Leader Morelle and the entire State Legislature for their work on this $55 million flood relief package. This bipartisan effort represents government working for the people."
Mike McKeon, owner of Silk O'Loughlin's said, "Small businesses, such as O'Loughlin's, were confronted with a very uncertain future due to the unprecedented flooding and damage along the Lake Ontario shore line. However, the swift response from our partners in local and state government and the outpouring of support from the community has buoyed our recovery efforts at a very critical time. I am truly grateful to Speaker Heastie for visiting O'Loughlin's today and for his unwavering support of our shoreline community."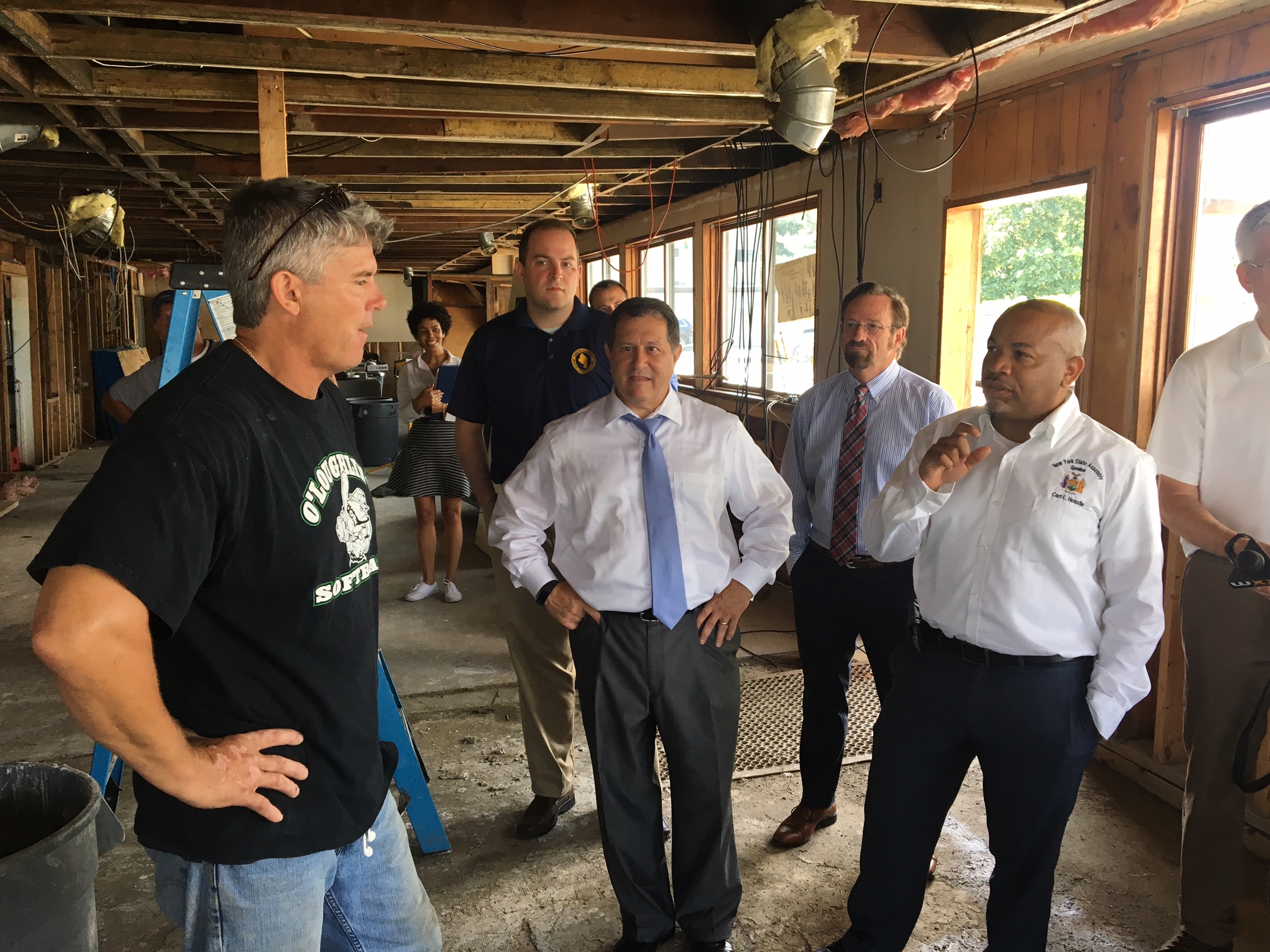 Pictured with Speaker Heastie in the second photo at Silk O'Loughlin's (left to right): Mike McKeon, owner of Silk O'Loughlin's; Dave Seeley, Irondequoit Town Supervisor; Majority Leader Joseph Morelle; and Assemblymember Harry Bronson.
The Speaker also joined Assemblymember Harry Bronson in visiting the Northeast Regional Council of Carpenters' Training Facility during today's visit where they met with apprentices, instructors, and union officers. During the stop, the leaders discussed strategies to increase opportunities for minorities and women in the program among other legislative priorities.
Earlier this year, the Assembly passed legislation to ensure that contractors and subcontractors who under the Davis-Bacon Act are ineligable on the federal level to bid on public projects due to wage payment violations, are unable to bid on state public work contracts (A.8154, Bronson). The legislation closes a loophole that has unfairly allowed debarred contractors and subcontractors equal footing to bid on state public work contracts.
"I would like to thank the Speaker for his leadership on the passage of legislation that ensures contractors and subcontractors who are debarred on the federal level under the Davis-Bacon Act for wage payment violations, are unable to bid on state public work contracts as well as the passage of legislation to define 'public works' in New York State." said Assemblymember Harry Bronson. "Both of these pieces of legislation, that I authored, will ensure that our hardworking men and women in the trades can earn a good middle class income for their families and protect taxpayers from contractors who have violated the law." Bronson continued, "I would also like to thank the Northeast Regional Council of Carpenters for taking time out of their day to highlight this fantastic facility. This training facility will offer the next generation of carpenters the skills they need to compete in tomorrow's work environment."
"We were so pleased to welcome State Speaker Heastie and Assemblyman Bronson to our Rochester Training Facility, so they could view our new Facility and learn more about the steps our Council is taking to attract women and minorities to the field of carpentry," said David Haines, Northwest New York Regional Manager. "The Northeast Carpenters has a strong relationship with the State Assembly and have been pleased to work with them on the recent debarment bill and public work definition bill that will help our carpenters to receive good pay and benefits from law abiding companies in New York."