Executive Chamber
The Executive Chamber, also sometimes referred to as the "Red Room", has been in continuous use by New York State Governors since its completion in 1881.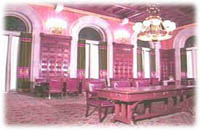 Above - The Executive Chamber also known as the "Red Room".
Nicknamed for its original red drapes and rug, this room served as the working office of the Governor until the end of Grover Cleveland's administration in 1885. His successor, David Hill, then moved his private office into a nearby smaller room, leaving the Executive Chamber for ceremonial occasions, a function that still continues today.
The Red Room remains one of the truly outstanding works within the Capitol. Designed by Senate Chamber architect, Henry Hobson Richardson, the similarities between the two rooms are apparent. It has the same carpeting, chandeliers, and gold leaf wall band that the Senate Chamber possesses. The room has an elegant mahogany wainscoting, and the intricate coffered oak ceiling stained to match. Additionally, a beautiful bronze leaf band covers the upper half of the walls.

Above - A portrait of New York Governor Franklin Delano Roosevelt, hanging in the Hall of Governors.
The large desk in the Executive Chamber has been used by every Governor since 1881, with one slight addition made by Governor Thomas Dewey. The addition of steps to the back of the desk served as a platform for photo sessions. Using this platform at bill signing ceremonies, Dewey could elevate himself above the legislators. This room also contains a little known secret ... a hidden door.
When future U.S. President Franklin Delano Roosevelt became Governor in 1929, he suffered from polio and was confined to a wheelchair. He wanted a way to get from his car to his second floor office without using public elevators. Knowing the service elevator in the adjacent room could be used to reach various floors, all that was needed was a door to connect the two rooms. To preserve the finely paneled wainscoting, a door was cut in the paneled grooves. When it was closed, it blended perfectly with the paneled wall.