Senate Chamber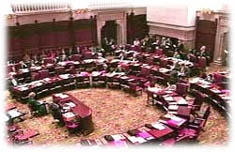 In order to fully appreciate the interior splendor of the Capitol building, you need only to look at the Senate Chamber. Designed by Henry Hobson Richardson, and first occupied in 1881, this room has been acclaimed as one of Richardson's finest designs.
Beginning at its highest point, the chamber's richly carved golden oak ceiling was designed with deep paneled "pockets" or recesses, creating an acoustically perfect "debate arena" for the senators.
The walls are covered with beautiful, shimmering 23 carat gold leaf.
A master at using the different materials of the world, Richardson imported Siena marble from Italy for the large arches above the visitor's gallery, red granite from Scotland for the pillars, and Mexican onyx to panel the north and south walls. The ultimate in luxury was attained with red leather and carved mahogany paneling on the walls below the galleries.
As a tribute to the five architects who worked on the Capitol throughout its construction - the Senate in 1980, commissioned artist Vincent Leggiadro to carve the portrait medallions of Thomas Fuller, Leopold Eidlitz, Frederick Law Olmsted, Henry Hobson Richardson and Isaac Perry into the stone lintels above the five entrances of the Chamber.
At the front of the chamber sits the Senate's chief presiding officer. Seated on the top tier of the dais, he is flanked by an aide and the Senate Chaplain. Every legislative session begins with a prayer and the Pledge of Allegiance. The bottom tier is for the various Senate staff who track legislation and keep attendance.
At the back of the chamber are two large fireplaces, each with openings six feet high. Designed initially as sources of heat, they soon became mere decoration when electricity became a standard feature of the completed building. However, building on a tradition that began with the English parliament, the fireplaces were soon serving as quiet meeting areas for senators to "walk into", and discuss important issues, And, because the chamber's acoustics allowed for virtually every spoken word to be heard, these "fireplace" chats soon became an everyday occurrence.