Stairs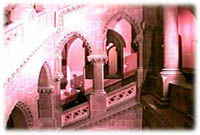 The most prominent interior features of the Capitol are the three major staircases.
Lavishly carved in a variety of stone and crowned with magnificent skylights, the staircases are three of the most admired features of the Capitol.
The Senate and Assembly Staircases were designed by Leopold Eidlitz with the Assembly staircase being the first to be completed. The stone carving on this staircase, although more subtle and restrained than that of the others, is still impressive.


Above - Busts of Presidents George Washington and Abraham Lincoln are carved into the Great Western staircase.
The Great Western Staircase, also known as the Million Dollar Staircase, took an unheard of 14 years to construct, from 1883-1897 and cost, more than one million dollars. The delays in constructing this magnificent staircase were two-fold. Designed by Henry Hobson Richardson and built by Isaac Perry, the staircase contains 444 steps and reaches 119 feet high, is renowned as an outstanding example of American architectural stone carving excellence.
Over 500 stone cutters and carvers were employed at various times. Many were Europeans who had mastered their trade in their homelands of England, Scotland and Italy.
Their main task was the carving of various prominent people into the stone as ordered by chief architect Isaac Perry. He wanted 77 in all. What's remarkable is these 77 faces, along with countless other designs, were sculptured from existing stone walls.
Left - A beautiful rosey-faced cherub - one of the "unknown faces in the stone."
Using only ladders and scaffolding, often in very uncomfortable positions, these stone artists spent years, at a salary of five dollars a day, sculpturing some of the finest stonework found anywhere in the world.
Among the 77 famous faces beautifully carved into the sandstone staircases are such famous Americans as Washington, Lincoln, Grant, and Susan B. Anthony - each etched with astonishingly fine detail.With the stone gallery of prominent Americans out of the way, Perry decided to allow his elite group of carvers to sculpt the faces of friends, relatives, and people seen on the streets.