Women of Distinction in the District
For Women's History Month, please join me in honoring the dynamic and inspiring women in our community.
Our honorees shared with us the people and events that inspired them, along with their challenges and hopes. Every story underscored two ideas: that one determined, passionate person can make a huge difference, and that we all benefit when we come together to make our communities stronger.
We salute and thank you for your contributions!
ALEYSHA HOSANG and MARISOL MIRANDA. When the City opened two emergency shelters in our neighborhood to serve asylum seekers arriving from the southern border, Alesha and Marisol quickly organized support for the new immigrants. They helped galvanize a strong community response, working tirelessly to arrange donations of clothing and supplies, escorting immigrants through the city, even hosting birthday parties for children. They have continued to provide ongoing, daily help and support for many families. Aleysha said "It's important for people to feel welcome in our city and to get the help they need to survive and thrive. So many people in Brooklyn are immigrants or descendants of immigrants. They arrived here with practically nothing; our community is so generous. It feels good to be part of that."
Our heartfelt thanks to Aleysha and Marisol.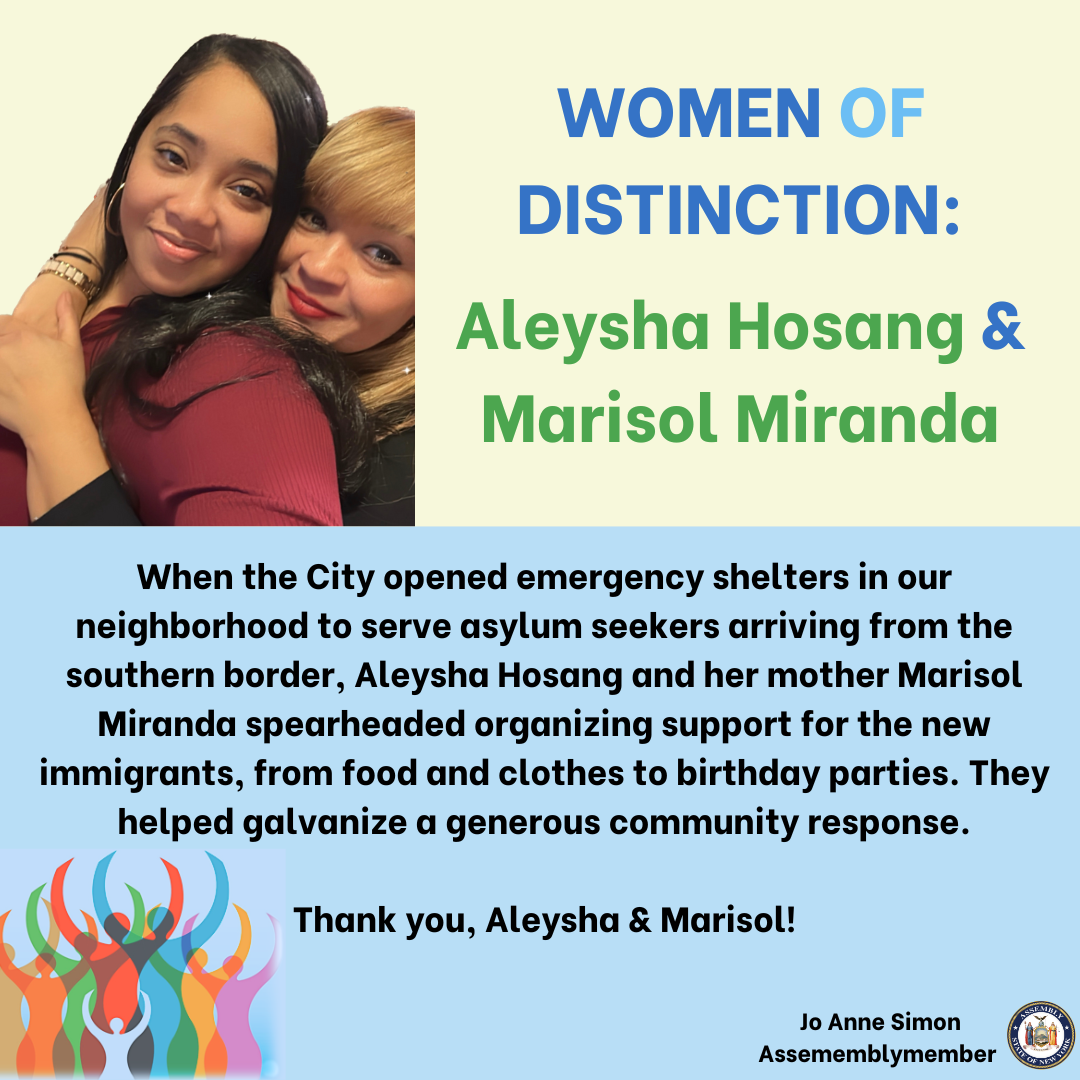 ---
ROLANDA TELESFORD-HASTICK. Ms. Telesford-Hastick has over 25 years of community involvement in working with women and girls, immigrants, and families in the areas of education, health, and advocacy. For the past 11 years, she has worked as a leader at the YWCA Brooklyn, with a mission of eliminating racism and empowering women, leading community affairs, developing programs, civic engagement, outreach and communications.
She currently is the Senior Director of Community Development and continues to be a strong leader and champion for women and girls at the YWCA Brooklyn. She is the Board Chair for a non-profit, Incredible Credible Messengers, which provided restorative justice practices for women who are formerly and currently incarcerated. She is also the Board President for Black Women for Black Girls, a philanthropic organization that assists black girls in providing all they need for college success, through mentorship and monetary assistance. She continues to support her local communities and welcomes challenges in uplifting and supporting all communities.
Brooklyn would not be the same without you, Rolanda!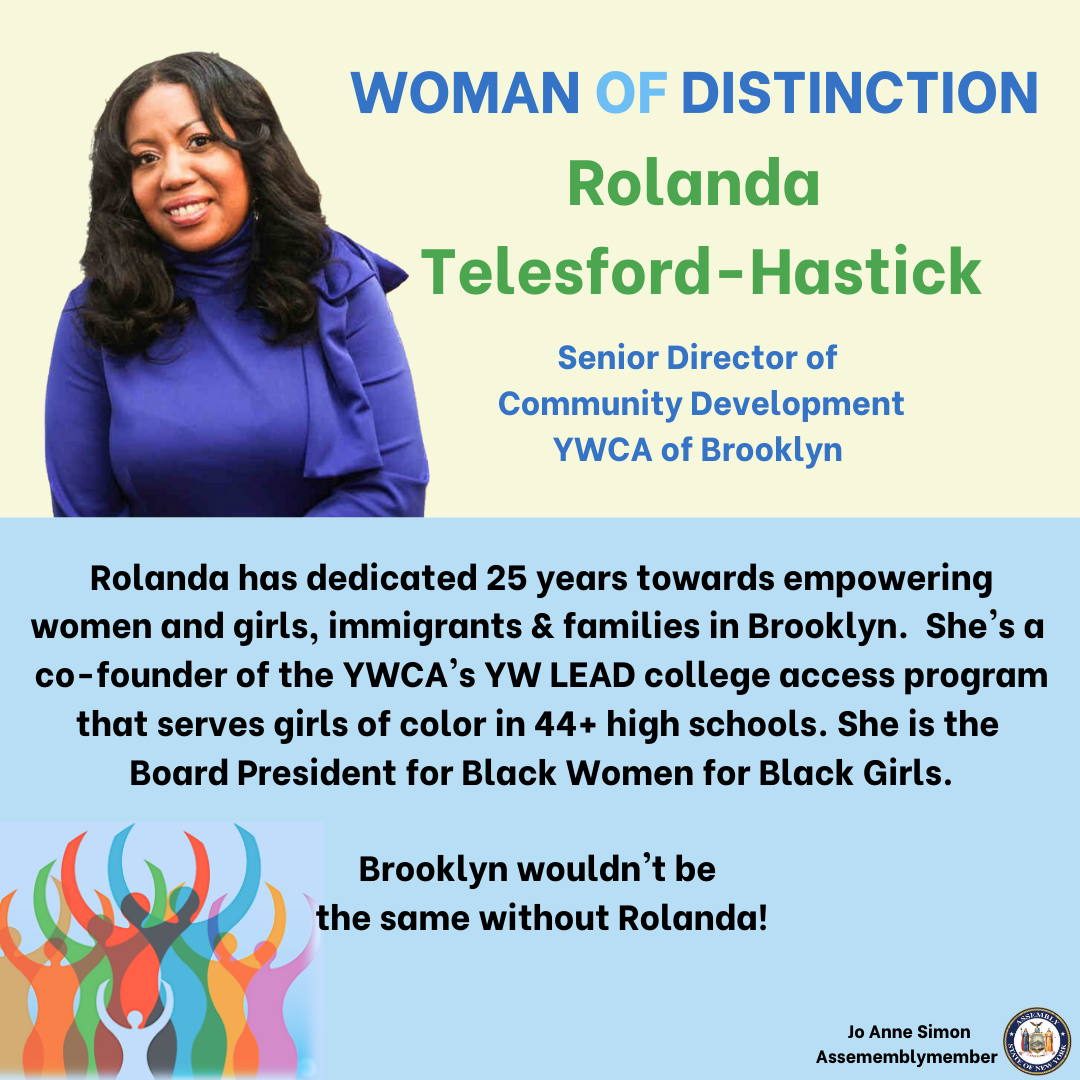 ---
NANCY ALBILAL is making a difference in our community as President and CEO of the Arab-American Family Support Center (AAFSC), dedicated to creating an inclusive safe haven for immigrants and refugees for over 27 years. Admired far and wide for her strength and grace in advocating for her community, she serves as an inspiration to girls and women everywhere. She is their passionate advocate, doing everything possible to change stereotypes, fight racism, and break down barriers to equity.
AAFSC focuses on family support, advocating and serving around gender, racial, immigrant, and restorative justice. Nancy is particularly focused on leading to address the systemic intersectional forces that marginalize women of color. She is steadfastly optimistic, creating opportunities for people of every generation to work together to reimagine and rebuild a world of equity and harmony. The strength and resiliency of the Brooklyn community inspires her and gives her hope. She is also a military mom who is proud that her children are dedicated to serving our country.
We salute and thank you, Nancy Albilal!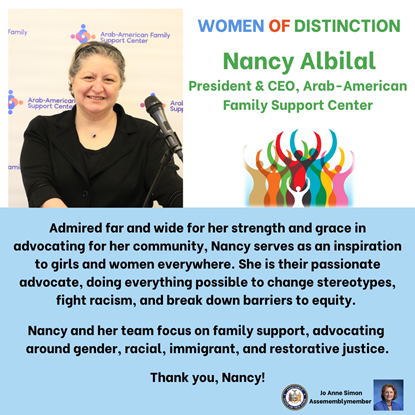 ---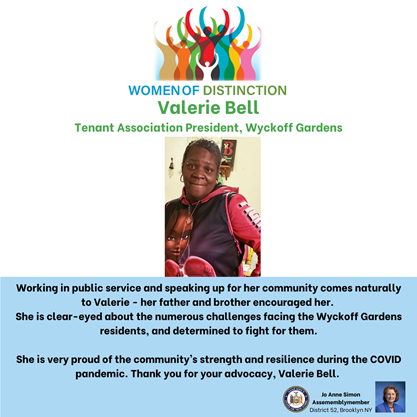 VALERIE BELL, Tenant Association President for Wyckoff Gardens, is another inspiring woman making a difference in our District.
Working in public service and speaking up for her community comes naturally to Valerie - her father and brother encouraged her. She is clear-eyed about the numerous challenges facing the Wyckoff Gardens residents, and determined to fight for them.
She is very proud of the community's strength and resilience during the COVID pandemic, as residents looked out for one another, united in their concern for health and safety.
Moving forward, she is hopeful for significantly more opportunities to be created for neighborhood youth, as well as more services provided to adults and seniors to help residents deal with daily challenges.
We salute and thank you, Valerie Bell!
---
JOE ANN BROWN. Among the many dedicated women making a difference in our District, Joe Ann Brown stands out. She is the President of the Warren Street Houses Tenant Association.
Tired of the lack of representation and results for NYCHA's community, Joe Ann was inspired by Sabine Aronowsky of Fifth Avenue Committee to amp up her involvement and activism.
Over the past two years, she has juggled the increased need for social services due to the COVID pandemic, inadequate senior care, families suffering from food insecurity, and lack of opportunities for community youth against a backdrop of economic disparity. She helped preserve tenants' rights during the RAD conversion, ensuring residents weren't displaced and were given adequate representation and information during the process.
She continues to fight for NYCHA and low-income residents to be equally represented in decisions made within the community, as well as awarded job and housing opportunities arising due to the area's rezoning.
We salute and thank you, Joe Ann Brown!
---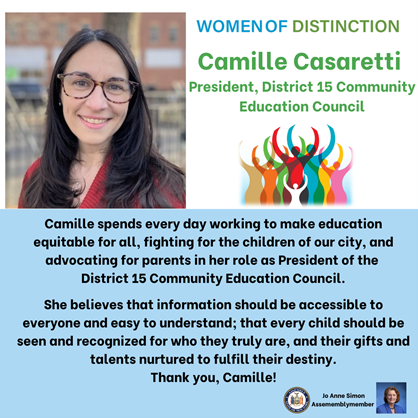 CAMILLE CASARETTI spends every day working to make education equitable for all, fighting for the children of our city, and advocating for parents as President of the District 15 Community Education Council, a role she has held for over 6 years.
Her inspiration – her mother's immigrant story – is akin to so many of our own. Her mother's experience as a vulnerable, scared, yet eager to learn non-English speaking child taught Camille that our challenges can be overcome with proper support. Straight into the workforce without a high school diploma, Camille's mother encouraged her to become the first in their family to graduate from college. And now, Camille creates educational opportunities for every child in our district to succeed. She recognized how school governance and policy can negatively or positively impact school climate, and is dedicated to building a community of partners and parent leaders. She believes that information should be accessible to everyone and easy to understand; that every child should be seen and recognized for who they truly are and their gifts and talents nurtured to fulfill their destiny.
She is regularly inspired by the love she sees reflected - the same love of her own mother's eyes.
We salute and thank you, Camille Casaretti!
---
THERESA DAVIS is one of the inspiring women making a difference in District 52.
Theresa, Interim President of Gowanus Houses Tenant Association, was inspired by her own mother, who made sure people had enough to eat and held rent parties for neighbors in need. Theresa continued that work; Lucas Shapiro from Furee saw the fire in her, sending her to leadership trainings so that she could continue to bring positive change to the community.
She took that passion to Brooklyn Borough Hall where role models Michelle Crutchfield, Ingrid Martin-Lewis, Yolanda Fernandez helped fuel her fire to improve her community's living conditions. Her priorities are a working community center for the tenants, and that the promised funding for long-overdue, necessary renovations and repairs is rapidly delivered & deployed. She resolutely believes that organizing creates the power to achieve more progress for more people.
We salute and thank you, Theresa Davis!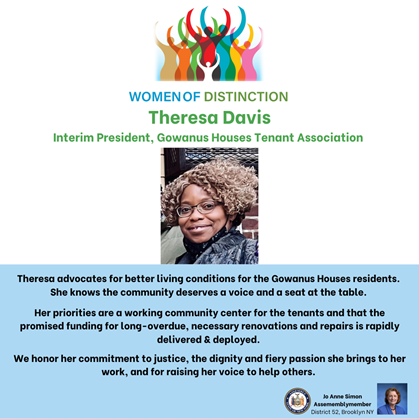 ---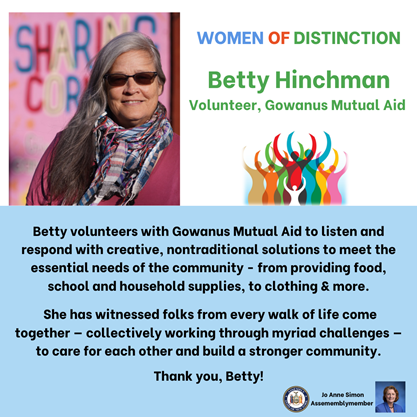 BETTY HINCHMAN volunteers with Gowanus Mutual Aid (GMA) to collectively care for our neighbors, help meet their essential needs, and build community.
COVID has spotlighted many inequities — in basic needs such as food, housing, schooling, and physical and economic health. As the scarcity and price of essential supplies increases beyond the reach of many, GMA has worked to provide for our neighbors. Betty is proud of GMA's sustained effort to listen, reimagine, and respond with creative, nontraditional solutions to better meet essential needs.
She has found the values of mutual aid to be inspiring — the non-hierarchical connections, the collective support and sharing of resources, the dignity of no-judgment community care, and the dedication to addressing systemic inequalities in the community and in our own attitudes.
We salute and thank you, Betty Hinchman!
---
MARTHA KAMBER. Please join me in honoring Martha Kamber, CEO & President of YWCA Brooklyn.
Martha always goes above and beyond her role, understanding the importance of advocating for and empowering women and girls. She is deeply committed to YWCA Brooklyn constituents' personal and educational success, ensuring the residents remain stably housed without a return to homelessness or an abusive relationship; that the girls the organization serves are able to pursue their college and career dreams and build wealth in communities of color; and that the immigrant women the organization serves are able to better participate in civic life in the United States, help their children in school, and be employment ready.
Our district is a far better place because of Martha and people like her who are so tirelessly working to improve lives and life across the entire community.
We salute and thank you, Martha Kamber!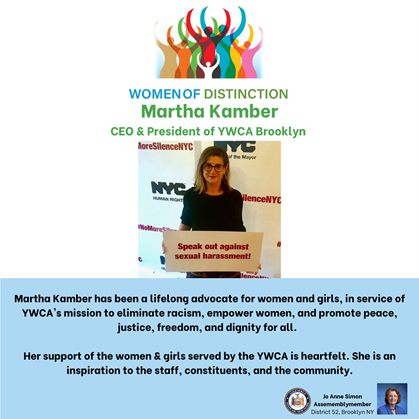 ---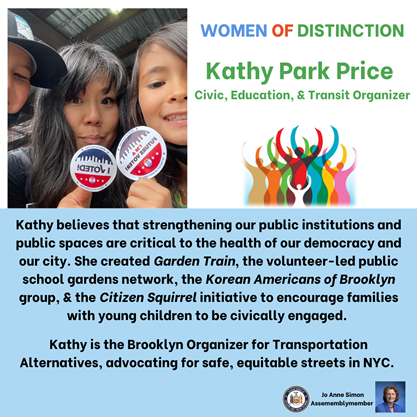 KATHY PARK PRICE is another Woman of Distinction in District 52.
Kathy thinks creatively about how to bring communities together around shared goals that make our city a better place to live. She created Garden Train, the volunteer-led public school gardens network, the Korean Americans of Brooklyn group, & the Citizen Squirrel initiative to encourage families with young children to be civically engaged.
Asked to take her education advocacy from the district level to the citywide level, Kathy was selected to be a mayoral appointee to the Panel for Educational Policy (PEP) during the de Blasio administration.
Today, Kathy is the Brooklyn Organizer for Transportation Alternatives, the advocacy organization that has led the movement for safe, equitable streets in New York City for almost 50 years. Whether it's her work for our streets, students, or school and community gardens, Kathy strives to empower neighbors to help shape and improve our city for all.
We salute and thank you, Kathy Park Price!
---
CAROLINA SALGUERO. Women are passionately creating a better world, and one of them is Brooklyn's own Carolina Salguero, Founder + Executive Director, PortSide NewYork.
Resourceful in the face of repeated challenges, this former photojournalist who's witnessed history all around the world is all about fostering change for good. Guiding PortSide through ossified bureaucracies and a pandemic, she nevertheless persists. Among her many accomplishments is bringing us PortSide's pandemic popup park. With little beyond determination, flair, castoffs and nine donated IKEA umbrellas, the charming waterside minipark served over 33K people in 2020 and over 45K in 2021. It brought music, peace, and fun to the community. "It meant so much to see people choke up when hearing live music for the first time since lockdown, the delight of little kids, and the relief of their tired caretakers letting go," said Carolina.
For the future, she hopes PortSide finally gets right-sized space so they can better connect the community to our amazing harbor.
We salute & thank you, Carolina!