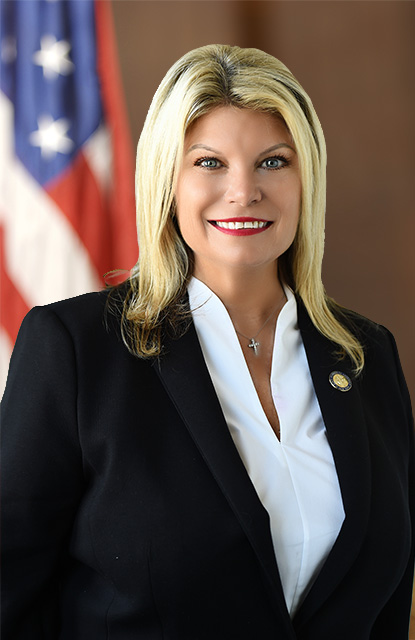 Jodi Giglio was elected to the New York State Assembly on November 3, 2020. Her district includes the North Fork of Long Island in Suffolk County, portions of the town of Brookhaven, and the towns of Riverhead and Southold.
Jodi's experience as a Riverhead Town Councilwoman and proud business owner will undoubtedly position her to represent the people of the 2nd Assembly District well. She is committed to fixing Albany and prepared to help address and change the state's current fiscal climate; she understands the importance of finding solutions to reduce the state's significant budget deficit in order to help businesses and taxpayers thrive. Jodi will work to advance legislation that prioritizes the needs of hardworking Long Islanders and ensures taxpayer money is reinvested in Suffolk County. While in Albany, Jodi will fight for measures that cut wasteful spending, make communities safer, create high-paying jobs, and protect the environment.
Prior to being elected to the Assembly, Jodi served on the Riverhead Town Council for more than 10 years. As a small business owner eager for change in local government, she works on behalf of her constituents; her track record speaks for itself. As Councilwoman, Jodi initiated several strategies to save the town and its residents millions of dollars by implementing process improvements and eliminating wasteful spending. As an Assemblywoman, Jodi is ready to expand her role and not only serve the constituents in her district but residents across the state. She is eager to address the state's crumbling infrastructure, develop initiatives to better train our future workforce, and provide critical care and funding for our most vulnerable residents and veterans.
Jodi is a proud union member of Local 138, International Union of Operating Engineers, and successfully runs a NYS Certified Women-Owned Business Enterprise; she has also been honored by Minority Millennials Inc. as a Woman of Distinction for her positive impact on minorities and youth.
Jodi has been a resident of Baiting Hollow for the last 20 years and is a mother of three. Her experience in the private and public sectors equip her with a unique perspective on how to tackle the state's toughest challenges, particularly in the wake of the COVID-19 pandemic. She looks forward to promoting common-sense solutions that will restore the power back to the people of New York State and put the economy back on the right track.