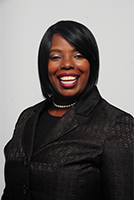 Latrice Monique Walker was elected to the New York State Assembly in 2014 in a special election. A native of the Brownsville section of Brooklyn, Assemblywoman Latrice Walker is a licensed attorney, and has made a name for herself as a strong voice and advocate from the streets of Brownsville to the Halls of Justice.
Assemblywoman Walker was educated in the New York City public schools. She went on to receive her undergraduate degree from SUNY Purchase College, where she double majored in Sociology and Political Science. She achieved a Juris Doctorate Degree in Law from Pace University and was admitted to the New York State Bar in 2007. Assemblywoman Walker has dedicated her life's work to advocacy.
For nearly a decade, Assemblywoman Walker has worked with local elected officials to preserve affordable housing while advocating for residents of the New York City Housing Authority (NYCHA). Born and raised in Prospect Plaza, a NYCHA development demolished under a Federal HOPE VI grant, the Assemblywoman has firsthand experience on the effects of displacement and the need for adequate legislative representation. As a litigator, she has helped tenants avoid eviction and defended young minority victims of "stop-and-frisk" practices.
Assemblywoman Walker is not new to the legislative process, having served as Counsel to U.S. Representative Yvette D. Clarke since 2007; helping to plan, organize, and integrate the congressional agenda to improve her community. She played a central role in facilitating the federal, state, and city governments' community planning and development initiatives while evaluating their economic and civic effect on the community.
Assemblywoman Walker represents the 55th Assembly District in the New York State Legislature as the chair of the Election Law Committee. Assemblywoman Walker is a member of the Codes, Correction, Housing, and Judiciary Committees as well as a member of the Taskforce on Woman's Issues. Currently, she serves as the 1st Vice Chair of the New York State Black, Puerto Rican, Hispanic & Asian Legislative Caucus, the Vice President of the African American Clergy and Elected Officials, as well as the Chair of the New York State Association of Black, Puerto Rican Hispanic and Asian Legislators.
Assemblywoman Latrice Walker is a proud member of Zeta Phi Beta Sorority, Inc., Sigma Kappa Zeta Chapter, the New York City Bar Association and a founding member of the Ocean Hill-Brownsville Coalition of Young Professionals. As a private citizen, Latrice remains very active in community affairs and is a member of Wayside Baptist Church, a preeminent faith institution in her community.
Assemblywoman Latrice Walker resides in Ocean-Hill Brownsville and is the proud mother of a daughter, Nile Anderson.