City Makes Assemblyman Perry's Proposal Honoring Fallen Heroes a Reality
March 23, 2006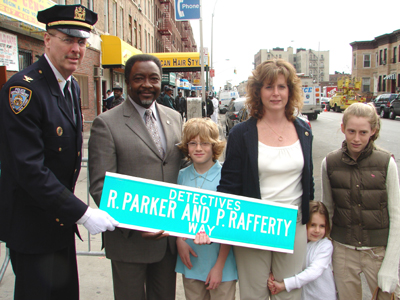 Brooklyn, NY – On September 10, 2004 just around the corner from Assemblyman Nick Perry's district office, Detectives Patrick Rafferty and Robert Parker responded to a domestic dispute, between a mother and her son. Sadly, these two heroes would never return home to their families, as a struggle with their would-be killer ensued and both were fatally shot.
The senseless murder of these courageous officers outraged the community and there developed a consensus on behalf of the community and Assemblyman Nick Perry that these two members of New York's Finest were deserving of a lasting tribute to their heroism and ultimate sacrifice for the safety of our community.
"Today this street naming will be formalized with the Mayor and other city officials in attendance, and I am pleased to join with the community in expressing our thanks to the families for the courageous service of these two officers. For their unselfish sacrifice they are exceedingly worthy of the honor of renaming this thoroughfare to their memory," said Assemblyman Perry.
After a formal announcement of the proposal at his 2005 Inaugural Address Assemblyman Perry requested Community Board 17 to begin the appropriate action to ensure the timely completion of this tribute. Community Board 17 acted on the proposal and forwarded it to the City Council, where it was submitted in an Intro sponsored by Councilman Kendall Stewart.
"I thank the Councilman and the City Council for its expeditious action on my proposal," said Assemblyman Perry. "We are proud to show as a community that we appreciate and value the service of the good officers of the 67th precinct and the entire NYPD who patrol our streets and make our neighborhoods and city safe."
The ceremony for the street naming will occur at the corner of Nostrand and Snyder Avenues on March 24 at 1:00 pm.