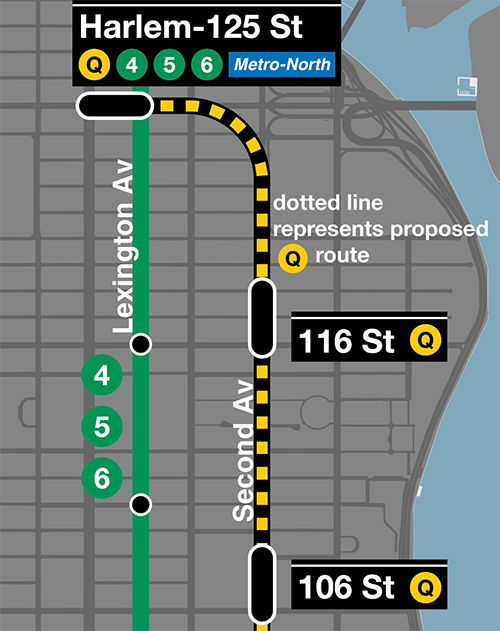 East Harlem needs more access to public transit options. The Second Avenue Subway Phase 2 will extend the Q line between 96th and 125th Streets along Manhattan's Upper East Side. Phase 1 was completed in 2017, and brought the Q line from 63rd to 96th Street. This exciting project will create three new stations at 106th, 116th, and 125th Street where it will offer accessibility to the Metro North and the 4,5,6 lines on Lexington Avenue.
As one of the nation's largest infrastructure projects, it will bring much needed transportation equity and service options to East Harlem and Manhattan. It will also reduce congestion on nearby subway lines, lower travel time by up to 20 minutes a day for East Harlem commuters, provide new stations with accessible elevators and escalators, and provide an alternative Q subway line to allow from enhancements on the 4, 5, and 6 trains. Phase 2 is estimated to be completed in 2027/29.
What's Happening Now?
The MTA's Second Avenue Subway Community Information Center has been opened at 69 E 125th St, New York, NY 10035 (Between Park and Madison Avenues), 212-722-3700
Completed and submitted Environmental Assessment (EA) to the Federal Transit Administration (FTA). The FTA has approved the EA with a "Finding of No Significant Impact."
FTA Funding Review after completion of engineering
Important Links: