Assemblywoman Galef's "Speak Out" Television Show Features New York State Comptroller Thomas DiNapoli
June 13, 2013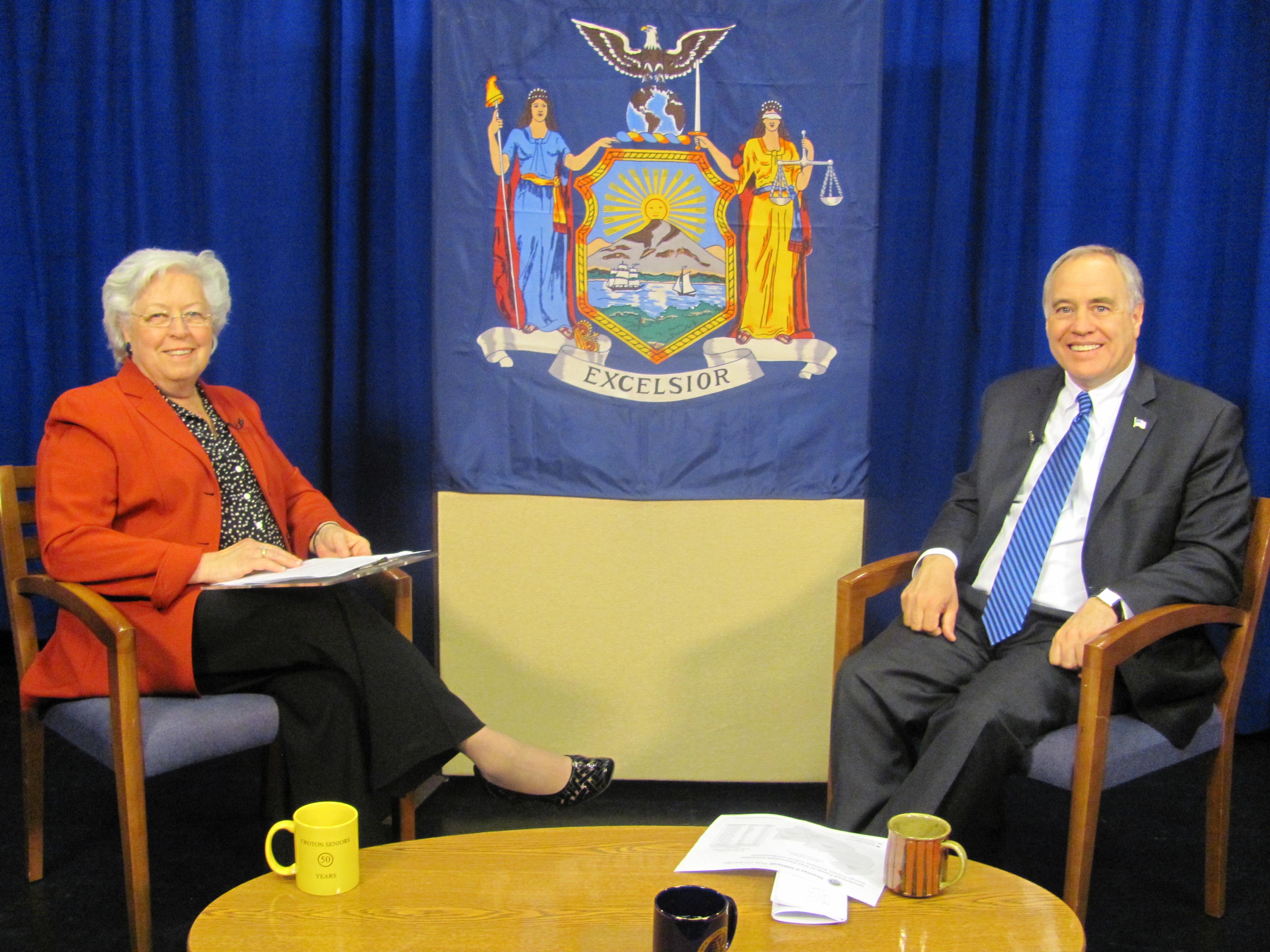 Assemblywoman Galef is pictured with her guest, New York State Comptroller Thomas DiNapoli, on her "Speak Out with Sandy Galef" television show.
Assemblywoman Sandy Galef is joined by New York State Comptroller Thomas DiNapoli, on her latest episode of "Speak Out with Sandy Galef."
DiNapoli, a former member of the New York State Assembly himself, explains how his past as an Assembly member has allowed him to examine issues from multiple perspectives, bettering his ability to "hire a variety of experts in different areas." DiNapoli explains how he oversees a team of experts that help guide economic development, implement environmental policy, and manage the State pension system, among other administrative responsibilities.
The Comptroller also discusses the strength of New York State's retirement plan, which he says is crucial not only for public workers but for the financial well-being of the State as a whole, often determining whether retirees decide to retire in New York State. "It should be a national discussion that people don't have retirement security…Let's not take away the retirement security our public workers have," DiNapoli said.
DiNapoli additionally highlights the unclaimed funds his office is responsible for managing. He stated that approximately $19 million in unclaimed funds, such as health insurance checks, utility deposit refunds, and dividends on securities, are retained by New York State for individuals in Assemblywoman Galef's district. "Statewide, the number is $12 billion," DiNapoli added. He explained that his office sponsors a variety of initiatives, such as a toll free number, a website, and community events, in order to raise awareness of unclaimed funds and allow residents of New York State to conveniently claim them if they are being held in their names.
"I am delighted that Comptroller DiNapoli was able to join me on my show. It is important for people to be able to know the role of the State Comptroller and what he can do for them," said Assemblywoman Galef. "I also encourage my constituents to visit the Comptroller's website to see if there are unclaimed funds in their names, since significant amounts of money could be waiting for them to claim."
Tune in to cable television on the following days and times to learn more.
"A Visit from the New York State Comptroller" airs as follows:
Cablevision
Airs: June 26 & July 3, 10, 17
Ossining and Peekskill airs on Channel 15: Wednesday at 8:00 p.m.
(Briarcliff, Ossining, Scarborough, Buchanan, Cortlandt, Croton, Garrison, Montrose, Peekskill, Philipstown South, Verplanck)
Wappingers Falls airs on Channel 21: Wednesday at 8:00 p.m.
(Cold Spring, Philipstown North)
Yorktown airs on Channel 74: Wednesday at 8:00 p.m.
(Lake Peekskill, Putnam Valley)
Comcast
Airs: June 26 & July 3, 10
Carmel, Kent, Mahopac & Putnam Valley Channel 8: Wednesday at 7:30
Verizon FiOS Customers
Please check your local listings for air dates and times