Parents of Special Children, Inc. Hosts Annual Barbecue
Area businesses, volunteer organizations, Barclay family help create another memorable day for families
September 11, 2013
Parents of Special Children, Inc. again hosted its annual barbecue at Douglaston Manor in Pulaski on Saturday. This is the fourth annual backyard barbecue hosted by the Barclay family and has become a tradition for many area families who benefit from services provided by Parents of Special Children, Inc., a local service and social network organization for families that have children with special needs. Various community individuals and organizations donated facilities, talent, food and entertainment for children with special needs to create an enjoyable day.
A highlight of the day was Juggling Josh again this year. He entertained children and families on a unicycle, told jokes, juggled and brought in helpers from the crowd. Kids got a chance to try wheelchair basketball with Move Along, an organization dedicated to helping people be more mobile with special bikes and wheelchairs. Other highlights included caricature artist J.P. Crangle, known for his drawings that are featured in Delmonico's Italian Steakhouse in Syracuse. Music, food, drinks, animals, dancing, bouncy slide, a balloon walk, face painting, and arts and crafts were all part of the free fun. About 150 people took part in the event.
Organizers said children and their families had the opportunity to enjoy the day together. Theresa Familo, coordinator at Parents of Special Children, Inc. and an organizer of the event, said she was pleased so many turned out to enjoy the barbecue. The community support for this event has been overwhelming, she said, and helps families who attend bond in an informal and fun way.
"The barbecue was such a great day for all who came. I am deeply grateful for all of the community members and businesses who make this event possible. I am especially grateful to our hosts, Mr. and Mrs. Barclay, as well as Assemblyman Barclay. One of our main objectives as an organization is to empower families. When families strengthen connections with other families, and just have fun at events like this, it helps the entire family unit. This was a good day. I'm grateful that so many people in our community understand our mission," said Familo.
"Both DeeDee and I are pleased to be able to host this event for the Parents of Special Children, Inc. again this year. This has become a tradition for our family, too, and we have come to look forward to the barbecue every year. It's a pleasure to see all of those kids and families enjoying themselves. Families who raise kids with special needs face challenges in caring for and raising their children. The organization does a great job in reaching out with services and support. It makes it easier when you know others who are in a similar situation and, hopefully, they can get to know each other here where they can just relax and have fun," said H. Douglas Barclay, former U.S. Ambassador and host of the backyard barbecue.
Assemblyman Will Barclay, whose staff helped organize the four-hour event and who also volunteered at the event, said he was glad to see people enjoying themselves. "This is really a great event. I'm glad to be a part of it. I love to see the families come together and the kids play and be entertained. The community network for parents who have children with special needs is an important component to raising healthy families. Our community should be proud of this tradition it has created," said Assemblyman Barclay.
Organizers of the event included Roy Clark of Dunkin' Donuts, Assemblyman Will Barclay and his staff, and Chris Nelson of State Farm Insurance. H. Douglas and Deedee Barclay hosted the barbecue.
Several other agencies and individuals made the event possible and included Jim & AJ Bernys, Amy Hall, Shane Broadwell & Broadwell Companies, Douglaston Manor Staff Members, Dunkin' Donuts Employees, Eagle Beverage, Frito Lay, Half-Shire Historical Society, Shawn Doyle, Frank & Sharon McKeown, Omicron Sorority Members of Oswego State, Oswego County Sheriff's Department, Port City Logistics & Doug Grandjean, Pulaski American Legion, Ringgold Fire Department, Brian Sobus & Danielle Soule, and ZBT Fraternity Members at Oswego State, student volunteers from Oswego State, Mexico High School art students and instructor Barb Sheldon, Pulaski School District, 403 Civil Affairs Battalion, and Oswego County Soil and Water.
For more information about Parents of Special Children, Inc., please call Theresa Familo at (315) 598-7672.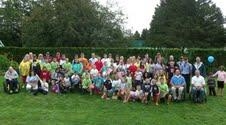 More than 100 people participated in the Parents of Special Children barbecue Saturday. Many gathered for a group photo at the fourth annual event.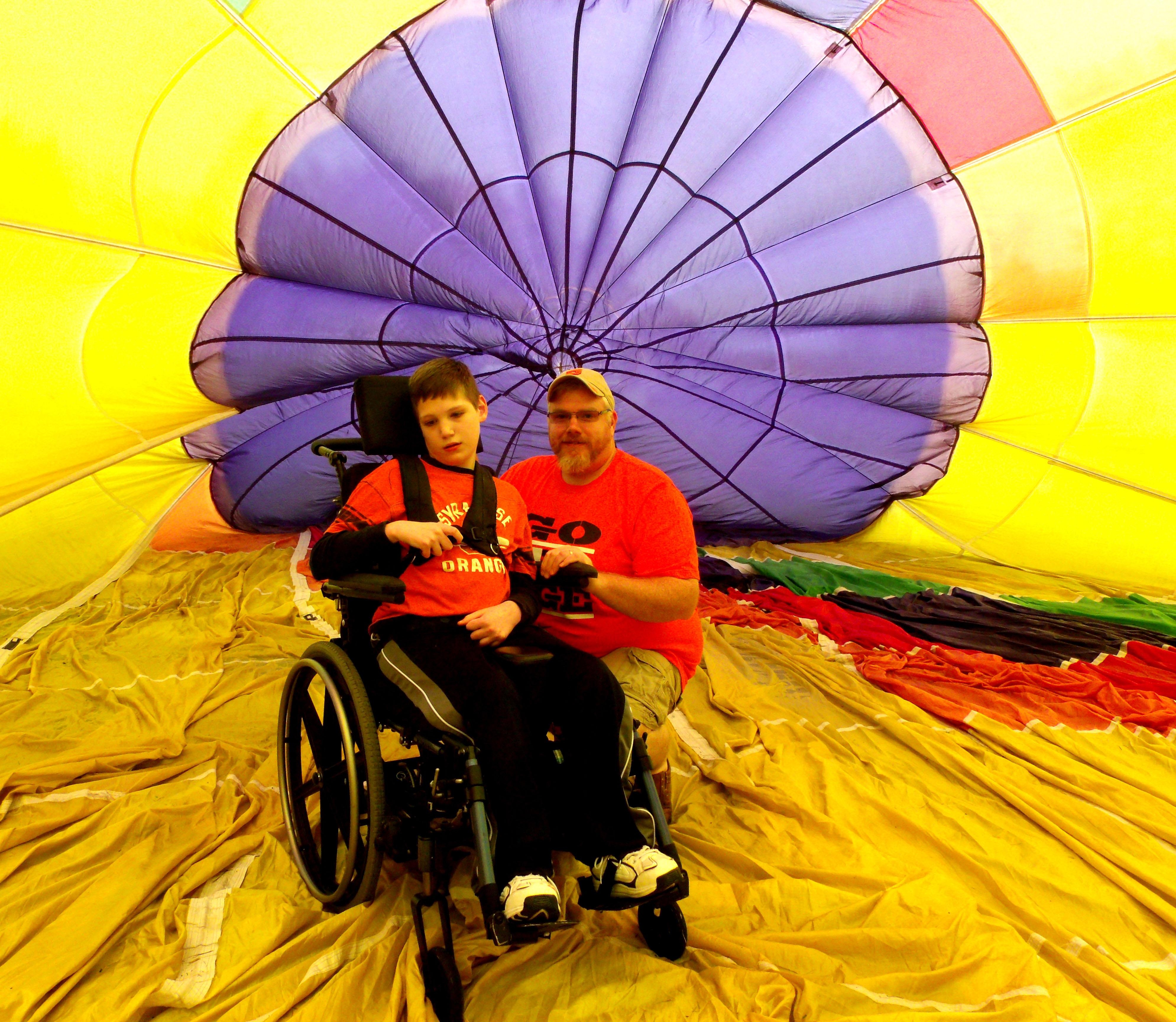 Dave Manley and his son, Jaden, 11, of Mexico enjoyed the day on Saturday at the Parents of Special Children, Inc.'s backyard barbecue. They are pictured inside a hot air balloon, one of the many activities families were able to enjoy at the fourth annual event.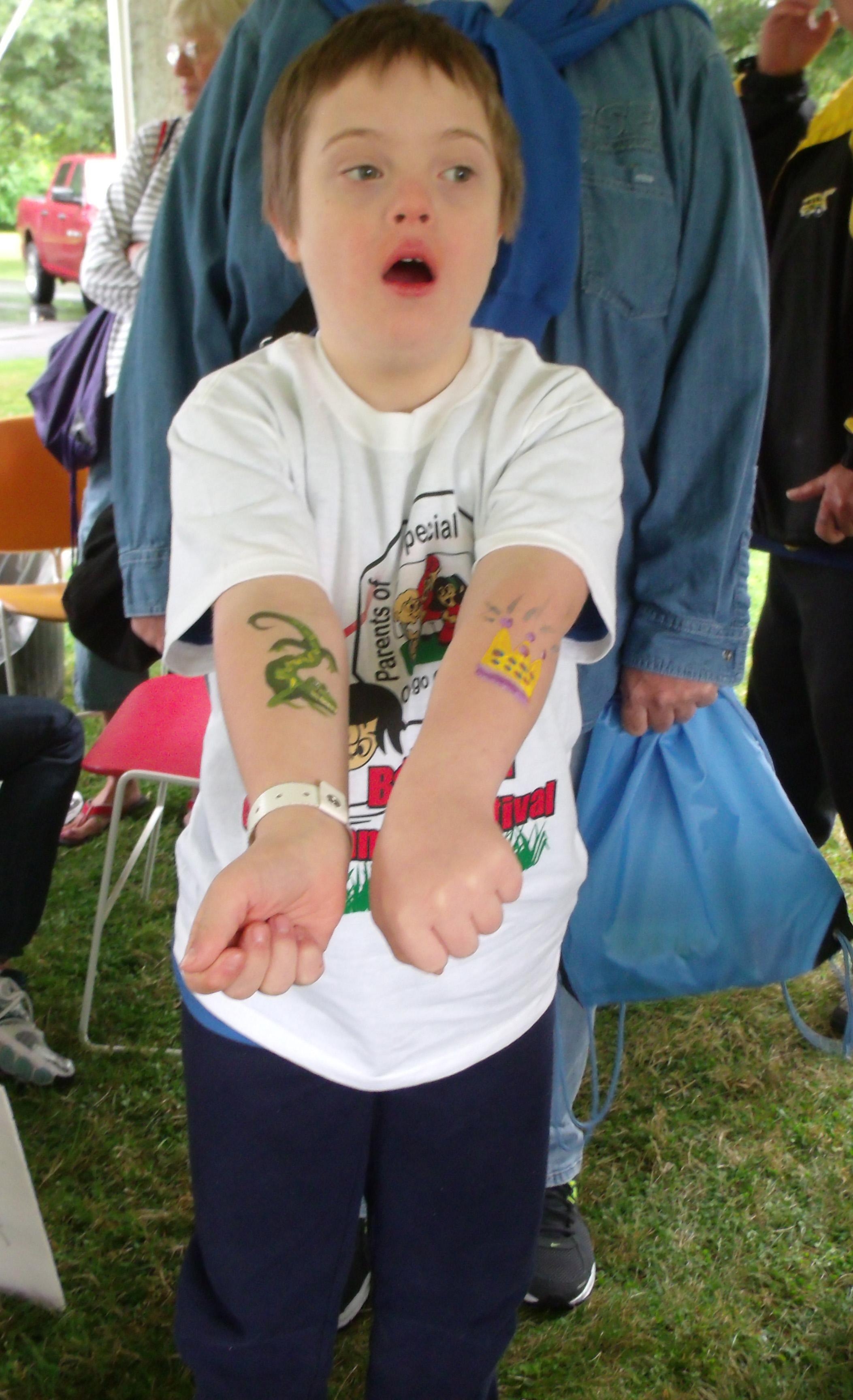 Colin Dowling, 11, of Oswego, shows off his crocodile painting, courtesy of the Mexico High School art students, who volunteered their time for the event.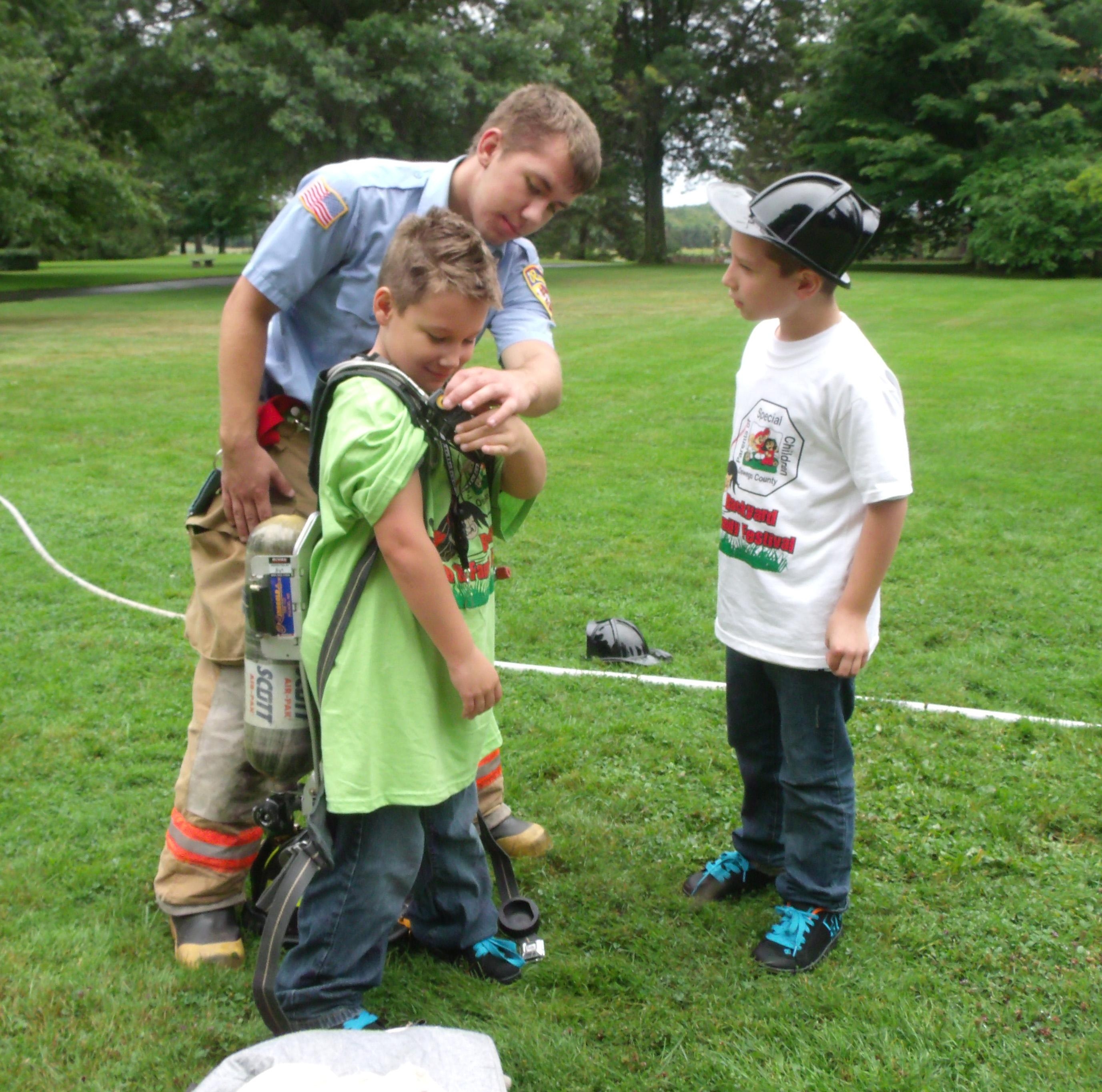 Conley Dynum, 8, of Cazenovia learned about firefighters' equipment and fire trucks, courtesy of Ian Douglass, a firefighter with Ringgold Fire Department. A sheriff deputy was also on hand to show a safety vehicle.