Dear Constituent:
Happy Holidays to you and all your loved ones. Along with my best wishes for your good health and safety through the remaining days of this year, I also want to thank you for the honor and privilege of serving you as your representative in the New York Assembly. I am truly grateful for your trust, which you have continuously placed in me, and assure you that I will continue to expend every effort to earn your confidence to keep me working for you.
2010 has indeed been the most challenging, of all the years I've been representing you in Albany. The global economic meltdown tested the capacity of our entire nation, and New York State was hit broadside. From budget surpluses in 2006-2007, we suddenly found our State in a hole with a deficit estimated recently by the NYS Comptroller at nearly a billion dollars. As a result of this, for the first time since you sent me to Albany, we passed a budget with no funding for local community organizations. I was extremely disappointed that we could not settle the issue with the governor, and that some organizations were forced to shut down their services to the community. I am optimistic however, that notwithstanding the snail-like pace of this economic recovery, we will be able to return to the longtime prudent practice of funding beneficial and worthy community initiatives in the budget.
As we prepare to begin the 2011 budget process on January 5, I am hopeful that reports of slow, but improved economic data and positive forecasts, will make further deep cuts unnecessary, especially in healthcare and education, which were devastated by cuts this year. It is also my hope that for you, and your loved ones, 2010 was more successful for your efforts, and that you will be able to enjoy the holidays and share your joy with others in the spirit of the season.
As has been my practice since my election as your representative in 1992, I will take the Oath of Office at an Ecumenical Thanksgiving Service on January 8, 2011, at St. Jerome RC Church, located at 2900 Newkirk Avenue. The service will begin at 4:30 p.m., and will be followed by a Gala Thank You Reception, Cultural show and Dinner Party, starting at 8:00 p.m. to be held at Holy Family Church, located at 9719 Flatlands Avenue. While reading this newsletter, please refer to your personal invitation which appears below this greeting. I look forward to seeing you at the Thanksgiving Service and Inaugural Gala.
May you and all your loved ones be blessed with good health, prosperity and happiness throughout the holiday season, and the coming New Year. Thank you again for this opportunity to serve you. Happy Holidays and Happy New Year.
Working for you,

Your Invitation to the 2011
Swear-In Ceremony & Inaugural Gala
The Honor of Your Presence
is Requested at the
Ecumenical Thanksgiving Service and
Community Swear-In of
Hon. N. Nick Perry
Member of Assembly
58th Assembly District, Brooklyn, NY
Saturday, January 8th, 2011
At Four Thirty in the Afternoon
St. Jerome Church
2900 Newkirk Ave.
corner of Nostrand Avenue
* Seating is Limited
RSVP (718) 385-3336 by January 3rd
AFTER SWEAR-IN CEREMONY:
A Gala Reception,
Cultural Show & Dinner Party

8:00 PM
Holy Family R.C. Church
Auditorium
9719 Flatlands Ave.
(corner of Rockaway Parkway)
Limited Seating
RSVP Requested • (718) 385-3336
* Free of Charge *

Following what has traditionally been a soul stirring thanksgiving service and swear-in ceremony scheduled, this year for Saturday, January 8, 2011, hundreds of constituents will join Assemblyman Perry and a host of other high-ranking dignitaries at a gala inaugural multi-cultural celebration marking the start of Assemblyman Perry's tenth consecutive term in the New York State Assembly. This Gala Cultural Celebration will kick-off at 8:00 p.m. in the auditorium of the Holy Family R.C. Church, located at 9719 Flatlands Avenue, which will be transformed into a grand ballroom. An Ecumenical Thanksgiving Service will precede the Cultural Gala at St. Jerome RC Church, located at 2900 Newkirk Avenue at 4:30 p.m.
Once inside the "ballroom" guests will be treated to a scrumptious dinner from a choice of several cultural dishes and delicacies. In celebration and recognition of the ethnic diversity of the 58th Assembly District, the menu will include Indian, Italian, Chinese, and a variety of Caribbean dishes. While dining, guests will enjoy high quality entertainment; performances that evening will include Sesame Flyers International Dancers, singer Justine Perry-Skyers, along with other live entertainment and dancing.
As is always the case, Assemblyman Nick Perry's Inaugural Cultural Gala is free and open to the public, with seating provided on a first come, first served basis. For more information and to RSVP call Assemblyman Perry at (718) 385-3336.
Does New York State Owe You Money?
There is nearly $10 Billion in unclaimed funds belonging to New York State residents that are currently being held by the office of the New York State Comptroller. During these challenging economic times, this money, even in modest amounts, can really make a difference in the lives of everyday New Yorkers.
For your protection, banks, insurance companies, utilities, investment companies and many other businesses are required by State law to surrender inactive accounts to the State. These accounts are known as "lost," "abandoned," or "unclaimed" funds. The Office of the State Comptroller serves as custodian of this money until you claim it.
Please contact the NYS Comptroller's Office of Unclaimed Funds at (800) 221-9311 or call Assemblyman Perry at (718) 385-3336 to help determine if some of this money belongs to you.
In Memoriam
Barbados Prime Minister David Thompson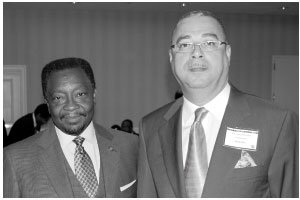 The Late Prime Minister of Barbados,
Hon. David Thompson, Gone Too Soon.
"A proud young son of Barbados, whose commitment to teaching, inspiring, and serving the Barbadian youth, and building his nation is a part of the legacy he left for a country that will cherish his memory," said Assemblyman Nick Perry. "While I am saddened by his passing, I'm pleased to have had the opportunity to have known this great Barbadian."
(Pictured above, Assemblyman Perry with the late Prime minister of Barbados David Thompson at a CARICOM Luncheon in Brooklyn, 2008)