On June 22nd, I joined with parents, youth, and health and education advocates to release my alarming report on the state of public school health education for grades K-8. Through in-depth interviews with NYC school district health coordinators, our office discovered rampant disregard of health education mandates, which require public schools to teach elementary and middle school students topics on HIV and AIDS, alcohol and substance abuse prevention, and Sex Education and Family Living (FL/SE).
Public schools have a responsibility to provide our youth with comprehensive health knowledge as children do not adopt healthy behaviors in a vacuum. Obviously, this is not what is happening. My investigation found:
75% of districts violate at least one of the government mandates for health education;
63% of districts violate the specific mandate on the number of properly trained teachers for either HIV/AIDS or FL/SE curricula;
70% of districts inaccurately describe one or more of the health education mandates;
70% of districts do not actively oversee how or whether all mandated health instruction occurs in individual schools; and
63% of districts are forced to compensate for the insufficiencies in the State and City health education mandates.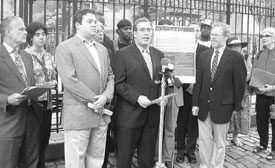 Assemblymembers Dick Gottfried and Jonathan Bing, youth, parents, and health and education groups attend a press conference with Assemblymember Stringer in support of his report on health education in NYC public schools.
These statistics clearly illustrate the utter disarray of health education in NYC schools. Even those districts that want to strengthen their health education programs are seriously limited by resource constraints and lack of State and City government support.
This report comes out at a time when New York's teenage pregnancy rate currently ranks 9th in the United States, and young people under the age of 25 constitute approximately one-half of all new HIV cases in the nation. Yet, close to 40% of New York's adolescents failed to use a condom the last time they engaged in sexual intercourse. New York's childhood obesity rate also tops the list in the nation, and alcohol and substance abuse remain pressing problems among City youth.
In light of our findings, I called on City officials to conduct an immediate, full-scale investigation of each school district in our City to account for what is happening and what is not regarding health education. In addition, I have proposed a series of recommendations to institute a comprehensive health education program in New York, including updating decades-old curricula, funding comprehensive health education, improving teacher training, and creating regional oversight panels.
The City has an obligation to assure parents and the community that every child in the system is receiving current, coherent, and comprehensive health instruction. Mayor Bloomberg's current reorganization of the school system provides a unique opportunity to address this and other reforms. I will work hard in demanding that our education leaders bring our system back to life and take the first, essential step by giving our children the gift of good health.