Prescription Drug Prices on the Web for Easy Comparison Shopping
Assemblywoman Paulin wants you to find the best prices for your prescription drugs. That's why she sponsored a new law (Ch. 293 of 2005) that requires drug retail price lists be posted on a single Web site, making it more convenient to get the medicines you need at the best price.
To compare prices until the comprehensive statewide site is launched, visit the New York Attorney General's Web site, www.NYAGRx.org, where you'll find prices for many pharmacies in the state.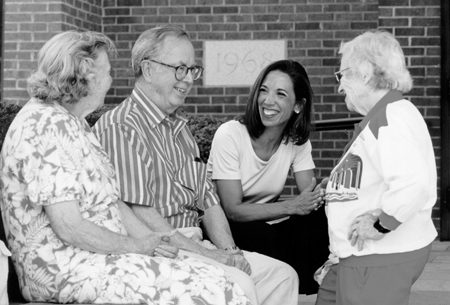 As another tax benefit to New York senior citizens, the School Tax Relief (STAR) program allows residents who own their home to get a partial exemption from school property taxes. Qualifying seniors can have the first $50,000 of the full value of their home exempted from these taxes.

To learn more about the STAR program, contact the Office of Real Property Services at 1-888-697-8275 or online at www.orps.state.ny.us
"Over 65" Exemption Means Savings for Senior Homeowners
The Assembly passed legislation Paulin sponsored to allow municipalities to increase the maximum income for the "Over 65" exemption from $24,000 to $25,000 beginning July 1, rising incrementally to $29,000 over the next five years (A.8696).
Under this exemption, eligible seniors over 65 receive a 50 percent exemption on their property taxes. Additionally, municipalities can grant exemptions of less than 50 percent to seniors whose incomes exceed the income limit.
Protecting Your Home's Value
Assemblywoman Paulin supported the Home Equity Theft Prevention Act, which protects homeowners from losing their home's equity (A.7667-A). The legislation protects homeowners from unscrupulous lenders by ensuring that all contracts are completed in easy-tounderstand language clearly stating the seller's rights for cancellation, and restricting businesses from making any misleading or manipulating statements about pending transactions. Violators face fines up to $25,000 and one year in jail.
To learn more about how to protect yourself from scam artists, contact the New York State Consumer Protection Board at 1-800-697-1220 or visit online at www.consumer.state.ny.us us.
Assembly Makes it Easier to Stop Annoying Telemarketers
New York State established the Do Not Call Registry in 2001 so residents can sign up to stop unwanted sales calls. However, due to a loophole in the law, some telemarketers continue to interrupt meals and cause an annoyance. Assemblywoman Paulin helped close the loophole, ensuring telemarketers cannot rely on loosely-translated "established business relationships" to justify additional calls (A.7710).
To sign up for the Do Not Call Registry, log onto www.donotcall.gov or call 1-888-382-1222.
Non-Driver Photo IDs Available
New York residents 62 years of age or older who do not drive can obtain an official Department of Motor Vehicles identification card at a reduced price of just $11.50.
To make the identification affordable for more seniors, Assemblywoman Paulin has supported legislation (A.5790) that would allow individuals receiving Supplemental Security Income benefits to obtain the ID free-of-charge.
To apply, visit www.nydmv.state.ny.us or call (800) 342-5368.