Bill Magnarelli is working hard to improve life in Geddes
---
| | |
| --- | --- |
| | It's always been Assemblyman Magnarelli's goal to make Geddes a great place to live and raise our families. Bill has worked hard to ensure the safety of our schools and to make sure they get their fair share from the budget. Bill has brought home state aid for countless local projects to improve our quality of life, and he will continue working to get results for Geddes. |
Making schools safer for our kids
As the husband, father and brother of teachers, Bill Magnarelli has always worked hard to ensure the safety of our children and our schools. In the last two years he:
provided $50,000 in matching funds to purchase and install video surveillance equipment in all of Solvay's school buildings

secured $50,000 in Community Capital Assistance Program funds for the construction of a safe, new playground for Solvay Elementary School children

sponsored landmark safe-schools legislation called Project SAVE, which institutes better school safety and violence-prevention initiatives and increases penalties for assaults committed on school grounds
More than ever, children need a quality education that will provide them with the right start to meet the challenges of our changing global economy. This year New York made its largest education investment ever.
Solvay Union Free School District received a 15.5% increase over last year

Westhill Central School District received an 11.6% increase

West Genesee Central School District received a 6.8% increase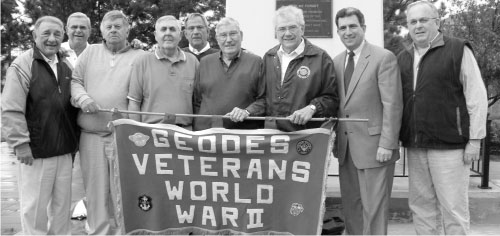 Helping our firefighters protect our loved ones
So that they can better protect our families, Assemblyman Magnarelli provided the Lakeside and Solvay fire departments with more than $60,000 for new fire-safety and rescue gear.
Bringing Geddes more state aid
Assemblyman Magnarelli also secured funding for local projects in Geddes, including:
$50,000 for the historic Solvay Public Library — these funds will be used to restore the building and install a career-planning and job-search center

$20,000 for the 2008 International Tyrol Convention, which will not only bring visitors to the convention but will also give them the opportunity to enjoy all the restaurants and shops Central New York offers
Improving the quality of life
Funding in the amount of $50,000 has been awarded to the town of Geddes by Assemblyman Magnarelli for three projects:
installing new fencing around the tennis courts and baseball fields in Lakeland Park

implementing child-safety and child-identification programs

upgrading emergency communication systems