Final Budget Delivers
Budget Makes Landmark Investment in
Education, Economic Development & Tax Relief
Giving Onondaga County Schools Funding They Need
This year, we're making the largest investment in education in New York State history, with Onondaga County schools receiving $49.8 million more than last year. The Syracuse City School District will receive an increase of $23 million over last year's budget, plus an additional $1 million in aid that I helped secure for discretionary use. With the additional funding provided by this year's budget, school districts will be better equipped to support critical programs without looking to already overburdened taxpayers to foot the bill.
Delivering Needed Tax Relief
I fought hard to ensure this year's budget would preserve the STAR property tax rebate program, which has made a real difference to so many Onondaga families and seniors. Not only will the program continue in 2008-09, but also seniors in Onondaga County will see a 40 percent increase in Enhanced STAR rebates, with an average rebate of $459. In addition, the budget provides an average Middle Class STAR rebate in Onondaga County of between $209 and $418, depending on income.
The city of Syracuse will receive an additional $7.4 million in funding. I worked hard to get an additional $1.2 million for Syracuse. The towns of Geddes and Van Buren will receive 5 percent increases in AIM funding. The AIM funding will help ease the property tax burden by providing funding for local municipalities to help them meet their financial needs.
The Legislature also rejected the executive proposal that would have increased taxes on the already high cost of gasoline by merging the motor fuel tax, petroleum tax and sales tax on fuel into one business tax with annual indexing. This measure would have eliminated the gasoline gas tax cap passed by the Legislature in 2006.
Encouraging Economic Development & Job Creation
Several important local economic development projects will receive funding in this year's budget. These projects will go a long way toward reinvigorating our economy. Funding includes:
$20 Million For The Connective Corridor
$5 Million For Hotel Syracuse
$13 Million For Magna - New Process Gear
The funding provided by the final state budget puts our region on a promising path that will greatly benefit us both in the short run and the long term.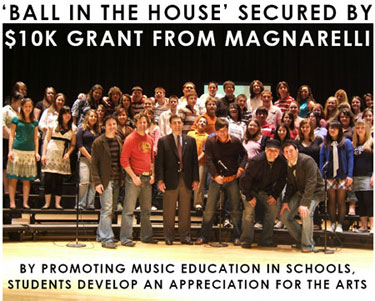 New York State Assemblyman William B. Magnarelli secured a $10,000 grant for arts and cultural educational opportunities for Solvay Union Free School District students. This grant secured the performance and instruction by 'Ball in the House,' a renowned a cappella group.
| | |
| --- | --- |
| "We have an obligation to provide our children with an arts education," Magnarelli said. | |
"Exposing students to music generates a life-long love for the arts," Magnarelli said. "Having a professional, nationally-recognized music group perform for the students is wonderful; having the musicians instruct the students on a cappella techniques and history is a tremendous experience and educational tool."
Students also took part in workshops lead by the members of 'Ball in the House,' learning a cappella and vocal techniques, the history and evolution of a cappella and the sound technology used in music performance.
Magnarelli added that music is necessary to a complete, well-rounded education. Arts education promotes creative thinking, appreciation for the arts and is a necessary investment in our students' futures.
Jody Manning, Superintendent of the Solvay Union Free School District, in addressing the students, joined Magnarelli before the 'Ball in the House' performance.
Website For Prescriptions
A new state website allows consumers to compare prescription drug prices for the 150 most commonly prescribed drugs at pharmacies. "The website, which we funded in last year's state budget, is aimed at helping consumers to purchase needed drugs at the best possible price," said Magnarelli. The website is www.rx.nyhealth.gov.
Global Warming In NYS
In observance of Earth Day and in accordance with the Nobel Peace Prize-winning International Panel on Climate Change, the Assembly passed a package of bills designed to target global warming by taking more decisive measures than those called for by the Bush Administration. This package includes legislation on cutting greenhouse gas emissions and targeting dangerous global warming effects.
Mother's Day & Mammograms
Mother's Day is not only a day to recognize our mothers, grandmothers, aunts, sisters and friends, but to encourage them to get a potentially life-saving mammogram. Early detection means early prevention. Encourage all the women important in your life to get a mammogram in May.