---
Assemblyman Magnarelli:
Protect your hard-earned money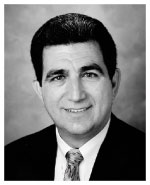 About 10 million people experience the crippling effects of identity theft each year, and these victims deserve better protection and resources to combat identity theft and reverse the damage of it. That's why Assemblyman Magnarelli supported a new law enhancing privacy protection and bolstering assistance to identity theft victims (Ch. 279 of 2008).
The law:
Prohibits Social Security Numbers on employee ID badges, ID cards, time cards or open-access files

Bans "skimmer" devices – which can obtain personal information from credit cards – where there is intent to commit identity theft

Helps victims repair their financial and credit history through the NYS Consumer Protection Board's newly created Identity Theft Program

Compensates victims by giving restitution for time spent fixing the damage

Builds on a 2006 law, which Assemblyman Magnarelli supported allowing consumers to block access to their credit files (Ch. 63 of 2006)
Tips to prevent identity theft
Don't carry extra credit cards, your Social Security card, birth certificate or passport in your wallet or purse

Never keep your PIN number on or near your ATM card

Opt out of pre-approved solicitations for credit or insurance by calling 1-888-5OPTOUT or visit www.optoutprescreen.com.

Never give personal information to a person or company that initiates contact with you

Update your computer anti-virus programs and use a secure browser for online transactions

Don't download files or click on hyperlinks from strangers

Cancel unused credit cards and bank accounts

Destroy any unwanted documents that contain personal information – including statements, receipts and credit card offers

Order your free annual consumer credit report and review it for suspicious activity by going to www.annualcreditreport.com or calling (877) 322-8228