If you're like many New York residents, you've probably heard about the economic crisis and the state's budget problems non-stop since November. Now, it's your turn to voice your opinions. I am holding four "Town Hall" style meetings this month. I want residents to use the time to tell me how they are being affected by the economic problems at large. I am holding these meetings now so that suggestions regarding state issues can be brought up before the budget is passed. The meetings will be:
7 p.m. Feb. 11 at McChesney Community Center, 2300 Grant Boulevard, in meeting rooms A & B

7 p.m. Feb. 12 at Van Buren Town Hall, 7575 Van Buren Road, in the board room

7 p.m. Feb. 18 at Most Holy Rosary Parish Center, 1031 Bellevue Avenue in the cafeteria

7 p.m. Feb. 19 at Geddes Town Hall, 1000 Woods Road, in the court room
I look forward to seeing you at the meetings and hearing your concerns.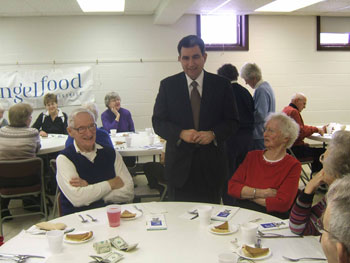 Ernie and Libby Leal of Camillus speak with Assemblyman William B. Magnarelli about how state budget issues are affecting their lives.
•
K
eeping senior citizens informed about changes as New York State works toward a new budget is essential.
Assemblyman William B. Magnarelli spoke at a luncheon for the Older Adult Ministry at the Robinson Memorial Presbyterian Church. Magnarelli met and chatted with about 40 seniors during the luncheon.
During his presentation, Magnarelli spoke about the pending budget cuts and how it may affect seniors in Central New York.
"New York State has been through crises of this magnitude before. There may be cuts as New York State strives to be efficient and economical," Magnarelli said. "After the attacks of Sept. 11, 2001, New York State had a deficit of $11.2 billion. We worked our way out of that in two years. I am confident we will deal with this crisis as responsibly."
•
S
chool business officials held a conference at the SUNY Oswego Metro Center in downtown Syracuse to discuss upcoming changes for the school districts. Assemblyman William B. Magnarelli was a guest speaker on the topic of how the governor's proposed budget may affect programs and initiatives at the school district level.
Assemblyman William B. Magnarelli and James Jerose, director of SUNY Oswego Metro Center, are photographed at the entrance of the center. The recently opened center has five classrooms that can be used for conferences or workshops when not in use for the master's degree in education programs.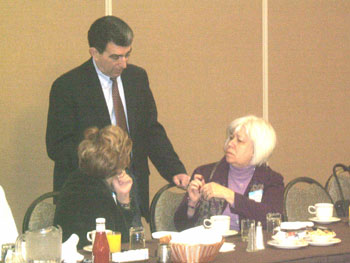 •
M
embers from more than 30 unions attended a breakfast Assemblyman William B. Magnarelli hosted at the Holiday Inn on Electronics Parkway. Union representatives used the time to share their concerns about how the state's policies and budget affects organized labor and our community as a whole. Those present asked Magnarelli to help convince other lawmakers about the need to enforce laws and rules affecting the workers of New York State.
Sylvia Matousek of the New York State United Teachers and AnneMarie Voutsinas of Syracuse Teachers Association chat with Assemblyman William B. Magnarelli during breakfast.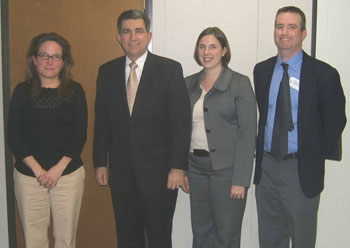 Assemblyman William B. Magnarelli poses with Home Headquarters staff Karen Schroeder, Marketing & Resource Development Manager, Kim McIlroy, Program & Operations Director, and Paul Driscoll, Neighborhood Planning Director.
•
A
ssemblyman William B. Magnarelli recently met with members of Home Headquarters to discuss the Prospect Hill Homes project.
Magnarelli arranged for Home Headquarters to receive state funding to help create affordable housing and improve the character of the neighborhood.
"I drive past the neighborhood routinely on my way to work," Magnarelli said. "It may need a transformation, but it's obvious that Prospect Hill has the potential to be a vibrant and flourishing neighborhood. Encouraging tenants to work towards owning their house is one way of working towards that goal."
Magnarelli supports the efforts to transform the Prospect Hill neighborhood by investing in it. Investing in the area will help reduce crime, encourage further investment and remove dilapidated structures.
Assemblyman William B. Magnarelli speaks with Rick Richmond, CEO of SiMPore, and Joseph Scaduto, assistant director of Business Development at SUNY Stony Brook University.
•
S
yracuse University College of Law honored Assemblyman William B. Magnarelli for securing $250,000 to create Technology Commercialization Clinics at three other universities.
The grant allowed Niagara University, Rochester Institute of Technology and Stony Brook University to create clinics based on the model used and developed at the Syracuse University College of Law. The clinics pair graduate and law students with start-up companies. The students help the entrepreneurs transform research and inventions into marketable products.
The clinics provide graduate and law students with the opportunity to put their research and newly developed skills to work for local companies. The companies are given a final report suggesting prospective growth opportunities and identifying competitive products.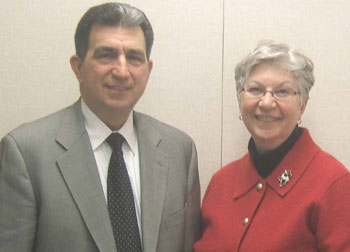 •
E
ncouraging early childhood development through opportunities, services and proper resources is a priority for Central New York.
Assemblyman William B. Magnarelli recently met with Peggy Liuzzi, executive director of Child Care Solutions, to discuss a $8,500 grant he secured for the Early Childhood Career Advancement Ladder Program.
"This program offers child care providers a great opportunity to further their education while continuing to work with young children," Magnarelli said. "Providers taking these classes have the opportunity to stay current on relevant issues, earn accreditation in childcare programs and become a role model for the benefits of continued education."
The program encourages childcare providers to take courses in child development taught by Child Care Solutions staff and OCC instructors at Child Care Solutions.
The goal is for the providers to continue taking classes at Onondaga Community College and eventually earn a degree or accreditation in early childhood education. Fourteen people recently finished their first class at OCC and about 20 others are at various stages in the program. The program has been operating for about 10 years, Liuzzi said.