Green Data Center Groundbreaking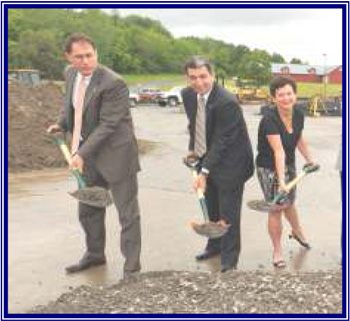 S
yracuse University and IBM are collaborating on developing a new, energy efficient computer data center that uses 50 percent less energy than a typical center. Assemblyman Magnarelli attended the groundbreaking for the $12.4 million, 6,000-square-foot data center. The center will have a liquid cooling system that will use an absorption chiller unit to convert the heat generated by the computers and servers into chilled water to cool the data center's servers and building. "It is exciting to see Syracuse University and IBM working together to implement innovate energy saving technology," Magnarelli said. "This sort of project inspires others to evaluate, design and employ green technology."
Eric Spina, Vice Chancellor and Provost, Assemblyman Magnarelli and Chancellor Nancy Cantor take part in the groundbreaking of the Green Data Center.
Assembly Passes Magnarelli's Ethics Reform Legislation
Magnarelli, who chairs the Assembly Ethics Committee, sponsored the bill that would create the following bodies to address the influence of special interest money, lobbying and ethics and perform investigations in state government:
New York State Commission on Lobbying Ethics and Compliance: A six-member independent state commission focused on lobbying.

Executive Ethics and Compliance Commission: This commission would be reconstituted to oversee the executive branch's ethics compliance, replacing the current Commission on Public Integrity.

Joint Legislative Commission on Ethics Standards: This body would be responsible for ethics disclosure, training and education for legislators and staff, advisory opinions, and the imposition of penalties for violations.

Legislative Office of Ethics Investigation: This new, independent office would consist of eight members and receive referrals from the Joint Legislative Commission on Ethics Standards and the Assembly and Senate standing committees on ethics, as well as complaints about ethics violations from the public.
"It's important that we strengthen New York's ethics laws," Magnarelli said. "This legislation develops a more comprehensive approach to ethics reform that shines even greater light on our democratic process. By insisting that all commissioners of ethics boards be truly independent, they can act without fear of retaliation. It also helps to restore public confidence in state government, something we must always try to improve."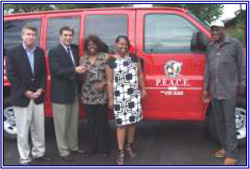 P
.E.A.C.E. Inc. purchased a van for the Westside Family Resource Center with $25,000 secured by Assemblyman Magnarelli. The van will be used to transport children and senior citizens to activities and programs sponsored by P.E.A.C.E., Inc.
"I am happy to be able to provide such a needed essential to a group that does so much for the individuals and families who live on the Westside of Syracuse," Assemblyman Magnarelli said.
Joe O'Hara, Executive Director of P.E.A.C.E. Inc.; Assemblyman Magnarelli; Mary Alice Smothers, coordinator for P.E.A.C.E. Inc.; Sheena Solomon, Neighborhood Advisory Council president; and Rev. Wiley Johnson pose for a picture as the keys to the van are ceremoniously transferred.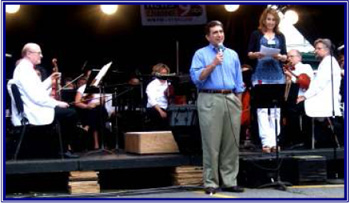 Assemblyman Magnarelli greeted his constituents at a Syracuse Symphony concert hosted by Green Hill Farms Market. Heather Hawkins, pictured with Magnarelli, was instrumental in organizing and securing funding for this event that brought world class music to local residents. Assemblyman Magnarelli recently awarded $25,000 to the Syracuse Symphony Orchestra so that area residents could share the wonderful talent and musical pieces that the Syracuse Symphony regularly performs.